by
Shooting Illustrated Staff
posted on March 15, 2022
Support NRA Shooting Illustrated
DONATE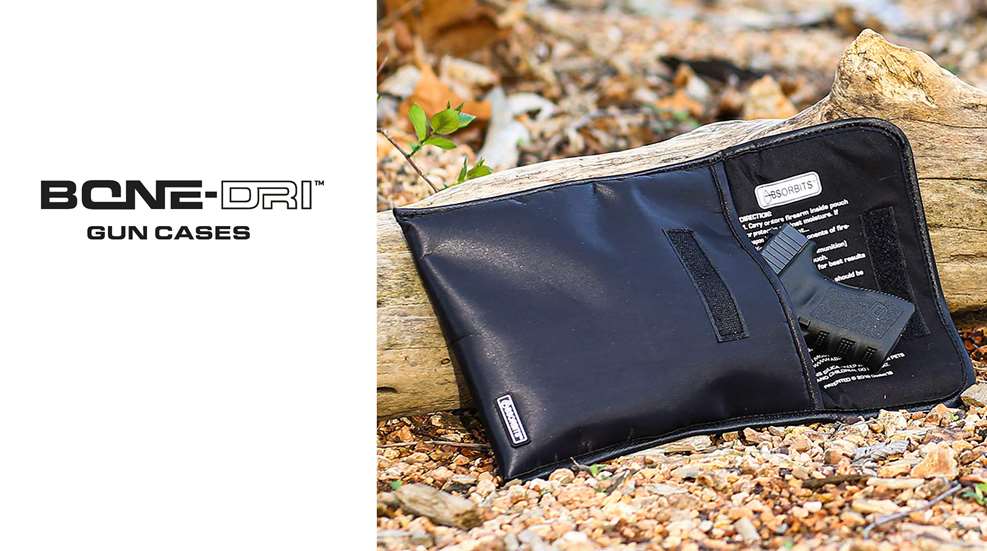 Bone-Dri is known for making innovative moisture-absorbing gun cases, and now they are introducing their new Gun & Ammo Bag, engineered with their exclusive Absorbits moisture-removal technology. The Bone-Dri Gun & Ammo Bag is specifically designed to protect your handgun and ammunition from rust after exposure to moisture.
 "This is the perfect solution for those who want a smaller profile case to protect or remove moisture from their valuable handgun and ammo," said Romney Williams, CEO of BONE-DRI. "The compact size of this moisture-removing bag makes it easy to fit in your gear bag or gun safe."
No matter if you're headed to the gun range or going hunting, fishing, camping or hiking the Bone-Dri Gun & Ammo Bag can help keep your prized possessions safe, dry and ready for use. Created to stop rust before it starts, the Gun & Ammo bag is crafted from durable nylon and is guaranteed for life, even if it's just used to store your handgun, ammo, or silencer in your gun safe.
The Absorbits moisture-wicking material in the bag helps draw out moisture from inside the inner workings of your firearm, helping to make cleaning your guns an easier chore. The bag is also ideal for storing suppressors and ammunition, either over the short term or long term, ensuring that they will be ready for use when they are needed.
The Gun & Ammo bag is backed by a lifetime warranty and measures 14 inches long by 9 inches tall by 1 inch wide and weighs just 13 ounces. This compact size makes it ideal for carrying your gear to and from the range or out into the field, while still keeping it safe from the ravages of excess moisture.
MSRP for the Gun & Ammo Bag is $29.99, and for more information on this product or other items from Bone-Dri, please visit bone-dri.com.