For those of us who live in, shall we say, less than gun-friendly areas, our periodic trips to the range can be fraught with peril. What if that nosy neighbor spots the rifle case? What if I stop for gas and someone glances inside my minivan? Even in gun-friendly places, there are plenty of reasons to be a little extra careful when transporting long arms—for many of us, our rifles are a serious investment. Having a case that doesn't scream "RIFLE" is a distinct advantage whether you're transporting a firearm in Massachusetts or simply stopping for gas in Texas.
Enter the Battle Axe discreet rifle case from Hazard 4, California. Its distinct guitar-like shape is intended to stand out from the traditional black or stainless gun case. While folks in the know will immediate figure out something is up with the attachment straps and hook-and-loop closures, to the average person on the street it looks like a soft-sided guitar case. Certainly no need for alarm, unless you're a fan of El Mariachi. There's even a shoulder strap available separately that attaches to two "D" rings if you want to sling it over your back for easier transport (or just heightened irony).
The case is well-made, with stitching doubled in stress spots and generally sports a solid feel. The handle is padded and extra thick, so it does not to cut into your fingers even with a heavy load—and more importantly, not give away that there is something other than a light guitar in the case. There are three zipper-closed pockets on the front of the case, perfect for extra magazines, a couple boxes of ammunition and eye and ear protection; basically everything you need for a quick jaunt to the range. With a rifle securely fastened inside, the case is easy to carry and doesn't leave scratches if you accidentally brush it against your truck.
The inside of the case is Spartan, with two hook-and-loop straps that can be moved to accommodate any rifle configuration. An AR-15 with a collapsible stock and a 20-inch barrel would fit, as did a Bushmaster XM15-E2S carbine with a 16-inch barrel and a fixed stock. The straps can be moved to any number of slots for a perfect fit, and additional straps could be purchased to really hold your favorite rifle tight. I found the straps didn't really work on the barrel alone, but that's not a serious problem, since they slide out of the holders easily and can be repositioned in seconds around the handguard, where they can be tightened easily.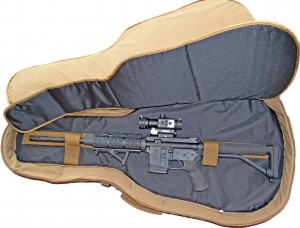 The bag has other little touches that really help it stand out. Corners and edges—particularly on the bottom of the case if it is standing upright—have reinforcements so the bag itself isn't directly on the ground. No need to worry if it starts raining while you're on the range, the bag will stay dry if you put it on the wet ground before transferring it to your trunk. There are double zippers on all three pockets, and the two zippers for the main part of the bag are molded for a lock, which means you can at least comply with the spirit of the law for a "locked case" (check your local laws, of course, if you live in an area that requires locked transport).
Covert cases are certainly nothing new, but the Battle Axe brings discreet carry to a new level. Rather than force you to take the rifle down into component pieces like some discreet cases, the Battle Axe allows you to transport your carbine in plain sight. While AR-15 pattern rifles come apart easily, other rifles don't fit into smaller cases without modification. The Battle Axe allows any carbine-length rifle to be carried intact, in plain sight, without drawing unwanted attention.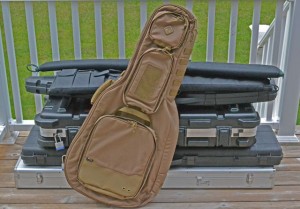 At an MSRP of $199, it's a sturdy case for single rifle transport. If you're looking for something that will fly under the radar, yet still haul a rifle without takedown, the Battle Axe is a solid choice. It has plenty of room for everything you need for a day at the range with your favorite carbine, and it won't alert the entire world to the fact you've got a rifle with you.