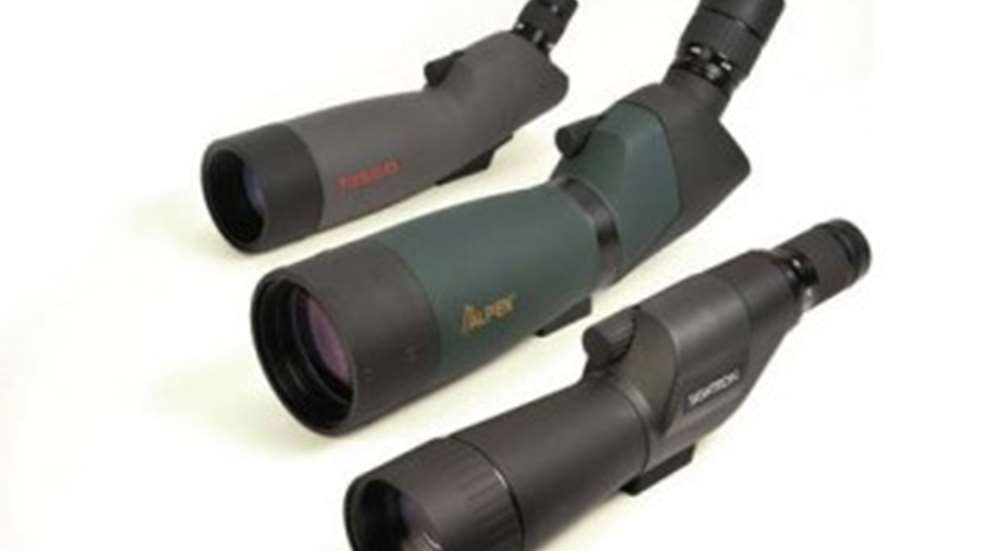 Fast-talking muumuu salesmen may claim "One size fits all," but that height-naive approach can produce anything from a floor-dragging Puritanical fashion statement to a mini-skirt. The same uniform-sizing claims are often heard in the sporting goods business, so Shooting Illustrated "tried on" three spotting scopes, side-by-side.
Liberal Litmus
To test each spotting scope for distortion and ability to resolve small objects at distance, a section of a beltway daily was tacked up at 50 yards. Despite dusky conditions, even the smallest of the left-wing conspiracies were painfully readable with all of the scopes. Most of the text in each story, thankfully, got a little fuzzy—both optically and editorially. By the time I rewrapped my next-door liberal's paper and snuck it back, darkness had fallen and it was time to turn the optical trio skyward.
Heavenly Bodies
When Jupiter finally turned into view, my neighbors were casting dirty looks and ceremoniously dropping their shades. Despite the commotion, I focused on the planet's moons and could detect little distortion or edging in any of the scopes. All collected enough light and sharpness was close to equal. The Tasco and Sightron had a slight advantage, although that may have been more of an imaginary by-product of the Alpen's generous field of view. The deputy sheriff concurred with my observations, although I wouldn't weigh his opinion too heavily, since he kept calling me Tom.
Going Wide
Field of view is another important consideration, and the Alpen's 80-mm front element gives it a decided advantage. Getting it on an object was intuitive. The Sightron comes with an extra, wide-angle 25X eyepiece that can easily be swapped with the 20-60X zoom. With it attached the field of view comes pretty close to the Alpen.
Accessorize
All three scopes can be cranked up to 60X magnification, and that makes a stable platform mandatory. Each had a spot for tripod attachment, although the Alpen mount can be rotated around its body, giving it a decided advantage for competitive shooters or benchresters tired of straining their neck. Once the desired position is found, tightening a knurled knob locks it solidly in position.
The Alpen and Tasco come with mini-tripods, the Sightron does not. Fine-tuning knobs on the tripod supplied with the Alpen are a great touch, and allow shooters to move from target to target without shifting the entire unit. It's one of those subtle touches that can make all the difference in the world, like go-go boots with that single-size mini-skirt.
All three scopes are waterproof and performed flawlessly. The side-by-side comparison, however, puts the "One size fits all" sales pitch to rest. If you're backpacking after elk, despite its performance, the 64-ounce Alpen probably isn't a good fit. On the other hand, if you're shooting off a benchrest, or not packing your gear into spike camp, it may be ideal.