The Nikon ProStaff 5 Fieldscope is built for those who are truly passionate about optical performance. With exciting optical and mechanical innovations, this fieldscope is designed for a new level of high-performance spotting. 

This new line will be available in 60 mm and 82 mm with either a straight or angled body. Featuring legendary Nikon optical glass, fully multicoated optics and improved chromatic aberration reduction, the ProStaff 5 Fieldscope provides bright, high contrast images with true color rendition in most lighting conditions. Together, the new optical innovations allow the user to pull subjects out of their natural backgrounds and reveal every detail in brilliant color and with a clear, edge-to-edge resolution.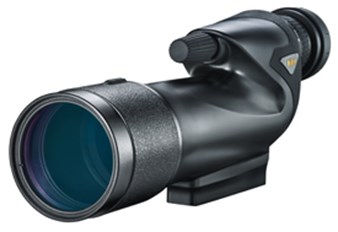 To provide users with the brightest possible image, internal surface texturing minimizes reflective light loss inside the scope. The ProStaff 5 Fieldscope eyepiece is a digiscope-ready design, so users can capture amazing high-magnification images by using an optional accessory digital camera bracket.
It also features enhanced eye relief for use with eyeglasses and a convenient turn-and-slide eyecup.


To keep the natural elements in check, a built-in sliding sunshade eliminates glare in bright conditions and also keeps dust and rain off the objective lens. The ergonomic, lightweight porro prism design makes it easy to handle, even in wet conditions. Like all models in the ProStaff line, the new ProStaff 5 Fieldscope is waterproof, fogproof, nitrogen purged and O-ring sealed.
The 60 mm ProStaff 5 has a 16-48X zoom eyepiece with a large ocular that offers a wide field of view for subject acquisition at 16x and excellent detail resolution at 48X. MSRP for the 60 mm ProStaff 5 is $499.95. The 82 mm ProStaff 5 has a 20-60X zoom eyepiece with large ocular and a massive 82 mm objective lens for an ideal balance of size and brightness. MSRP for the 8 2mm ProStaff 5 is $599.95.