Support NRA Shooting Illustrated
DONATE
The Glock 19 has been one of the most popular concealed-carry handguns since its introduction in 1988. Between the legendary Glock reliability and its standard 15-round magazine—higher than most carry guns at the time and even some today—the smaller cousin of the Glock 17 quickly caught on in heated up the personal protection market. Today, it is still a bestseller. As a carry gun, it needs a line of good holsters to keep it safe while toting it around. There are hundreds of great Glock 19 holsters, but these six caught our eyes as some of the industry leaders, broken down into the two most popular carry styles in three different material setups: Kydex, leather, and hybrid.
Outside the Waistband (OWB)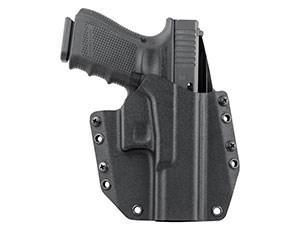 Mission First Tactical OWB
The Mission First Tactical is a pure Kydex setup designed to keep the Glock 19 safely inside with adjustable retention and a molded pancake gun holder held together by four adjustable screws attached to generous belt loops. This simple design makes carrying easy and comfortable, with a wide stance between the belt loops and a sweat guard to protect the slide's finish. Available outside clips can replace the belt loops to convert this OWB to an IWB by a simple swap with a Phillips screwdriver. The low-profile design makes concealed carry with a jacket or other outer garment. MSRP is $59.99.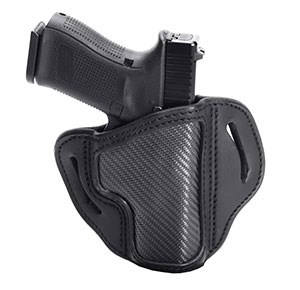 1791 Gunleather Carbon Fiber Open Top Multi-Fit Belt Holster 2.1
Okay, so this isn't a pure leather holster because it has one additional material that makes it stand out in the category: carbon fiber. Pure leather holsters tend to lose shape over time, affecting their retention. Several leather holster makers, 1791 Gunleather among them, addressed this issue by adding more leather layers or strengthening materials to counter this aging problem. The Carbon Fiber Open Top Multi-Fit Belt Holster 2.1 incorporates a contoured carbon fiber layer on the outside to help the holster retain its shape over years of use. MSRP is $89.99.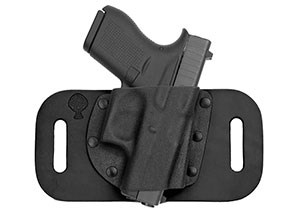 Crossbreed SnapSlide
Long known as one of the first hybrid holster companies, Crossbreed specializes in strong Kydex shells that are coupled with comfortable leather backers. The SnapSlide features this legendary combination in a rig that holds the gun tight to your side for maximum concealability while offering extra comfort in a leather backer in three distinct hides and colors. While the SnapSlide does not include adjustable retention, the pressure exerted by tightening the belt presses the leather snuggly against the gun. MSRP starts at $54.95
Inside the Waistband (IWB)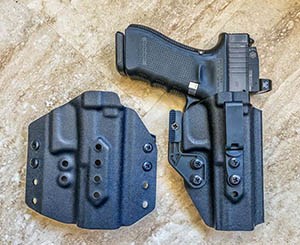 Weber Tactical Trifecta
The Trifecta from Weber Tactical cheats but in a good way. It is a proper IWB Kydex holster. However, it could also fall into the OWB category because it's a quick-convertible Glock 19 holster that converts from IWB to OWB with a few screw placements and an included shell. As an IWB, the Trifecta is designed for either appendix or strong-side carry and features a single steel clip with an under-belt grabber tooth to hold it solidly in place and a wing to tuck the grip in a bit for less printing. MSRP is $84.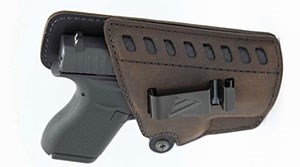 Versacarry Compound Essential
Generally, all-leather holsters don't make the best IWB carry rigs because the holster's mouth tends to close when the gun is removed, making one-handed reholstering nearly impossible. However, like leather OWBs, many IWB leather holster makers have addressed this by reinforcing the leather with a stiffer synthetic material. In addition, in the case of the Versacarry Compound Essential, they added a sheet of inlaid polymer between the leather layers to help reduce the odds of the mouth closing after the draw. The holster is held to the belt by a single wide, steel belt clip and has a retention adjustment screw beneath the trigger guard. MSRP is $54.99.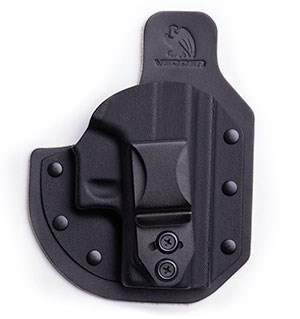 Vedder RapidTuck
Many gun owners prefer a leather-Kydex hybrid because it features the security and retention of a Kydex shell coupled with the comfort of a leather backer, which is especially desirable since that's the surface that rests against the skin. The Vedder RapidTuck starts with a carefully molded open-bottom Kydex shell and a steel belt hook for easy and secure on and off, then couples those with the comfort of either cow leather or horsehide for a few extra bucks. MSRP is $74.99.