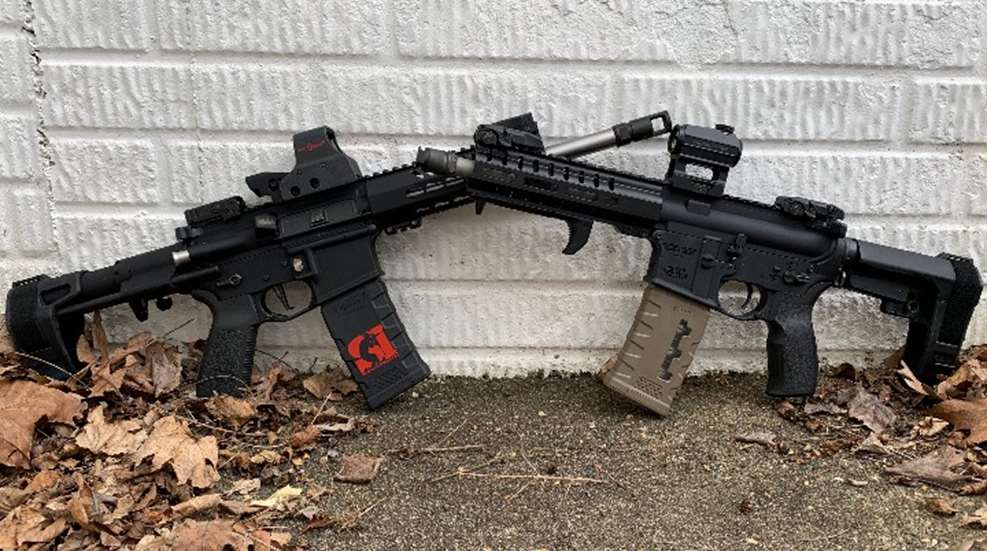 To many outsiders, an AR pistol looks pretty standard. All the components you expect are there: upper, lower, barrel, hanguard and grip. Try explaining to someone who's not a firearm enthusiast why this particular AR isn't a rifle because of the barrel length and brace and you'll likely get a confused look in return. Confuse them more when you explain it's actually classified as a pistol. Wait, what? Yep. Regardless of classifications, the AR pistol is quite popular for home and personal defense because the shorter barrel allows for greater maneuverability in tight surroundings while retaining the benefits of the AR platform. Here are some of the most popular AR pistols on the market today.
CMMG Banshee



The Banshee 200 MK4 is one of many options in CMMG's extensive Banshee line that features AR carbines, SBRs and pistols. The MK4 starts with an 8-inch barrel topped off by a SV Brake and covered by an RML7 M-Lok handguard. At just over 5 pounds empty, the MK4 is one of the lightest AR pistols on the market, making carry, storage and engagement easier. Put shots on target fast with the single-stage, mil-spec-style trigger that allows for quick engagement and follow-up shots. The Banshee comes in a standard black hard coat finish, but can be upgraded to one of 10 cerakote finishes for $150 extra. MSRP: $1,149.95.
Palmetto State Armory PA-15 Pistol



The value-based Palmetto State Armory PA-15 Pistol packs a ton of great features into a gun that won't break the bank. The 10.5-inch 5.56 4150V chrome moly vanadium steel barrel is finished off with a A2-style flash hider and wrapped inside a lightweight M-Lok 9-inch free-float rail with a row of Picatinny mounting points down the length for easy accessory mounting. Overall length is 26.25 inches with the KAK Industries Shockwave Blade brace fully extended. MSRP starts at $659.99.
Ruger AR-556 Pistol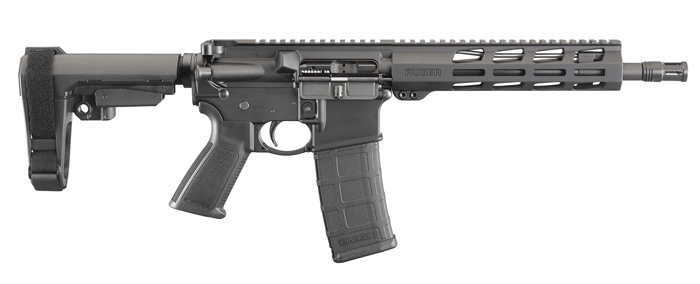 Built on the guts of the popular Ruger AR-556 platform, the Pistol offers many great features such as a 10.5-inch barrel for easy maneuverability, a 9-inch free-floating handguard adorned with Picatinny rail on top and Magpul M-Lok accessory attachment slots along the 3:00, 6:00 and 9:00 positions, an adjustable SB Tactical SBA3 Pistol Stabilizing Brace for better shot control and a removable flash suppressor so you can leave it on or customize with your own choice. MSRP starts at $899.
SIG Sauer MCX Virtus



SIG Sauer's premier MCX Virtus line now offers a pistol version. Originally designed for Special Forces, the Virtus is built to SIG's world-famous standards of toughness, thoroughly tested in the harshest environments. The pistol comes in 5.56 NATO with an 11.5-inch barrel and 300 BLK with a 9-inch barrel, both made of cold forged steel. Virtus can be easily stored and quickly deployed thanks to SIG's Pivoting Contour Folding Brace. Get the gun in the fight faster with an ambidextrous charging handle. MSRP: $2,179.99.

Springfield Armory 5.56 Saint Pistol



The most recent addition to the expanding Springfield Armory Saint line, the 5.56 Pistol features a 9.6-inch CMV Melonite barrel inside a handguard with Picatinny rail on top for each accessory installation, BCM Gunfighter PMCR forward handstop with M-Lok, pinned gas block to reduce snagging and an A2 flash hider. The Saint has been highly popular since the entire line launched several years back. Since then, Springfield's foray into the AR market—both rifle and pistol—has gained wide acceptance for its reliable shooting at a moderate price point. MSRP: $849.

Wilson Combat ARP Tactical Pistol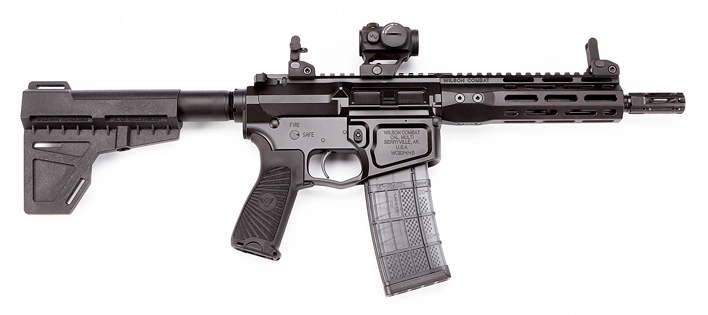 If you've ever shot anything from
Wilson Combat
, you know about smooth shooting and high reliability. The ARP Tactical Pistol continues that tradition starting with the choice of 8- or 11-inch match grade barrel, Shockwave Blade folding brace for easy storage and deployment, mil-spec bolt and bolt carrier, Wilson Combat TTU (Tactical Trigger Unit) Single Stage trigger and a full row of Picatinny rail on top for optics and accessories. Available in 5.56 NATO/.223 Rem., 300 Blackout, 300 HAM'R and 6.8 SPC. MSRP: $2,300.