Every gun, even a Glock, can benefit from a little customization. Just like making a car or truck "your own" by adding aftermarket accessories, spicing up your handgun can also add a personal touch that identifies it as yours and improve the performance of an already good firearm that you feel needs just a little tweaking. Not a major upgrade, but something special to make it that much better than what came out of the factory box.
Here are a few trigger upgrades you might consider if you're a Glock owner. Note: These replacement triggers are for standard-width Glock frames only and do not work with every model. Check with the manufacturer of each trigger to verify compatibility.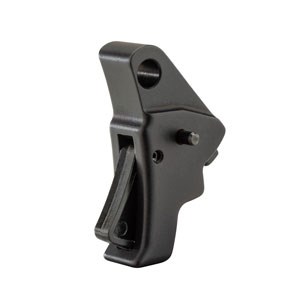 Apex Action Enhancement Trigger for Gen 3/4
Apex is a leader in replacement triggers for both rifles and handguns. Their Glock series continues the tradition. The Action Enhancement Trigger for Gen 3/4 Glock pistols is an easy and quick way to upgrade your Glock trigger system without reducing factory safety values. This Apex replacement trigger retains the factory trigger bar mechanism and fits Glock's center-mounted pivoting safety. MSRP is $85.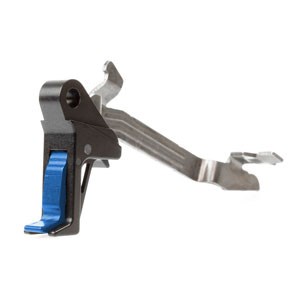 CMC Drop In Trigger
Known for their AR drop-in triggers, CMC brings you their drop-in trigger for Glocks. This setup includes the trigger, the trigger bar, and all the parts needed to completely replace the entire trigger system. The trigger itself is CMC's signature flat-face but with a center-mount trigger safety required by Glock. CMC calls this a drop-in trigger, which it is, but also recommends that a gunsmith do the work because some frame disassembly is required. MSRP is $119.99.
Overwatch Precision DAT Trigger
The Overwatch Precision DAT Trigger is a flat-faced, direct drop-in replacement trigger. According to the tutorial video on Overwatch Precision's website, removing the factory Glock trigger and installing the DAT Trigger should take 5 to 10 minutes, with only a punch required to remove two pins and lift out the factory parts. Installing the new mechanism is just a reverse of the removal process. MSRP is $99.99.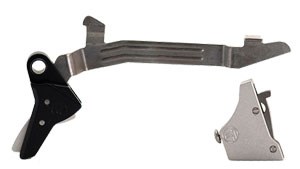 Timney Alpha Competition Series for Glock Gen 3-4
One reason Glock owners swap out the factory trigger is for a lighter pull weight. The Timney Alpha Competition Series for Glock Gen 3-4 is a 3-pound pull-weight setup for faster shooting, a definite plus for both competition shooters and self-defenders. It also comes in five vibrant colors just for fun and a bit more customization than just the mechanical upgrade. With all this, plus Timney's excellent reputation for reliable, easy-shooting triggers, it's hard not to give this trigger at least a look. MSRP is $169.99.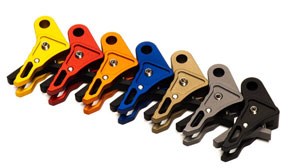 Velocity Trigger Shoe For Glock
Killer Innovations bring us the Velocity Trigger Shoe For Glock, a flat-faced trigger with the requisite center-mount trigger safety that Glock owners expect. With a pull weight of 5.5 pounds, it's not a lighter pull than the standard factory trigger, but discerning shooters often prefer the different geometry. And it is wider than the standard trigger, giving the trigger finger a bit more real estate for surer squeeze, especially under pressure. MSRP is $121.99.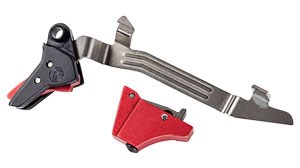 ZEV PRO Flat Face Trigger Bar Kit
Since ZEV has made itself famous in the Glock look-alike market with the OZ9 handgun series, it makes sense that they would offer parts and pieces for Glocks. Such is the case with the ZEV PRO Flat Face Trigger Bar Kit, a full-on replacement that not only fits in standard factory Glocks but also in ZEV's one line of handguns. Like its competition, this trigger has a wider face than the Glock trigger it replaces while maintaining the trigger safety. ZEV claims they are the most reliable replacement trigger on the market. We can't substantiate that claim, but if reliability is important, ZEV is worth consideration. MSRP is $135.