A Maryville, TN, restaurant owner gained national media attention this week after she placed a sign in the window of her establishment welcoming patrons who legally carry firearms for personal protection. Sharma Floyd, owner of Shiloh Brew and Chew on East Lamar Alexander Parkway, says it's the best thing that's ever happened to her business.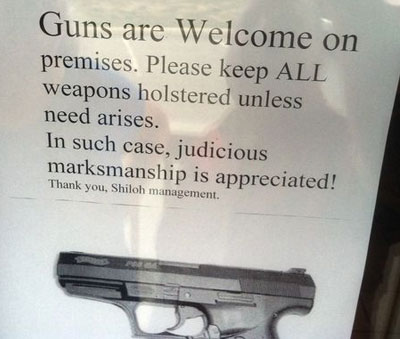 Floyd told the Maryville Daily Times this week that it all started when a group of motorcyclists who are regular customers mentioned they heard she had placed a "No Weapons Allowed" sign in her window.
"I wouldn't put up a sign like that," Floyd said. "My daughter works for the Sevier County Sheriff's Office. She has a gun on her and carries it everywhere she goes. She has a handgun permit, and my husband has a handgun permit."
Floyd said she discovered a story online about a North Carolina business that was victimized by an armed robber within days after displaying a "no weapons" sign.As a robbery victim herself, that was all the incentive she needed.
"I put up a sign that says if you are a legal handgun permit-carrying customer, you are allowed to bring yourself in here," Floyd told the local newspaper.
The sign reads: "Guns are welcome on premises. Please keep ALL weapons holstered unless need arises. In such case, judicious marksmanship is appreciated! Thank you, Shiloh management."
Since placing her pro-carry sign, Floyd says her phone hasn't stopped ringing, and her business has increased dramatically.
"It's been unbelievable," Floyd said. "People have been calling me from all across the country. It hasn't been all local calls — they've come from Oklahoma, Kansas, Maryland, Florida, everywhere."
Floyd said that while she doesn't personally carry a firearm, she believes it's important Constitution Right that must be upheld.
"I feel like the American people need to take back what our founding fathers built before us," Floyd said. "I don't think that as a small business owner it is my place to take away another American's constitutional right. I believe it is a natural and constitutional right for self-defense."