The reasons why are simple: dogs are wonderful and cats are evil; water is a polar molecule while oil is not; and 556 signifies a NATO caliber while R means filthy, dirty commie. But behold, neutral Switzerland (via New Hampshire) has successfully mediated the latter conflict with a rifle combining the sought-after features of SIG Sauer's SIG556 line with the Stalin-era chambering of 7.62x39 mm.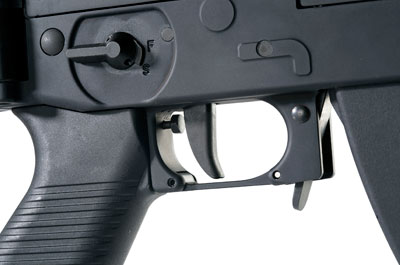 The SIG556R is hardly revolutionary, no doubt taking some of the Bolshevik luster out of the "R," which stands for "Russian." Besides, the Russians gave up on communism more than 20 years ago and the 7.62x39 mm almost 40 years ago. SIG Sauer simply reworked its sought-after SIG556 to accommodate the AK-47's chambering, one which remains the most popular choice for Kalashnikov enthusiasts. I can understand this impetus, given the thousands of rounds I've been stockpiling for my AK and SKS in case Ivan ever implements the plan he used in "Red Dawn."
I'm quite certain many other shooters have spam cans full of steel-cased 7.62x39 mm ammo dug up from a Bulgarian farm in 1991 after the Wall fell, yet only one or two guns chambered for that caliber. This leaves a lot of cosmoline-encrusted fodder in the basement, awaiting an invasion that is rather unlikely to come anytime soon. Rather than let it go to waste, why not run it through a proven, reliable and ergonomic rifle in 7.62x39 mm?
Therein lies the beauty of the piston-operated SIG556R. This made-in-New Hampshire rifle has all the ergonomic benefits of the Swiss SIG550, upon which the SIG556 is based, and which AK-pattern rifles sorely lack. Reliability is a wash, though the AK may have the edge in combat-proven reliability. While Russia and its proxies went to war with the AK, the Swiss have not been to war in two centuries. In testing, however, the 556R functioned like a Swiss watch, and Swiss watches are more reliable than Soviet-made timepieces, which may or may not exist.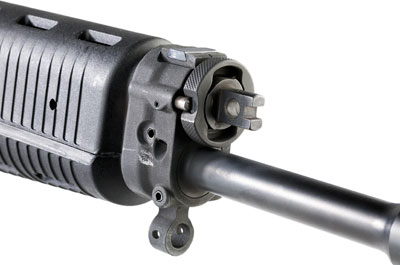 To start, the SIG556R's safety is located where a semi-automatic rifle's safety-selector switch should be: above and slightly in front of the pistol grip—a far superior location than the AK's safety for both ergonomic and practical reasons. You can maintain a firing grip on the 556R while manipulating the safety lever, and when it is switched on or off, someone a mile downrange won't hear it click. The 556R's safety is also ambidextrous; the AK's is definitely not.
Moving backward to the stock, we find a folding variant that's properly sized for use by normal-size shooters wearing normal clothing, as opposed to the AK's short stock designed for use with heavy winter jackets. While folding stocks are available for Kalashnikovs, they are usually an expensive aftermarket option or found on factory models far exceeding the price of a standard AK. Having one come from the factory on the SIG556R is certainly welcome.
Unlike the AK, the SIG556R does not come with iron sights. It ships with a rail section atop its receiver and a SIG Sauer Mini Red Dot. Besides the savings of an included electronic optic, this micro dot sight provides a vastly superior sight picture over the AK's notch and post, and it eliminates the AK's notoriously short sight radius, which hampers the Kalashnikov's accuracy potential. For those who decry the lack of iron sights, the railed receiver and gas block permit mounting detachable iron sights if you so choose, and the resulting sight radius would be considerably longer than that of the AK.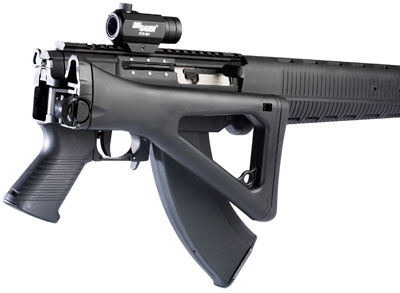 Folks who already have an AK will love the fact the 556R takes standard AK magazines. If you've got a bunch of surplus 30-round AK mags, you're good to go with the SIG Sauer rifle. To make the SIG556 platform function with AK magazines, SIG Sauer had to cut both the mag well and the trigger guard a bit, resulting in some odd lines in those regions—but hey, there's nothing wrong with a bit of ugly on a 7.62x39 mm gun.
The rifle's gas block has a two-position, adjustable valve. The standard, vertical setting allows for normal gas flow to cycle the action, while turning the valve to the horizontal position shuts off the gas flow for use with a suppressor.
In testing, the 556R proved reliable, but its accuracy was a bit worse than expected from a SIG Sauer firearm. That said, we're talking 7.62x39 mm here—including an imported, budget-price load that did, in fact, come in a spam can. One- to 2-inch groups at 100 yards are decent for the caliber and certainly at least on par with most AKs I've shot.
If you've got a bunch of leftover 7.62x39 mm and are sick of shooting your AK or SKS, or simply want a classy rifle through which to feed it, the SIG556R is a solid option. Though SIG Sauer broke one of life's simple rules, the result works well. I'm still not getting a cat, though.
Specifications
Manufacturer: SIG Sauer; (603) 772-2302
Action Type: Gas-piston-operated, semi-automatic
Caliber: 7.62x39 mm
Capacity: 30 rounds
Barrel Length: 16 inches
Rifling: 4 grooves; 1:9.5-inch RH twist
Sights: SIG Sauer Mini Red Dot; rail for mounting optics and irons
Trigger Pull Weight: 7 pounds, 2 ounces
Stock: Folding polymer
Length: 35.88 inches (extended); 26 inches (folded)
Weight: 7 pounds
MSRP: $1,332
Shooting Results
| | | | | |
| --- | --- | --- | --- | --- |
| Load | Velocity |   | Group Size |   |
|   |   | Smallest | Largest | Average |
| Wolf 122-grain FMJ | 2,167 | 1.67 | 2.20 | 1.96 |
| Hornady Steel Case 123-grain SST | 2,118 | 1.55 | 2.11 | 1.78 |
| Red Army Standard 123-grain FMJ | 2,091 | 1.70 | 2.36 | 2.02 |

Velocity measured in fps 15 feet from the muzzle for 10 consecutive shots with an RCBS AmmoMaster chronograph. Temperature: 88 degrees Fahrenheit. Accuracy measured in inches for five consecutive, five-shot groups at 100 yards from a Caldwell Handy rest.