Pistols made from rifles with their stocks removed and their barrels shortened are all the rage these days. It seems most AR-15 manufacturers now offer an AR pistol, and most of these offerings retain the traditional 5.56 NATO chambering of the rifle from which they are derived. Kalashnikov variants should be in on the party, too, because…because why not, right? Enter the C39 Micro Pistol from Century International Arms.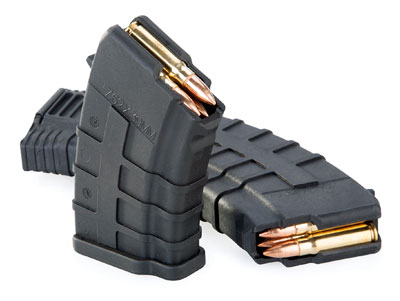 Unlike most other AK pistols, the C39 Micro is made in America. Besides the special feeling one gets in the cockles of one's heart from buying American, there is a more tangible benefit to a domestically produced AK pistol: no worrying about 922r compliance. In short, this means you can plug and play with various accessories without concern about violating federal law (provided you don't put a ton of foreign-made parts in the gun). That said, I found few modifications necessary on this model.
The best aspect of the C39 Micro Pistol is its excellent Tapco G2 trigger. While AK-pattern rifles are known for heavy triggers that slap the shooter on recoil, the G2 is astoundingly light and smooth. Also surprising was the (relative) comfort of the contoured-wood fore-end. Gripping it felt natural in the hand, which was welcome, because establishing a sensible shooting position with any of these rifle-pistols is quite difficult without the increasingly popular braces now available. If you shoot handguns regularly, an AK pistol will seem too big, and if you are a rifle shooter, it will seem too small and stockless for comfort. As a result, something of a hybrid stance results, and it is not the best of both worlds. But, once you figure out the most comfortable means to achieve accuracy with the C39 Micro, it becomes quite fun to shoot.
Despite being chambered in 7.62x39 mm and lacking a stock, the C39 Micro Pistol was not particularly difficult to handle. Recoil—that is, the rearward movement of the firearm—is not a concern, because there is no stock to transmit it to your body and the gun does not come back into the hand (thanks to the support hand holding the fore-end). Muzzle flip, however, is pronounced, but that is to be expected when firing a rifle round out of a stockless gun with a 6.25-inch barrel. Muzzle flash is also prominent, by which I mean obscenely enormous. I seldom notice flash when I'm the shooter, but on the C39 Micro, it was impossible not to see the brightness of a thousand suns each time I pressed the trigger.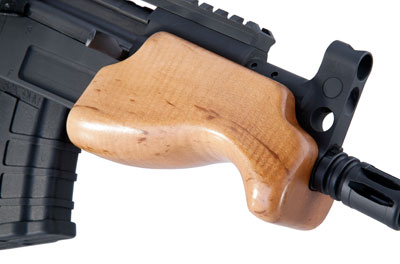 Fortunately, the flash did not interfere with sight picture for long, and the C39 Micro has sights that smartly compensate for what is a weak point of any rifle-pistol, particularly an AK pistol. The Kalashnikov design puts the rear sight rather far forward for a rifle, and when 10 inches of barrel are hacked off, the front sight is a good deal closer to the rear. This drastically shortens the AK's already short sight radius, making for a pistol with a 6.25-inch barrel, but only about a 6-inch distance between rear and front sights. Despite that hindrance, the C39 Micro Pistol's sights are actually quite useful. The rear sight is formed by two fiber-optic pipes on either side of the trough in a section of Picatinny rail, while the front sight is a hooded post, similar to those found of Chinese AK variants. Of course, the best solution is probably to mount a red-dot or holographic sight on the rail, which will completely solve the sight-radius problem.
I was definitely and pleasantly surprised by just about every aspect of the C39 Micro Pistol. I thought it would be inaccurate, a bear to handle and relatively useless, but I was wrong on all counts. It was reasonably accurate at 25 yards with iron sights, despite giving up about 600 fps in muzzle velocity versus a rifle-length AK. It was also fun and painless to shoot. The pistol would make an excellent platform for a registered SBR build with the addition of a folding stock, creating something akin to a semi-automatic AKS-74U (in 7.62x39 mm, of course). Since it comes with both 10- and 30-round Tapco polymer magazines, the C39 Micro can be shot from most rests and positions.
While some might be put off by its relatively high retail price, you get what you pay for, which in this case is an American-made, machined-receiver AK pistol that is a blast on the range.
Specifications
Manufacturer: Century International Arms; (800) 527-1252
Action Type: Gas-piston-operated, semi-automatic
Caliber: 7.62x39 mm
Capacity: 30 rounds
Receiver: CNC-milled/machined 4140 steel
Barrel Length: 6.25 inches
Rifling: 4 grooves; 1:10-inch RH twist
Sights: Adjustable Post front; fiber-optic rear; Picatinny rail for mounting optics
Trigger Pull Weight: 4 pounds, 2 ounces
Length: 16.5 inches
Weight: 5 pounds, 10 ounces
Accessories: 10-round magazine, 30-round magazine, Bulldog Tactical case, lock, manual
MSRP: $899.95
Shooting Results
| | | | | |
| --- | --- | --- | --- | --- |
| Load | Velocity |   | Group size |   |
|   |   | Smallest | Largest | Average |
| Winchester 120-grain PDX1 Defender | 1,673 | 2.85 | 3.97 | 3.37 |
| Hornady 123-grain SST Steel Case | 1,739 | 2.92 | 4.01 | 3.50 |
| Red Army Standard 123-grain FMJ | 1,761 | 3.06 | 4.14 | 3.61 |

Velocity measured in fps at the muzzle for 10 consecutive shots with an Oehler Model 36 chronograph. Temperature: 64 degrees Fahrenheit. Accuracy measured in inches for five consecutive, five-shot groups at 25 yards from a Caldwell Matrix rest.