Many years ago, I was a rabid fan of rifles in the AK-47 pattern. They ran better than the finicky AR-15, they were chambered in .30-caliber (no "poodleshooter" there, no offense to dog lovers) and they shared the same fodder as the SKS (of which I happened to own several models). I accumulated various Communist Bloc 30- and 40-round AK magazines, stockpiled various surplus 7.62x39 mm ammo and scoffed at the AR-15-pattern rifle for reasons that made sense to me at the time.
Fast-forward to the present, and the situation is completely turned around. My SKS rifles have been scattered to the winds, my one AK-47-pattern rifle sits in the back of the safe and numerous AR-15-style rifles have prominent places ahead of that Romanian workhorse. The modularity of the AR-15 won me over, with the ability to easily custom-fit my rifle to both my own shooting needs and those of the people around me.
It makes sense a rifle that blends the two styles would be immensely popular with me and other gun owners who share my current outlook. Being able to exchange stocks, add accessories to the fore-end and add optics quickly and easily (not to mention having real front and rear sights that are spaced appropriately) is a huge draw. With the large availability of inexpensive ammunition,  surplus magazines and a plethora of accessories to customize your rifle, an AR-15-style rifle chambered in 7.62x39 mm starts to look very attractive.
Enter the Mutant. Technically the Mk47 (see what they did there?), CMMG's latest rifle blends the two worlds of the AR and the AK to offer the best features of both platforms. The robust chambering, nearly unstoppable magazine and larger bolt from the AK-47, combined with the modular upper receiver, buttstock and pistol grip of the AR-15, makes for a rifle with a familiar feel in a caliber more recognized for other purposes and, arguably, easier to suppress. The larger bolt will handle the Russian .30-caliber round easily, and the fit-and-finish of the Mutant is superlative. But there's still that nagging question: Why make an AR-pattern rifle that takes AK-47-pattern magazines and chambers 7.62x39 mm?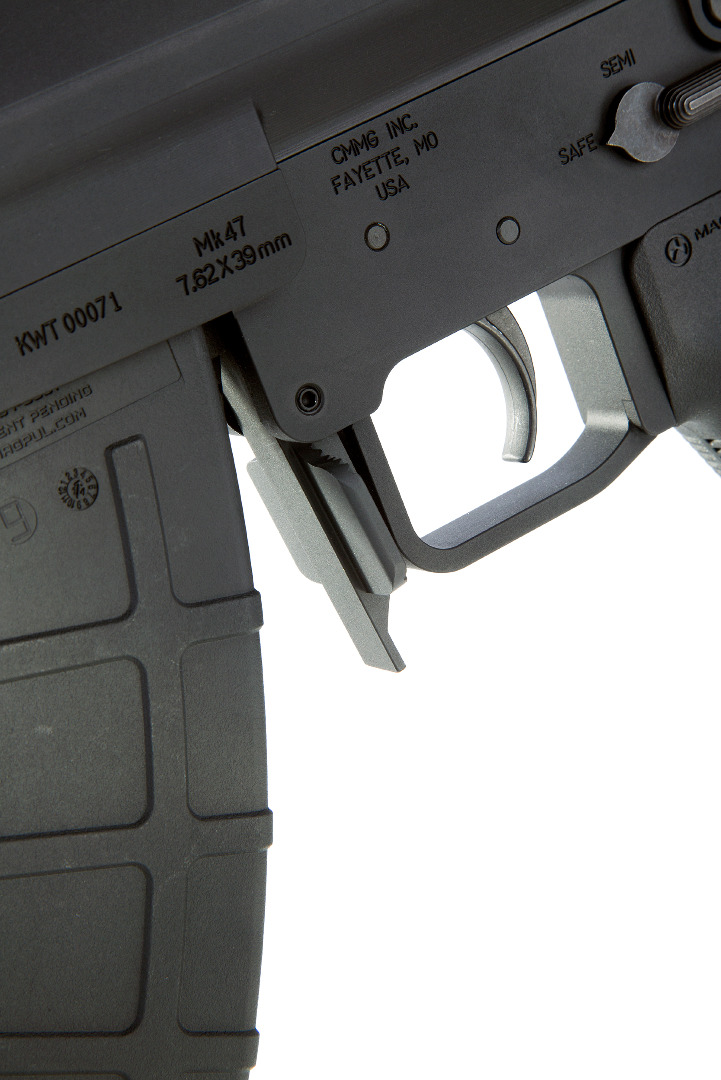 Tyson Bradshaw, production manager at CMMG, summed up the company's rationale for the Mutant: "We recognized the need for consumers to have a reliable, U.S.-made rifle that could properly handle the dimensions of the 7.62x39 mm cartridge. To do this properly, it required us to build the rifle around the caliber. Using AK magazines was an easy decision to make, because they are known to be some of the most reliable magazines available that work properly with the tapered cartridge." Reliability isn't the only plus, as Bradshaw hinted: "The Mutant's medium-size receiver group and robust bolt opens the door to some exciting calibers that are underserved by the AR-15-size platform. We see a lot of potential for future additions to the Mutant platform in years to come."
Reliability was indeed excellent in the Mk47 we received for testing. Whether stoking the Mutant with Winchester's top-notch PDX1 fodder for defensive purposes or tossing in some Wolf steel-cased FMJs I had sitting in my basement, the Mk47 handled everything with ease. No stoppages of any type were encountered in the testing of the Mutant—it just kept going and going. The hybrid semi-automatic comes supplied with Magpul's excellent PMag for AK-47-pattern rifles, but both new and surplus 30- and 40-round magazines worked fine, as well.
If there's any complaint, it's the lack of a method to hold the bolt open. Whether on an empty magazine or simply locking open to show a clear chamber, the one thing missing from the Mk47 that should really be present is some method of keeping the rifle open without having to jam an empty case in the ejection port. When plinking with friends in an informal setting, it's good to know the rifle is clear, some ranges insist on "showing clear" when moving and it's just good practice to be able to demonstrate your rifle is empty when not actually on the shooting line. It's saying something, though, when the biggest complaint is the lack of a bolt hold-open.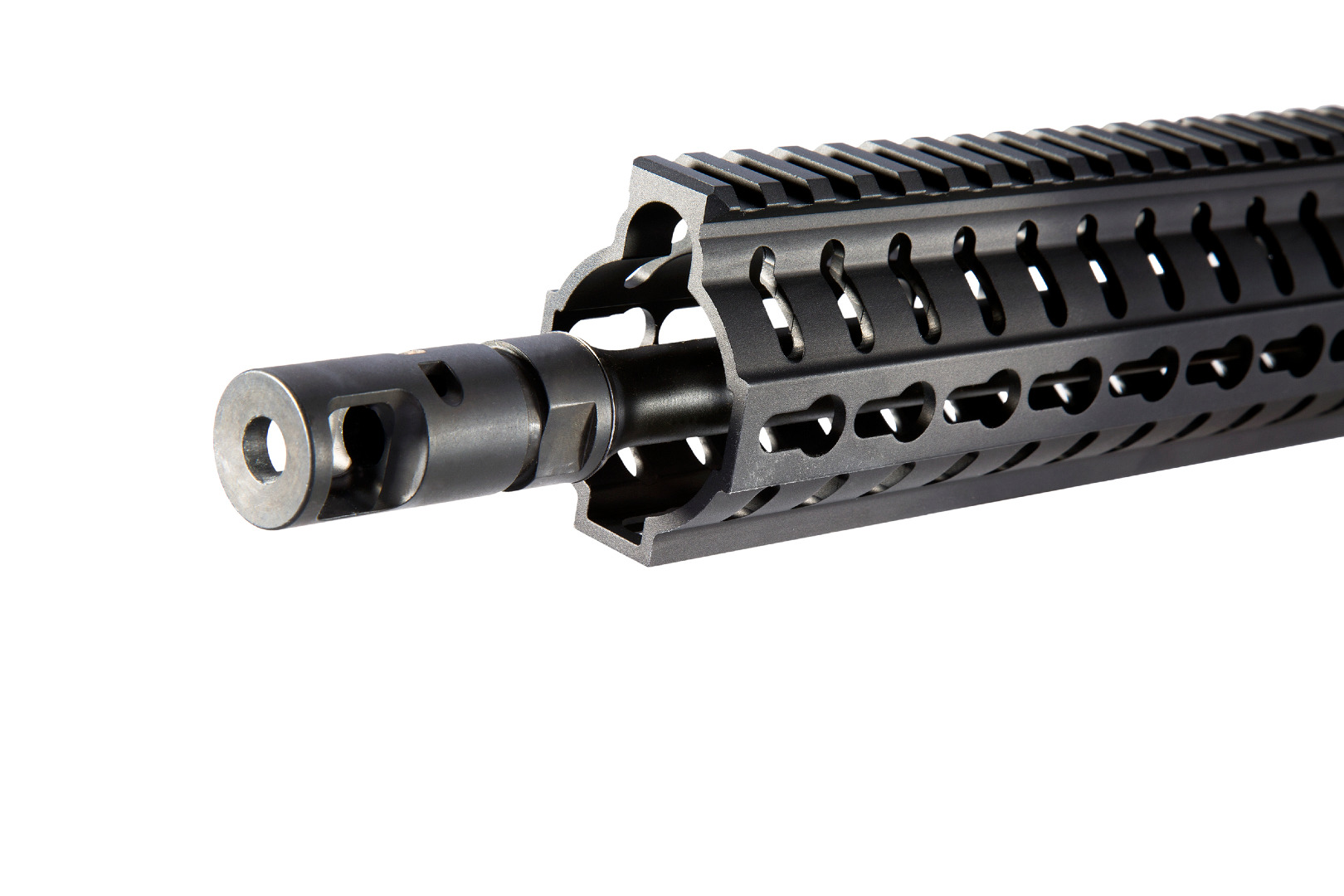 Overall, the CMMG Mk47 is a stout, accurate rifle capable of digesting nearly any fodder and being configured exactly how the shooter desires. The KeyMod freefloat fore-end allows accessories to be precisely added, all standard AR-15-pattern pistol grips and (in this case, Mil-Spec) buttstocks will fit and optics of any style can grace the top rail. If you've got a pile of surplus AK magazines, you're all set. If you have a plethora of Magpul AR-15 furniture, you're also good. When mixing the two platforms together, the resulting Mutant is certainly no monster.
Specifications
Manufacturer: CMMG; (660) 248-2293
Action Type: Direct-gas-impingement operated, semi-automatic
Caliber: 7.62x39 mm
Capacity: 30 rounds
Lower/Upper: Forged 7075-T6 aluminum
Barrel Length: 16.1 inches
Rifling: 6 grooves; 1:10-inch RH twist
Sights: None; railed upper for optics
Trigger Pull Weight: 8 pounds, 1 ounce
Stock: Magpul CTR carbine stock with 6-position Mil-Spec receiver extension
Length: 33.5 inches (collapsed); 37 inches (extended)
Weight: 7 pounds, 3.2 ounces
Accessories: Magpul 30-round AK-47 PMag, manual
MSRP: $1,649.95
Shooting Results
| | | | | |
| --- | --- | --- | --- | --- |
|   |   |   |   |   |
|  Load |  Velocity | Smallest | Largest | Average |
| Winchester 120-grain PDX1 SCHP | 2,348 | 1.55 | 2.42 | 1.94 |
| Wolf 122-grain FMJ | 2,441 | 1.39 | 3.05 | 2.04 |
| MFS 123-grain FMJ | 2,423 | 1.33 | 2.15 | 1.83 |

Velocity measured in fps at the muzzle for 10 consecutive shots with an Oehler Model 36 chronograph. Temperature: 75 degrees Fahrenheit. Accuracy measured in inches for five consecutive, five-shot groups at 100 yards from a bipod-supported, seated position.