Support NRA Shooting Illustrated
DONATE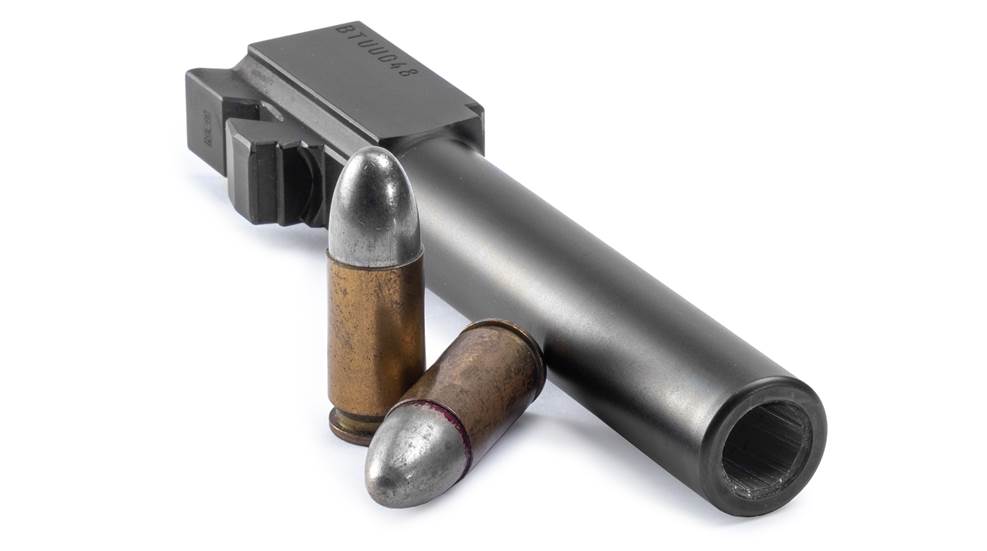 With the cost of ammunition being what it is, I have had to go back to reloading my 9 mm practice ammunition using any components I can find. I got a really good deal on some hardcast bullets and picked up several thousand for current and future use in my Glock G17s, of which I have several generations including the latest Gen5 version. After getting home and digging out my reloading gear, it dawned on me why I hadn't used cast bullets in the past. It seems that I had read that the polygonal-rifled barrels would not shoot lead bullets accurately, so I always loaded and shot plated or jacketed bullets.
Since the Gen5 Glocks have the new Marksman barrels in them with a more pronounced rifling, somewhat similar to other brands, would it be reasonable to expect decent accuracy from these barrels with lead-bullet reloads? Also, if the Gen5 barrel exhibits the level of accuracy that I hope it will, can these barrels be used to replace the barrels in the earlier model pistols so I can shoot the same ammunition in all of my Glock G17 Pistols?
Arch Harrison, via e-mail
Just so you understand or may be concerned, the folks at Glock do not recommend the use of lead, non-jacketed bullets in any of their products. To add to that, Glock, and most of the other major manufacturers, discourage the use of reloaded ammunition in their products. Factory ammunition usually falls under one or more industry specifications, such as SAAMI or CIP, making that type of ammunition acceptable (meaning predictable). Reloaded, and in some cases remanufactured, ammunition has so many variables that there is no standard to be followed. Make no mistake, some reloaded ammunition may be safe and accurate to shoot. On the other hand, some unscrupulous reloaders' recipes might be outright dangerous to shoot, which makes the gunmaker's stance what it is.
The folks at Glock tell me that shooting lead bullets in their barrels, regardless of generation, has the potential to build up lead residue in the barrel to the point of increasing pressures to dangerous levels, which is one of the reasons the manufacturer does not recommend non-jacketed bullets for use in any of its pistols.
The reasons polygonal barrels and lead bullets don't work well together stem from the sizing and hardness of the bullets, as well as the manner in which polygonal barrels impart spin on the bullet to ensure stability and accuracy.
For lead bullets to work satisfactorily in a polygonal barrel, they have to be on the higher end of the hardness scale and loaded to moderate pressures. There is a fairly fine line between success and failure in this arena.
Unlike conventionally rifled barrels with lands and grooves that engrave their twist pattern into the bullet, polygonal rifling is relatively smooth and imparts its spin to the bullet by swaging its twist pattern onto the projectile. This leaves less of a mark than conventional rifling and minimizes deformation to the exterior of the bullet. All but the hardest and properly sized lead bullets tend to skid on polygonal rifling, leaving unwanted deposits that build up over a relatively small number of shots. This degrades accuracy and increases pressures, making frequent inspection and cleaning a necessity.
Should you decide to retrofit some of your older Glock pistols with the newer Gen5 barrels, I would refer you to page 18 of the 2021 Glock Annual, where it addresses the differences in the Gen5 barrels as opposed to others previously available from Glock as well as the aftermarket community. 
An alternative you might consider to keep you practicing with the ammunition you have available would be to investigate popular, conventionally rifled, aftermarket barrels designed specifically for cast-lead bullets.
Shooting is a perishable skill which makes it important to be able to adapt and improvise in maintaining your proficiency, but to always do so safely.