The plate rack is an iconic target. I know that term is overused, but in this case it applies. It's a fixture in any competition or serious training facility. It teaches shooters speed, accuracy, focus, target transition and often humility.

The traditional plate rack has six targets or "plates" in a row. Spacing for Bianchi Cup rules is 20-inches center to center. Most are a bit closer and MGM Targets uses 14-inches so that they all fit on an eight-foot rack. The plates are on a hinge, so they fall when struck by a bullet. There is a long rope on a pivoting mechanism that the shooter can pull to reset the targets without going down range.

I suspect that a lot of you have the same problem that I do. I usually encounter a plate rack during a competition or when taking a training course. It would be nice to continue what we learned, or to practice for the next competition. But, personal plate-rack targets are (or were) problematic.

Many public or club ranges don't have them, because some damn fool will shoot them with the wrong rifle and damage the targets. So, they are relegated to mostly private ranges where there is some control over who is shooting. Where I live in Vermont, those ranges are as common as Bigfoot family reunions.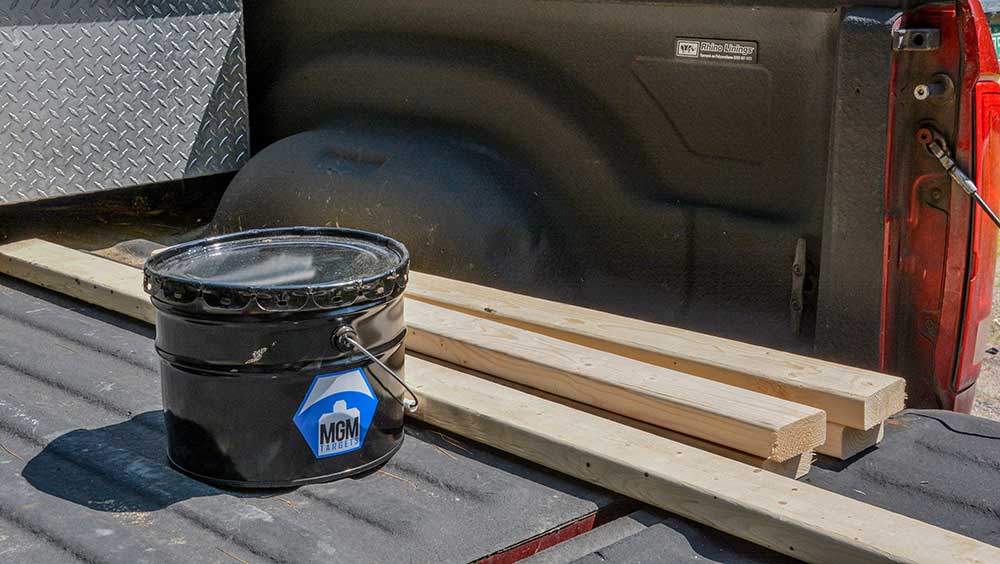 I have a small back-yard range where I can practice and I keep some targets there. But it's limited, so when I am shooting with my friends, I load my steel targets into my truck or a trailer and transport them to the range 50 miles away.

A full-size plate rack is big and heavy, and it's difficult to transport. They are meant to be placed on the range and left there. These targets are not user-friendly for people who bring their targets to the range for the day and pack them in their truck to bring home at the end of the shooting session. (The exception to this is the MGM Plate Rack and Trailer. Wonderful target, but expensive at $2,600.00.)

Any plate rack is, in fact, very expensive and very heavy. A standard, fixed-position plate rack starts at about $1,500.00 and weighs 350 pounds.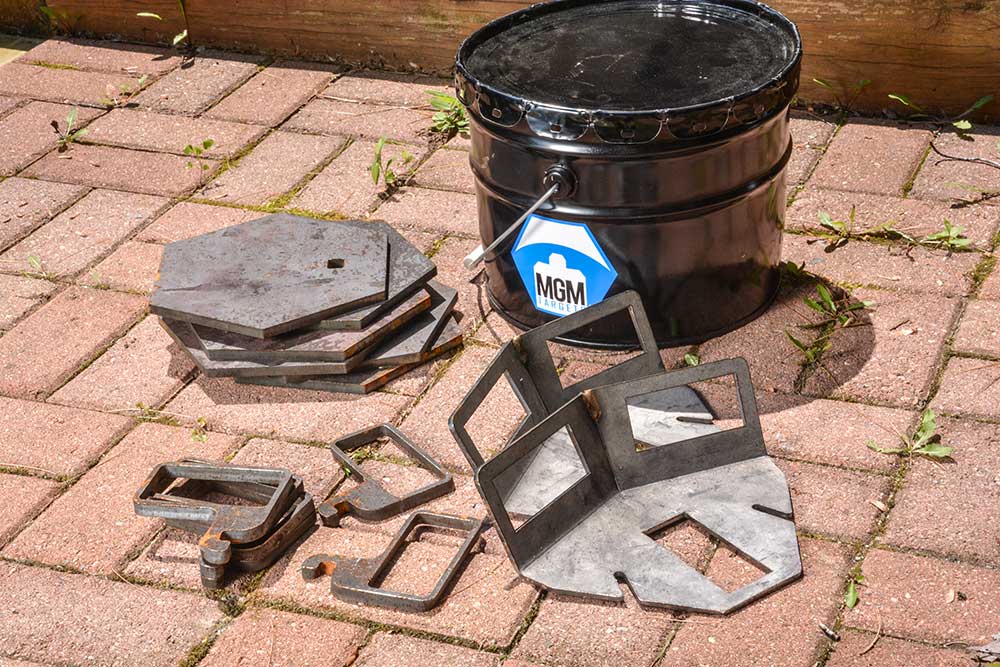 So, what's a poor shooter to do? I have used knock-down targets spaced on multiple support stands. The trouble with that approach is resetting them after every run. If I am shooting at my club's range where there are other shooters, I can't call the range cold and go down range to reset every time I shoot. Even on my backyard range, it gets old fast. You must make your handgun safe and holster or ground it, walk down to the targets, find each target in the weeds and place it back on the stand. Then return to the shooting location, pick off any hitch-hiking ticks and make ready to shoot again. I can tell you, the novelty wears off pretty fast. A commercial plate rack can be reset from the shooting position. Knock them down, pull the rope, shoot some more.

MGM Targets is one of the most-respected companies in the shooting sports. The Gibson family are fixtures at any 3-Gun or long-range shooting event. I have squadded with them many times, they are fun people and serious shooters. The matriarch of the family, Rhonda, has more joy when shooting than anybody I have ever met. The company has donated a lot of treasure and time to promoting the shooting sport, including a youth camp they sponsor to help the next generation of shooters get started.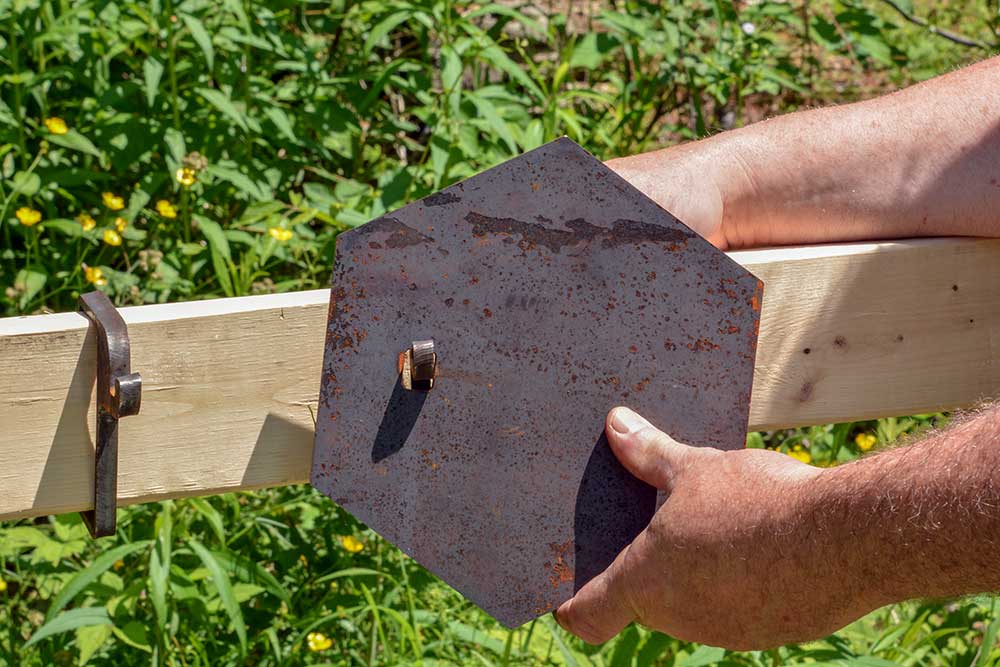 They also make some of the best steel targets on the market, including several plate racks. Recently, the company introduced the Sportsman line of targets. The concept is to keep the quality high using only AR550 steel, but reducing the cost to the consumer so that Joe Lunchbox shooter can afford to buy the targets.

One way they do this is that most of the Sportsman targets are not cleaned, finished or painted. They come off the cutting table and straight into the box. So what? Targets are meant to be shot and the pretty only lasts until the first shooting session. Any steel shooter includes spray paint in their kit. If you can buy more targets by not having them cleaned and painted, it's a fair trade.

One of the most-popular options in this line is the MLS Plate Rack Bucket, or as it's come to be known, "Plate Rack in a Bucket." This affordable target has six of the company's trademark hexagon shaped 3/8 inch AR550 plates. For those who don't know, AR550 is the toughest grade of target steel. Most targets on the market are AR500, because it's a bit cheaper. All of the MGM targets are now made from AR550. When they made that transition they also went to the hexagon shape. They call the steel Hexalloy 550.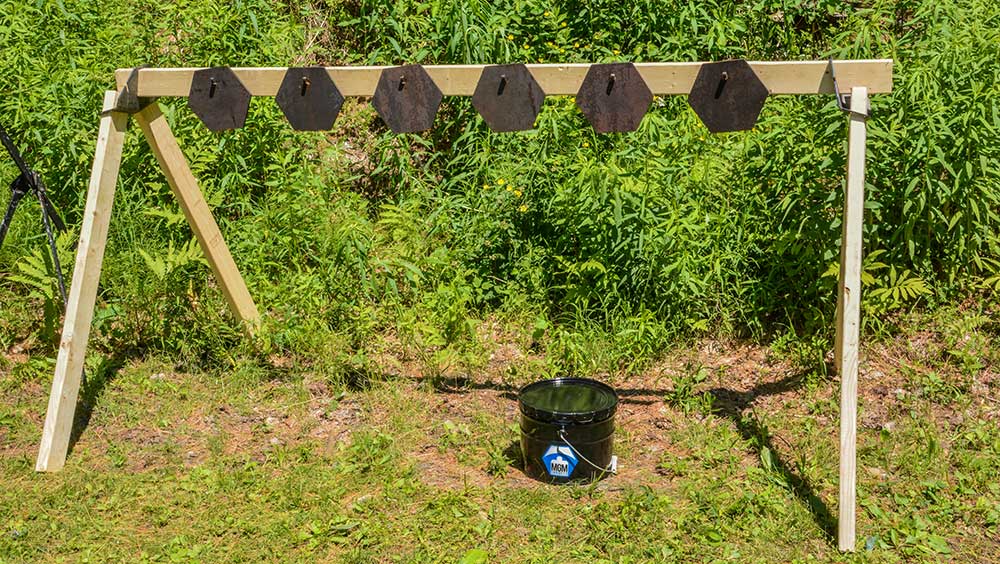 There are six hangers that use MGM's unique modular locking system geometry to fit the plate to the hanger so it will not fall off. These hangers are made to fit on a 2X4 and slide into place. Finally, there are two brackets. This all fits into an easy-to-carry metal bucket and weighs 44 pounds.

All you add is three 2X4s. I bought mine for less than $10. Cut two of them in half, and you have the legs. The third is the target hanger. Two legs and one end of the hanger fit into each bracket, one bracket on each end of the target system. The hangers fit over the long 2X4 and the plates lock into them using the MLS system. Set up or tear down takes about five minutes. It is pretty easy to transport in a truck, SUV or even the trunk of a car.

The plates do not fall down like a conventional plate rack, but they ring and wobble when you hit them. So there is both audio and visual confirmation of a hit. Better yet, you never have to reset them. I can keep this target set up in my backyard range for lunch-break practice. Yet, if we are heading to the club range, I can break it down and easily carry the entire target to the truck by myself. Bucket in one hand and the 2X4s in another. Best of all, it's affordable. The whole kit retails for $254.99.