During a question-and-answer session with Ruger Product Manager Mark Gurney at the 2010 SHOT Show, I noticed a discreet, dark beauty sitting in one of the rifle racks. It was the M77 Hawkeye Tactical, Ruger's first entry into the expanding tactical bolt-gun field. Naturally, the new Hawkeye's Hogue OverMolded rubber stock and matte-black metal caught my eye.
When I received my test sample, I had the advantage of viewing it through a clean lens—my lack of experience with Ruger's bolt-action rifles allowed me to evaluate it without prejudice based on past M77 performance. What I found was largely positive.
The Hawkeye Tactical balanced very well when shouldered, which I attributed to the 20-inch, free-floated barrel's relatively heavy contour. Since the entire stock surface was rubber, grip retention was excellent. The pistol grip had a flared palm-swell, which I found very comfortable. While the buttstock was provisioned with one sling stud, the fore-end carried two for bipod and sling attachment. A robust and very soft recoil pad turned out to be another good feature on the range.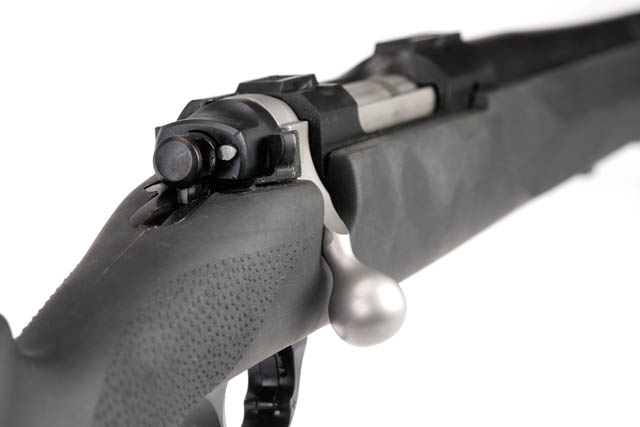 I was unpleasantly surprised to find a hinged floorplate instead of a detachable magazine. Hopefully Ruger will change this in the future, as few things suck worse than loading cartridges through the ejection port with cold fingers or at night when in a hurry. Long ago Ruger proved it makes good removable magazines, so I don't see why the Hawkeye Tactical shouldn't include one, too.
The trigger was a sort of two-stage design, with the pull weight measuring 1 .25 pounds in the first stage and 1.75 pounds in the second. I normally like my two-stage triggers to run a little lighter in the second stage than in the first, but this one felt very smooth with a crisp second stage. Ruger advertises the trigger as adjustable, but there were no instructions for doing so in the generic M77 manual that accompanied the rifle. I inspected the trigger when the action was out of the stock and did not see any obvious adjustments. Since the pull was already acceptable, I left it alone.
The action was pillar-bedded into the full-length synthetic stock frame, but no glass or aluminum bedding system was present. An inexplicable oversight on my test sample was the use of slotted action screws. Precision-rifle shooters whose jobs and/or lives rely on zero retention normally prefer to torque their actions in place, usually in the neighborhood of 65 inch-pounds. Doing this with slotted drivers once or twice is possible if you're very careful and use the correct bits, but before long the slots will strip out. Hex or Torx screws seem more appropriate for this type of rifle.
A strong Mauser influence was easy to see when examining the action. The extractor was a Mauser-style, positive-feed design with a fixed ejector. Although the stainless steel bolt handle was set at an appropriate angle for easy manipulation, working it proved somewhat sticky. The three-position safety allowed bolt manipulation in the middle position while blocking sear release, which is great for checking a rifle's status when in a long-term position. The robust, spring-loaded bolt stop/release on the left side of the receiver was another good feature. Pulling out on the lever released the bolt for removal and also permitted reinsertion.
My biggest complaint with the action was the requirement to use Ruger's proprietary scope rings. I know they are a money-maker for the company, but 21st century military and law enforcement snipers use mounts designed to interface with Picatinny-style rails. The Hawkeye Tactical comes with a pair of Ruger 1-inch rings, which are undersized for modern tactical scopes. Fortunately, the company also offers 30 mm rings.
This handy rifle made me look good at the 100- and 300-yard lines. The .308 Win.-chambered Ruger recoiled forcefully, but not to a degree that caused any trouble with grouping. The heavy barrel helped hold the business end down, and the recoil pad did its job well.
Bolt manipulation, however, wasn't as smooth as I'm used to with rifles in this class. Additional movement required to cycle a bolt creates two problems in the sniper/designated marksman world: It increases shooter signature and the amount of effort required to keep one's cheek welded to the stock while bringing the optic back on target. The Hawkeye Tactical's bolt was slightly gritty, which become most apparent when chambering the third and fourth rounds from each magazine. I had no trouble loading the magazine to its full, four-round capacity.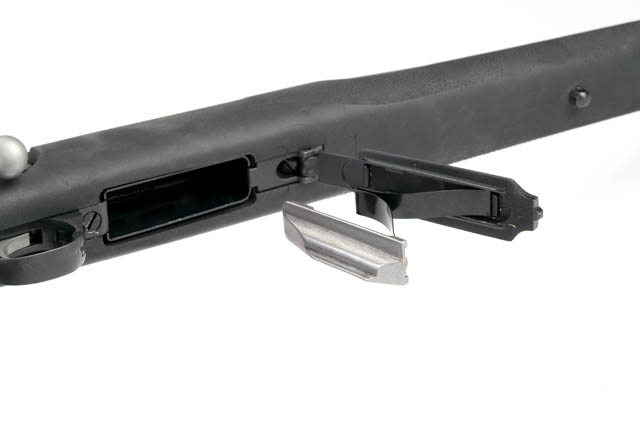 At 100 and 300 yards accuracy was good, and more load testing would likely yield even better results. The Hawkeye Tactical produced sub-MOA groups at both distances, with a handful being very impressive for an out-of-the-box rifle. I'd like to see how much tighter the rifle would group with a proper bedding job. Interestingly, both match loads printed better 300-yard groups—in terms of MOA measurements—than at 100 yards. I shot all groups with Federal Premium Gold Medal 168-grain Sierra MatchKing load at both distances before changing over to the Black Hills 168-grain Match hollow-point load, which ruled out the chance of my settling into the gun between the 100- and 300-yard lines.
The other irregularity during testing was the abnormally slow velocities for both loads. We can expect performance differences between any two barrels, even when they're the exact same type. However, I did not anticipate velocities from the Hawkeye Tactical's 20-inch barrel would be nearly 300 fps slower than what I normally get with other 20- and 18-inch barreled .308s when shooting these same loads. Ruger uses cold-hammer-forged barrels with inner surfaces that differ from button- and cut-rifled barrels, but not so much I'd expect such a difference. I fired rounds from the same lot of Federal Premium ammunition through another rifle that day and velocity was right where it should be.
Driving home from the range with Ruger's Hawkeye Tactical found me entirely confident of my results. With a few functional changes to aid tactical needs, Ruger will have a firm entry into the precision rifle market.
Manufacturer: Ruger
Action Type: Bolt-action
Caliber: .223 Rem., .243 Win., .308 Win. (tested)
Capacity: 5 rounds (.223 Rem.); 4 rounds (.243 Win. and .308 Win.)
Stock: Full-length Hogue OverMolded
Sights: None; receiver accepts Ruger rings
Barrel: 20 inches, hammer-forged, heavy-contour bull
Rifling: 6 grooves, 1:9-inch RH Twist (.223 Rem. and .243 Win.); 1:10-inch RH twist (.308 Win.)
Trigger Pull Weight: Two-stage; 1 1⁄4 pounds first stage; 1 3⁄4 pounds second stage
Overall Length: 40 inches
Weight: 8 pounds, 12 ounces
Accessories: Ruger 1-inch scope rings, owner's manual
MSRP: $1,172