Given its classic styling, chamberings, model variations and widespread use by civilians, law enforcement and the military, one would think the Remington 700 had been around since the days of Col. Townsend Whelen. Rather it is a post-war gun, designed in 1962. Yet, this ubiquitous bolt action has its roots in the latter half of the 1930s.
Back then, Remington designers Oliver H. Loomis and A.L. Lowe had developed a new bolt action, the Model 720, based on the Pattern 14 Enfield action that proved itself in World War I. The Remington 720—initially positioned as a sporting rifle—was launched in 1941, just in time to see the United States enter World War II. The initial run was purchased by the Navy, after which production was put on hold. Nonetheless, the Model 720 set the stage for a new generation of bolt actions that ultimately led to the Model 700.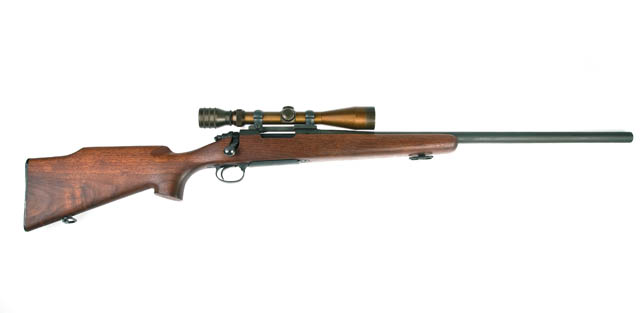 After the war, the short-lived Model 720 was replaced with two improved, yet almost identical bolt-action sporters—the Models 721 and 722, with the only differences being receiver length. The model 721 had a longer action, and was initially chambered for .270 Win., .30-06 Sprg. and .300 H&H Mag. cartridges. Its sister rifle, the Model 722, had a short action and was chambered for the .257 Roberts and the .300 Sav. Subsequent chamberings were added to each rifle over the years. Both guns enjoyed moderate success during their production run, which lasted from 1948 until 1962, when they were replaced with what would become, to many, the best bolt-action sporter ever produced—the Remington 700.
Remington engineers Merle "Mike" Walker and Homer W. Young and their team created the Models 721 and 722, yet they always wanted to do more with that basic rifle. This was especially true of Walker, an avid competitive benchrest shooter, who saw in the 700 series the potential for a mass-produced rifle that would combine strength with superb out-of-the-box accuracy. In 1962 that goal was achieved with the Model 700.
"Remington—America's Oldest Gunmaker," an excellent book written by Roy Marcot says, "Considerable debate has occurred over the years on the reason for the Model 700's accuracy reputation. It appears there is not one factor, but a combination of several: the greater stiffness of the Model 700 cylindrical receiver; the unique bedding system of a free-floated barrel except for twin, V-shaped contact points at the front of the fore-end; fast lock time (3.2 milliseconds) from the rifle's bolt and trigger design; sharp, crisp-breaking action of the single-stage trigger; a snug barrel chamber with relatively short lead; tight barrel-manufacturing tolerances for bore and groove diameters; straightness and uniformity of crown; and consistent, uniform cartridge positioning  by the recessed bolt face."
In addition to its physical design and shootability, another factor leading to the Remington 700's immediate success was that it was offered in both long and short actions, and was consequently available in a wide variety of chamberings. In addition, as Marcot points out in his book, the new Model 700 was also chambered for 7 mm Rem. Mag., which became one of the hottest big-game cartridges in America.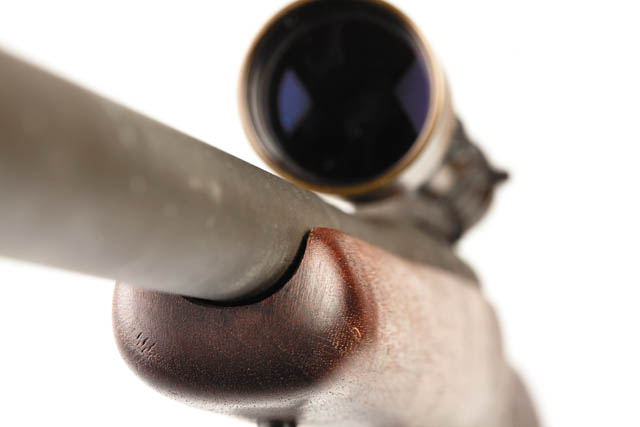 Two versions of the 700 were offered initially: a 700 ADL (A Deluxe Grade) with checkered Monte Carlo stock, hooded-ramp front sight and without a hinged floor plate; and a 700 BDL (B Deluxe Grade), which featured fleur-de-lis checkering, black composite pistol-grip cap and fore-end tip, hinged floorplate, detachable swivels and sling and a brighter blued finish. In 1969 the rifle went through a series of internal and external changes, including a revamped bolt that prompted Remington to tout it as the world's strongest.
Since then, the Model 700 has been produced in a multiplicity of chamberings and a bewildering plethora of models. Some of the more-notable variations were the 1965 introduction of the Model 700 C Custom Shop, a special-order rifle with upgraded wood and metal finish, a left-handed model brought out in 1973, the 6.75-pound Mountain Rifle introduced in 1986, a fiberglass-stock ADL in 1987, the synthetic-stocked Model 700 Sendero Special in 1993 and detachable magazines were offered on select models in 1994.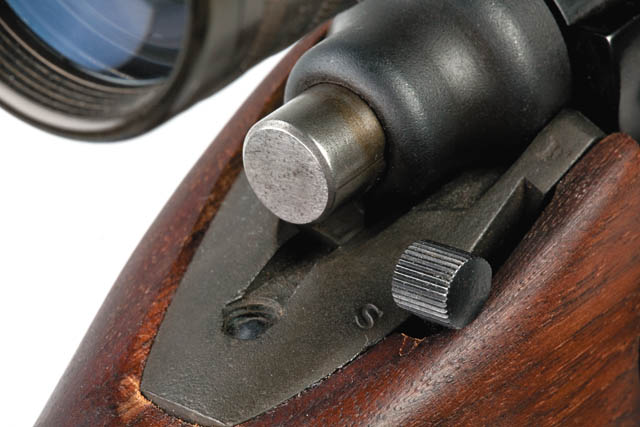 In addition, launching a variant that took the Model 700 into the tactical arena, as early as 1966 Remington developed the M40 Marine Corps sniper rifle. In 1986 a Model 700 SWS (Sniper Weapons System) Rifle was introduced in 7.62 NATO and 2008 saw the debut of the XCR Tactical Long Range Model 700, with black stainless barrel, externally adjustable trigger and Bell & Carlson synthetic stock. Model 700 Police Rifles in .223 Rem. featured Kevlar stocks with aircraft-grade aluminum bedding, while the Designated Marksman version of this model was chambered in .308 Win. and had a detachable-box magazine. All are currently available with a Tactical Weapon System (TWS) package.
Although other specialty rifles are now entering the scene, the Marine Corps M40 and the Army's thick-barreled, synthetically stocked M24 SWS remain the mainstay of our snipers in Iraq and Afghanistan. The Special Forces soldiers I visited at Fort Bragg had nothing but praise for their M24A2 rifles. These rifles can fire more than 10,000 rounds without requiring major repairs and easily punch 1.3-inch groups—or smaller—at 200 yards.
The Remington 700 remains the quintessential hunting rifle, but in its military and law enforcement guises it is definitely a whole lot more. It will be interesting to see what Remington does to celebrate the 50th anniversary of this classic rifle in 2012.