The new 10/22 Takedown Lite from Ruger has weight reducing features throughout the firearm. The barrel sleeve is constructed of 6061-T6 aluminum and the cold hammer forged alloy steel barrel is ventilated with machine holes, making it the lightest weight 10/22 target barrel from Ruger. Both the barrel and sleeve are torqued to an optimum setting to provide outstanding accuracy from low to high temperatures as well as with an added suppressor. Additionally, the barrel nut is torqued to precise factory specifications to offer users a better performance.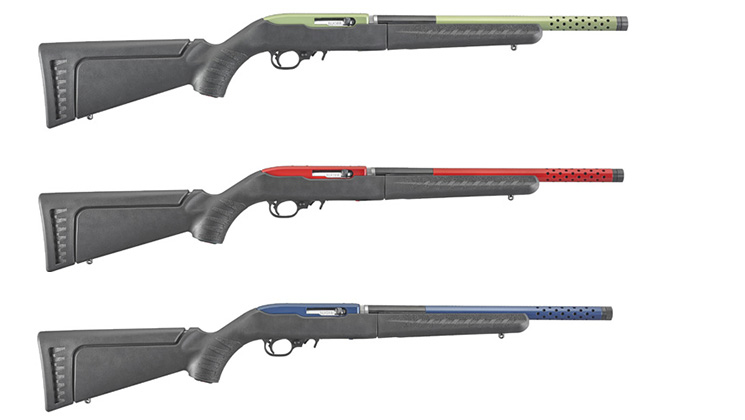 To aid in heat dissipation during extended use, the aluminum sleeve of the 10/22 Takedown Lite is manufactured with a series of small diameter, circular ventilations. The threading on the muzzle, which ships with a thread cap, allows for the use of muzzle accessories such as a suppressor. The 10/22 Takedown Lite incorporates the Ruger Modular Stock System and comes with both low and high comb standard length of pull modules.
The 10/22 Takedown Lite weighs 4.7 pounds, its overall length when assembled is 34.50 inches and the 10/22 is 20.25 inches when disassembled. To disassemble, users push a recessed lever, twist the each subassembly and pull apart.
Finished in satin black and available in blue, red, green and black aluminum dyed sleeves, the 10/22 Takedown Lite also ships with a padded carry case and a ten-round rotary magazine.

MSRP: $659