by
Shooting Illustrated Staff
posted on June 10, 2019
Support NRA Shooting Illustrated
DONATE
Gather 'round, kids, it's story time. Back in the good ol' days, long before shortages and price increases, .22 LR was cheap. I mean, real cheap. Like, you could buy more than 1,000 rounds for less than $20. With a Ruger 10/22, a couple pistols and some targets you could have an entire day's worth of shooting fun for less than the price of admission to an IMAX movie. For a while, though, those days seemed to be behind us. Both the concealed-carry and modern-sporting-rifle markets exploded, and with it demand for centerfire ammo skyrocketed. The lowly .22 LR took a backseat to .223 Rem. and 9 mm.
Looking on store shelves, though, it appears the drought—and attendant price increases—have gone the way of MySpace and LiveJournal. Bulk packs are staying in stock, and selling for prices that, while not quite as cheap as the early 'aughts, are significantly below the early 'teen premiums. So, go ahead and take a new shooter to the range without worrying that the precious rimfire gold won't be replaced. Spend an afternoon honing your trigger press safe in the knowledge that you can refill your supply. Or, just go out and have some fun.
What follows is a handful of ideas on how to expend your rimfire windfall (and some leads on replenishing, too). We have barely scratched the surface of what's out there—heck, the iconic Ruger 10/22 isn't even in this roundup—and if we haven't included your favorite blaster, ammo or target, don't worry. Consider this a springboard, of sorts, for those trying to recall the good old days when rimfire ammo was cheap and you could shoot lots of it without worry.
Training Time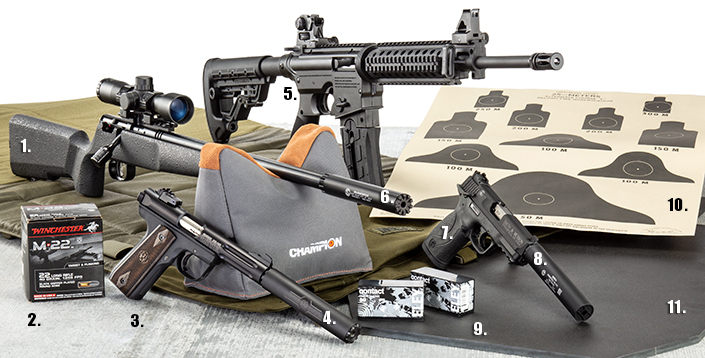 1 | Ready to shoot right out of the box, the Savage Rascal Target XP comes with a mounted and boresighted fixed-power 4x32 mm scope and a bipod sling-swivel-stud mount. Similar to the original model, the single-shot rifle cocks by lifting the bolt and unloads without pulling the trigger. MSRP: $405; savagearms.com
2 | Designed with modern, semi-automatic rifles (and handguns) in mind, Winchester M22 ammo is sold in 1,000-round boxes, which is ideal when you're shooting the volume of .22 LR rounds you'll want to put downrange for training. MSRP: $54.99 (1,000 rounds) winchester.com
3 | The Ruger Mark IV 22/45 Lite pistol brings precision to the rimfire field. With its contoured ejection port and easy-to-grasp bolt ears, hitting steel targets will be a breeze. An included Picatinny rail allows for optics while the threaded barrel allows for suppressor attachment. Additionally, the simple, one-button takedown makes for quick and easy field stripping. MSRP: $559; ruger.com
4 | Matching perfectly with the Mark IV 22/45 Lite, the Ruger Silent-SR suppressor is strong and light with its titanium tube, aluminum rear cap and stainless-steel threaded mount, baffles and front cap. The outer tube and muzzle mount are interlocked to prevent accidental disassembly upon removal and each piece snaps together to seal the baffles. MSRP: $449; ruger.com
5 | Mimicking an AR in terms of aesthetics and overall feel, the Mossberg 715T Flat Top is a great way to train for most aspects of the defensive carbine with minimal recoil and ammo expenditures thanks to its .22 LR chambering. Shipped with adjustable BUIS, the 715T's receiver is railed for mounting an optic, and the rifle comes with a 26-round magazine. MSRP: $326; mossberg.com
6 | To add both a cool factor and a practical means of keeping the noise to hearing-safe levels, SilencerCo's Warlock 22 suppressor attaches directly to the threads of most rifles or pistols sporting threaded barrels. At just 3 ounces, it won't alter the rifle's center-of-balance by a significant amount, and maintenance is easy. MSRP: $323; silencerco.com
7 | Among the most popular handguns carried for personal defense, the Smith & Wesson M&P series is also available with rimfire models like the M&P22 Compact. Perfect for training with a .22 LR version of what you carry, this pistol is functionally identical to its centerfire siblings. It ships with two, 10-round magazines. MSRP: $389; smith-wesson.com
8 | Ideal for use with a handgun, the Gemtech GM-22 suppressor mounts directly to a threaded barrel and provides significant noise reduction. An adapter for certain M&P22 Compact models is sold separately for $45 and allows both mounting and superior function on that pistol. MSRP: $399; gemtech.com
9 | Designed specifically for .22 LR semi-automatic firearms, Eley Contact ammunition has a 42-grain bullet weight with high energy and improved knockdown power. As a subsonic round, velocity is not affected when shooting suppressed and it provides a softer sound while maintaining accuracy. MSRP: $6.99 (50 rounds) midwayusa.com
10 | Made of heavy Rite in the Rain paper, these targets were designed for the M16A1, but make a great option for outdoor rimfire fun. The Alt. Course "C" Record Fire Qualification is printed on the front with silhouettes sized for 50 meters all the way to 300. MSRP: $12.95 (pack of 10) riteintherain.com
11 | If you seek the satisfying ping of hitting a steel target, the Champion Center Mass AR500 Full Size IPSC Steel Silhouette is perfect for rimfire (or most centerfire) defensive training. With 3/8-inch-thick construction, it will handle both rifle and pistol rounds with ease, just be sure to follow the manufacturer's instructions for distance. Smaller steel silhouettes are available. MSRP: $189.95 championtarget.com
Just for Fun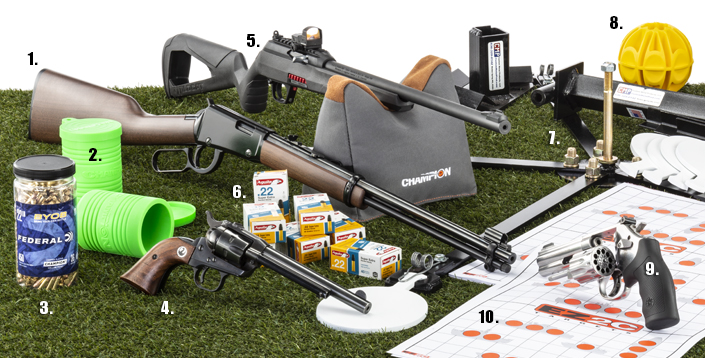 1 | What could possibly be more fun than a Henry Lever Action Classic .22 LR rifle? "Load it on Sunday, shoot it all week" went the tag line of old, referencing the capacious tubular magazine that keeps the fun going. Run that lever and imagine your favorite Western hero while sending cans flying. MSRP: $378; henryusa.com
2 | While an empty soda bottle or soup can will obviously fill the task, eventually they need to be replaced. You've also got to clean everything thoroughly before shooting, and remember to pick up all the pieces. Or, you could grab a Champion Duraseal Soup Can, shoot it all you want, then put it away for your next trip to the plinking range. MSRP: $27.45 championtarget.com
3 | Betcha didn't think you'd see BYOB in a rimfire roundup! In this case, it stands for bring your own bottle—of ammo. New for 2019 is Federal Premium's BYOB Copper-plated .22 LR ammunition in bottles and buckets, just what you need to keep the good times rolling without draining your wallet. You're gonna need a bigger bucket. MSRP: $30.95 (450 rounds) federalpremium.com
4 | Looking to get your cowboy on at a reasonable price? Ruger's Single-Six has been a staple for decades, and for good reason. Offering sturdy construction to last several lifetimes and the fun of single-action plinking, this revolver is available in a variety of finishes and barrel lengths. MSRP: $629; ruger.com
5 | New for 2019, the Winchester Wildcat is built similarly to other semi-automatic .22 LR rifles and makes a great choice for turning rimfire ammo into noise. It's even compatible with Ruger 10/22 magazines, so the rugged BX25 models keep the plinking going all day long. MSRP: $249.99 winchesterguns.com
6 | Another option for plentiful plinking fodder is Aguila's .22 Super Extra Standard Velocity ammunition. A lead, 40-grain bullet works well with steel targets and comes in packages up to 5,000 rounds. Feed your hungry .22 LR with affordable, reliable ammunition to keep the fun going all day. MSRP: $49.30 (1,000 rounds) aguilaammo.com
7 | If you're really getting your cowboy on, why not shoot a cowboy's target? Custom Metal Products .22 Texas Star is a great way to test your prowess with a shootin' iron. Five 5-inch steel plates offer a progressively harder target, as the star spins once plates are knocked off. Yee Haw! MSRP: $275 custommetalprod.com
8 | Reactive targets that don't disintegrate are always fun; even more so if you have to chase it across the range (keeping a safe backstop at all times, of course). Caldwell's Duramax line offers self-healing targets in either cube or ball form for your rimfire fun, although the targets are rated for cartridges up to .50 BMG. MSRP: $15.99; btibrands.com
9 | Whether you're teaching new shooters the fundamentals of a solid trigger press or pulling off trick shots at 25 yards, a double/single-action revolver like the Smith & Wesson Model 617 is a must-have for the range. It's even the same 10-round capacity as most semi-automatic .22 LR pistols, so you won't spend as much time reloading. MSRP: $829; smith-wesson.com
10 | What's more fun than a little friendly competition? With EZ2C's Sink the Boats Game paper target, this age-old strategy game can test your accuracy and precision. Whether you and your adversary each get your own target, or simply opt for top/bottom, the first to hit all the orange dots wins. MSRP: $9.95 (pack of 25) ez2ctargets.com
Duty Calls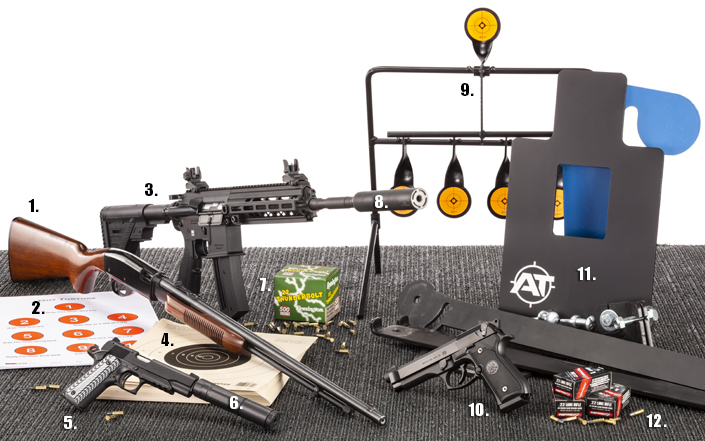 1 | Pump-action shotguns have been a staple in the field, and that same trusted action powers Remington's Model 572 BDL Fieldmaster Pump-Action .22 LR. This uncomplicated rimfire can handle .22 Short, .22 Long and .22 LR interchangeably. It comes with excellent big-game sights, and the receiver is grooved for those who'd like to mount a scope. MSRP: $723; remington.com
2 | Got a box of 50 rounds? Run through the EZ2C Targets Dot Torture Drill, a comprehensive marksmanship course that will take your handgunning skills to the limit. If you clean all 50 shots at 3 yards, step back to push your skills even further. MSRP: $9.95 (pack of 25) ez2ctargets.com
3 | Adopted by the U.S. Marine Corps as the M27 IAR, the Heckler & Koch HK416 is among the most coveted (and expensive) AR-style rifles. Civilian centerfire variants run into the thousands of dollars, but fans of the 416 can get their fix with the HK416 .22 LR Rifle. MSRP: $499; hk-usa.com
4 | The NRA B-16 25-yard Slow Fire Pistol Target is similar to the B-16 50-yard Slow Fire pistol target, but reduced to one-half size. This allows the B-16 to be used at smaller venues while producing similar results. MSRP: $17.45 (pack of 100) championtarget.com
5 | With its downsized 1911 silhouette, the Browning 1911-22 looks like a miniature version of the most-iconic American pistol of the 20th century. But, this is no Plain-Jane 1911; it incorporates high-visibility sights, extended controls and an accessory rail. Moreover, it is available in a suppressor-ready, threaded-barrel variant for quiet plinking. MSRP: $739.99; browning.com
6 | Made of indexed shielded titanium baffles, the AAC Halcyon suppressor is threaded to fit 1/2x28-tpi-threaded muzzles and includes interchangeable rear-end-cap threads. It can go from long to short in seconds and  disassembles without any tools. Weighing a mere 6 ounces, it will make a perfect match to your precision rimfire rifle. MSRP: $449.99 advanced-armament.com
7 | With its multi-purpose, 40-grain, round-nose, solid-lead bullet, Remington's 22 Thunderbolt has become Big Green's all-time bestselling ammunition. A favorite of plinkers, this reliable cartridge provides quality performance at an affordable price. MSRP: $24.97 (500 rounds) remington.com
8 | Built with a Grade 9 titanium outer tube and stainless-steel baffles, the SIG Sauer SRD22X suppressor can handle a variety of rimfire cartridges, including .22 LR, .22 WMR and .17 HMR. Its light- weight construction adds just over 5 ounces to the weight of any pistol or rifle. MSRP: $480; sigsauer.com
9 | Durable, portable and cleverly designed, the Caldwell Rimfire Resetting Target keeps you shooting instead of repeatedly setting up targets. After the four lower targets are struck and flipped up, a single strike on the top target resets the lower ones so you can engage them again. MSRP: $26.99; btibrands.com
10 | Designed as a precise replica of the U.S. military's M9, the Beretta M9-22LR uses the same controls, operating system and takedown mechanism as the centerfire variant. This gives handgunners a great training platform that fires inexpensive rimfire rounds. MSRP: $430; beretta.com
11 | Mounted on a solid, three-legged stand, the Action Target Rimfire Hostage option gives rimfire shooters a challenging training target with a bright-blue paddle that flips to either side of the hostage-style silhouette for repeatable range training and fun. MSRP: $114.95; actiontarget.com
12 | With an expansive line of rimfire ammo designed for hunting, competition or plinking use, Norma's TAC-22 is purpose-built for high-volume target shooting, thanks to a combination of consistency and affordability. MSRP: $4.99 (50 rounds) norma-usa.com