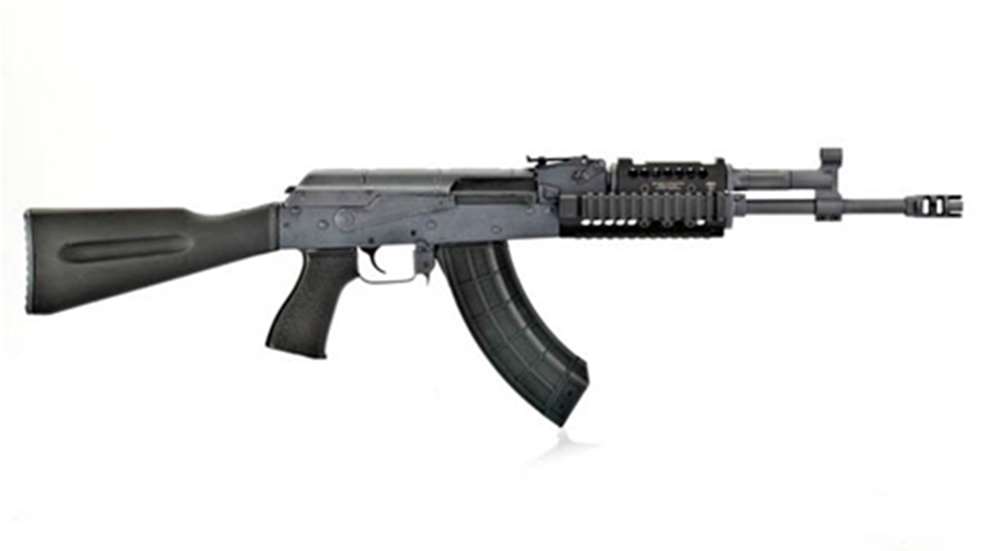 While a growing number of gunsmiths are becoming acquainted with the AK-47, the number of true experts on the Soviet Union's most famous export remains small. I have found Jim Fuller's Rifle Dynamics to be one of the few truly qualified companies that can improve the AK platform beyond its out-of-the-box potential. Rifle Dynamics was one of the first AK-smiths of note in the U.S., pioneering work on AK rifles and Saiga shotguns. Fuller was impressed by and attracted to the simplicity and reliability of most Soviet-Bloc firearms, especially the AK platform. His hands-on study of the AK system of operation began in the early 1990s, and despite other gunsmiths dismissing it as not worthy of their talents, Fuller's love for the rifle and its variants has been reinforced over the years.
The number of gunsmiths starting to cater to AK owners is a true measure of how steadily the firearm is gaining acceptance in the U.S., with Rifle Dynamics leading the way. Rifle Dynamics has been in business since early 2007, and offers a wide range of services and upgrade packages for customer-owned AKs as well as custom builds from parts kits. (For a complete photo gallery of this rifle, go here.)
Fuller, among many others, believes the AK is the most dependable fighting rifle ever produced, and while it may not be quite as accurate as other platforms, it is still plenty accurate for the job. The Kalashnikov long-stroke gas-piston operating system is a benchmark in terms of reliability, thanks largely to looser tolerances in its moving parts, giving it more latitude to function when dirty, hot or grimy. These loose tolerances translate into reduced susceptibility to debris in the action, and ultimately lower maintenance requirements for enhanced reliability.
The 7.62x39 mm AK that received the Rifle Dynamics treatment for this review began as a Century International Arms WASR-10. An item retained from the original Century gun is the Tapco G2 trigger group, which is among the best options available for an AK. Rifle Dynamics added a U.S. PALM/Midwest Industries AK Tri-Rail handguard and AK-BG grip, along with a K-Var polymer buttstock. Then the gun benefitted from Rifle Dynamics' signature custom front end, consisting of a Bolten gas block offered through Venom Tactical and a Primary Weapons Systems (PWS) FSC47 muzzle device. The Bolten gas block combines the front sight and gas block into one unit, which, along with shortening the barrel and permanently pinning the PWS muzzle device, gives the rifle a whole new feel. This modification lightens the front end, which shifts the gun's center of balance closer to the body, making it much more controllable while moving. It also makes the gun as short as it can be without requiring an SBR tax stamp—overall length of the barrel with the pinned muzzle device is 16 inches.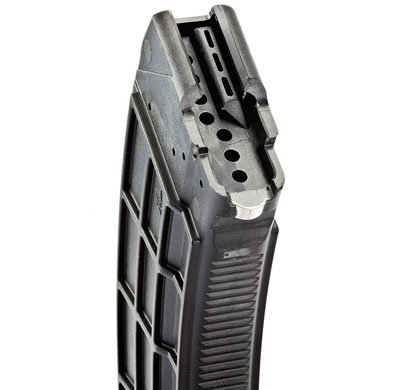 The front-end work is complemented nicely by the Tri-Rail handguard, which allows better ventilation, cooling down the barrel faster after long strings of fire. The Tri-Rail should be considered essential for getting the most out of any AK upgrade. It offers replaceable upper fore-end pieces to enable mounting a red-dot optic while still providing access to the rifle's iron sights. It also creates a lower-third co-witness option for a number of optics coveted by AK shooters, though the specific optic must be chosen before ordering a Tri-Rail since the top covers are tailor-made to the optic base design. Current options for co-witnessed optics are the Trijicon RMR, Aimpoint T-1/H-1, Vortex Sparc, Burris FastFire and Leupold DeltaPoint.
This upgraded AK also features a Fuller Modified Rear Sight unit, one of the company's most popular modifications. Over the years, many have complained about the iron sights on the AK, and the Fuller Rear Sight improves them tremendously. The notch is widened and the corners radiused to a specification given to Fuller by an optometrist for maximum efficiency. Windage adjustments are made on the front sight, while elevation can be adjusted via the rear sight out to 1,000 meters.
The finish is Norrell's gray/black Moly Resin applied over fresh Parkerizing after the original finish was sandblasted. Rifle Dynamics has found this to be the best finish for a rifle designed to take a lot of abuse, heat and lack of cleaning. The company reports it has proven itself many times under the worst conditions, and it adds a distinctive look to the gun.
There is a tremendous amount of fitting that goes into Rifle Dynamics' AKs. All rifles receive internal reliability checks. The fire-control unit is polished and the bolt-carrier group—and theguide rails with which the action interfaces—are lightly honed. Rifle Dynamics also dehorns all exterior surfaces, which reduces potential snagging on clothing or gear.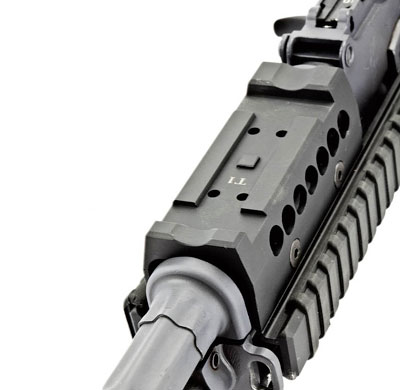 Fuller takes great pride in the fitting that goes into everything Rifle Dynamics produces. Examples include installation of a Krebs retainer plate, refitting the rifle's existing safety and magazine catch and replacing the original gas piston with a U.S.-made version, along with verifying the correct headspace. Most owners will not even notice the attention to detail, but they can take comfort knowing everything possible has been done to make each Rifle Dynamics AK the best fighting rifle available.
Even without firing a round, this upgraded AK's superiority over a standard Kalashnikov could be detected in the smoothness of the action, trigger pull, quality of finish and overall feel. Rifle Dynamics is well versed in the nuances of the platform and will impress even the most die-hard AK connoisseur.
The majority of testing was conducted using the recently introduced U.S. PALM AK30 polymer magazine. This magazine is molded so disassembly is neither possible nor warranted. It uses a low-friction, semi-floating slotted follower for greater reliability and ease of maintenance. Feed lips and locking surfaces are reinforced with stainless steel and molded into the top of the magazine. Finally, aggressive texturing on the front and rear offer positive tactile feel, while the waffle pattern on the magazine's sides aid in extraction from magazine pouches.
I tested the AK at Echo Valley Training Center (EVTC), a West Virginia facility that hosts numerous well-known training entities along with DoD personnel and federal, state and local law enforcement agencies. Manufacturers are also finding their way to EVTC to take advantage of what the facility offers. It has multiple 100-yard enclosed-berm bays capable of handling numerous students conducting square-range drills or more dynamic types of training utilizing the barricades, building facades and doorways constructed for this purpose. In conjunction with the individual training bays, EVTC features multi-stepped target berms strewn with reactive steel targets, fluid-drained automobiles and moving targets at ranges varying from 150 to 350 yards.
Thanks to these options, I was able to test the rifle beyond a simple bench test for accuracy. One drill began with targets at 35 and 115 yards. Targets were engaged five times each starting from the standing position, followed by moving to another location and shooting five more rounds while kneeling. Finally, moving yet again and transitioning to prone, five additional rounds were fired at each target, reloading as necessary. I asked a couple of training partners, including range owner C.R. Newlin, to handle the Rifle Dynamics AK in this drill. Afterward, each shooter was complimentary of the gun's handling and combat accuracy. I attribute this to the Rifle Dynamics custom fore-end work along with the improved sight picture offered by the Fuller Modified rear sight.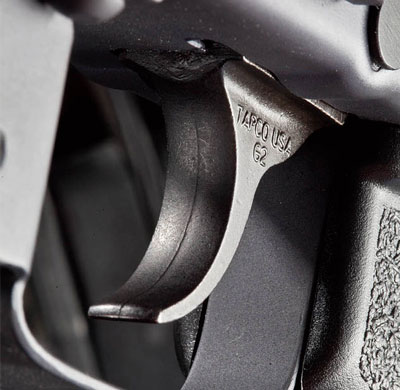 I used multiple 7.62x39 mm loads in testing, including offerings from Hornady and Wolf, along with Egyptian and Yugoslavian military-surplus ammunition. Oddly, both the Egyptian and Yugoslavian ammunition utilized brass cases. Wolf steel-cased 122- and 124-grain loads hovered in the 3- to 4-inch range at 100 yards, with the surplus Egyptian and Yugoslavian loads producing only slightly larger groups. Hornady SST loads delivered accuracy in the sub-3-inch range. In all fairness, a magnified optic or even a red dot would have probably produced better accuracy results compared to open sights, especially with the Hornady SST loads. Gilt-edge accuracy is not the goal with the Rifle Dynamics AK-47 upgrade; it is a fighting rifle measured by a different set of parameters—namely reliability and ease-of-use in the field.
Lessons rediscovered in Iraq and Afghanistan about terminal ballistics are enhancing the 7.62x39 mm cartridges' credentials. Available 7.62x39 mm loads ranging from 122- to 154-grain FMJ, HP and SP show very similar results to the .30-30 Win. in terms of ballistic performance. Hornady's 123-grain SST 7.62x39 mm offering is further proof the cartridge and its associated rifles (AK-47 and SKS) have come to stay in the U.S.
The Rifle Dynamics AK upgrade should challenge preconceived assumptions about the AK platform, although some may question if the final product is a significant improvement over a stock model. The answer is a resounding "yes" in all aspects, including improved shootability, reliability and functionality, all contributing to increased lethality. Not much more can be asked from a fighting rifle. The upgrade proves an AK can indeed benefit from the attention to detail and experience of a knowledgeable gunsmith, like Rifle Dynamics.
Take a look at yet another reason this gun is so special here.