The thirst for alternative cartridges in the AR platform continues to grow. In particular, there is a strong consumer desire to push .30-caliber projectiles out of the handy little carbines for everything from home defense to hunting whitetail deer, hogs and predators. While .300 AAC Blackout is the current pack leader in terms of popularity and marketing, others like 7.62x39 mm, .30 Rem. AR and the newer 7.62x40 WT are viable alternatives for folks wanting to send more mass downrange, without stepping up to the larger .308-caliber AR platform. Each of these cartridges has its pros and cons in the AR and in the case of the widely available 7.62x39 mm, it is the concern of magazine reliability. My own experience shows that in most cases, traditional-style AR mags made for the stubby Russian load need minor modification before they'll work well. Several companies have tackled this problem by instead designing their lower receivers to use an AK-specific magazine. Rock River Arms (RRA) is one of the latest to offer this capability in its LAR-47 platform.
At the time of this evaluation, the LAR-47 was available in two configurations: the CAR-A4 and a Delta Carbine. The former is a standard M4 configuration flattop with no extras beyond Rock River's two-stage trigger and a rail-topped gas block. The Delta Carbine shares the upgraded trigger, but also has a two-piece rail handguard set, Ergo SureGrip pistol grip and RRA's Delta CAR stock. I opted to evaluate the Delta Carbine in hopes that the handguard freefloated the barrel, but was disappointed to see it is still attached to the standard handguard cap and delta ring.
The LAR-47 uses Rock River's proprietary, forged upper and lower receivers designed to accept RRA's polymer AK magazine and in its words, "most standard AK-47 mags". The obvious advantage to this setup is the wide variety of durable magazines available to feed this little beast. Unfortunately, that comes with some baggage—namely AK magazine specifications are only standardized in theory. Over the years, I have found that so long as they're banana-shaped, rock into position, are made of stamped steel and can be jammed with 30 rounds of 7.62x39 mm, they can be called an AK mag. The good news is the rifle ships with Rock River's own polymer AK mag and additional magazines are available from RRA for $20 each. Just as with the AK, the bolt does not lock back on an empty magazine and this rifle does not have a manual bolt stop.
Rock River's Delta CAR six-position, collapsible stock is a sort of hybrid between Magpul's MOE and CTR collapsible stocks. It maintains the simplicity of the MOE's sling slot, rubber buttpad and protected release latch while also incorporating the utility of the CTR's QD sling mount sockets on each side. I found it to be a good mixture of features and comfortable to use. The only oddity is a molded-in, Picatinny-type rail section that runs the length of the stock's underside. I am guessing it is for attachment of a monopod, but anything that mounts to a rail could be placed there. A large, stamped-steel, winter trigger guard protects both trigger and ambidextrous, paddle-style mag release. I found the latter easy to reach, but with the magazines being of rocker-lock design they do not fall free, so mag changes require one hand to grip and rotate the magazine forward slightly to disengage (after pressing the mag release)—or two hands if it is a tight fit.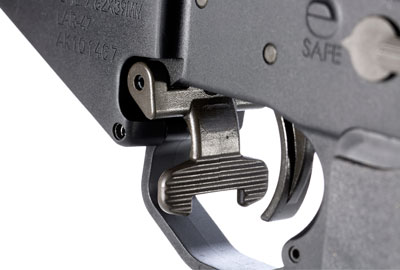 The two-stage trigger on my test carbine measured 1 pound, 11 ounces in the first stage and 3 pounds, 8 ounces in the second. It was a tad bit creepy in the first stage, but this was not a big deal, as the second stage was crisp enough to break clean shots. Additional sling QD mounts are positioned fore and aft on each side of the carbine-length handguards along with accessory rails on all four sides. The A2-contour barrel uses a carbine-length gas system, which generally meshes very well with this cartridge. A low-profile gas block is included with the Delta Carbine, making it easier to install a longer freefloat fore-end, if desired.
I mounted a magnified scope on the LAR-47's flattop upper and headed for the range to see how it stacked up for accuracy and reliability, with three ammunition types that have shown solid performance across the many 7.62x39 mm ARs I shoot each year. I quickly learned my surplus AK mags were not going to work. One would feed one round then malfunction while the other would not feed at all. Each steel mag was between .020 inch and .040 inch wider and .035 inch longer than Rock River's magazine, and steps milled into the lower receiver's mag well simply did not provide enough clearance to allow proper function. Because the magazines fit so tightly and the bolt cannot be locked to the rear, unloading and/or clearing malfunctions was an awkward, two-handed process. In all fairness to Rock River, my steel magazines were both battlefield recoveries with some use on them. RRA's polymer magazine worked perfectly so that is what I went with.
The only other functional problems were encountered using Hornady's steel-cased, 123-grain SST load. This ammo tended to short-stroke the gun every so often, failing to feed and closing the bolt on an empty chamber. This is an under-gassed symptom, and not at all uncommon with this particular ammo. I usually see this problem on 7.62x39 mm rifles with mid-length gas systems. In this case, it seems Rock River's .081-inch gas port could stand to be opened up a few thousandths of an inch to accommodate the lower- powered loads. It is an easy modification for a competent gunsmith to make if this ammunition is part of your game plan. The two other loads tested worked without a hitch.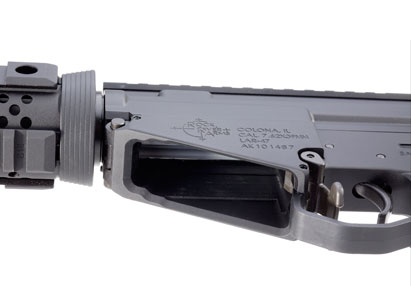 While my accuracy testing did not set any records, the LAR-47 is battle-rifle accurate and suitable for home defense or brush-gun hunting distances out of the box. The lack of a freefloat barrel certainly does not help accuracy nor did my testing with a long, 30-round magazine that forced me to prop the carbine up higher than is ideal for precision shooting. The chamber and throat of my test carbine measured out slightly tighter than is normal for 7.62x39 mm ARs, so I think Rock River is on the right track. The LAR-47 family now has enough variations to please most AR fans. With the right magazines and ammunition, it is easy to use and a great general-purpose carbine.
Specifications
Manufacturer: Rock River Arms; (866) 980-7625
Action Type: Direct-gas-impingement operated, semi-automatic
Caliber: 7.62x39 mm
Capacity: 30 rounds
Barrel Length: 16 inches
Rifling: 6 grooves; 1:10-inch RH twist
Stock: RRA six-position collapsible buttstock
Sights: None; Picatinny rail for optics
Trigger Pull Weight: 1 pound, 11 ounces (first stage), 3 pounds, 8 ounces (second  stage)
Length: 36.5 inches
Weight: 7.75 pounds
Accessories: Polymer AK magazine, manual, chamber flag, hard case
MSRP: $1,545 (Delta Carbine)
Shooting Results
| | | | | |
| --- | --- | --- | --- | --- |
| Load | Velocity |   | Group size |   |
|   |   | Smallest | Largest | Average |
| Herter's 123-grain JSP | 2,295 | 1.6 | 2.9 | 2.0 |
| Hornady 123-grain SST | 2,195 | 1.6 | 3.4 | 2.1 |
| Wolf 123-grain JHP | 2,281 | 1.0 | 2.3 | 1.5 |
Velocity measured in fps from the muzzle for 10 consecutive shots with an Oehler Model 36 chronograph. Temperature: 52 degrees Fahrenheit. Accuracy measured in inches for five consecutive, five-shot groups at 100 yards from a supported rest.