by
posted on July 20, 2021
Support NRA Shooting Illustrated
DONATE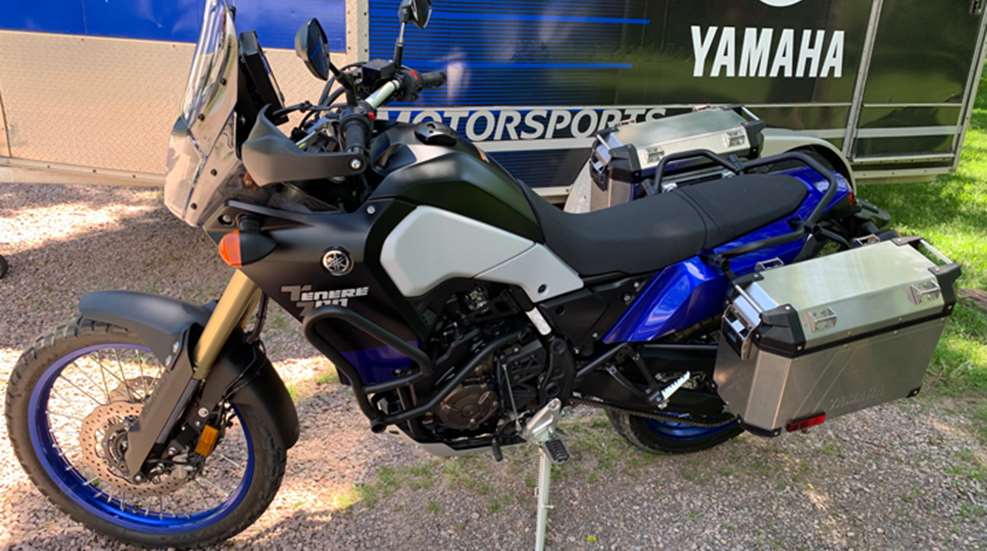 This is, as far as I can tell, a first for Shooting Illustrated: A motor vehicle review. Now, I've had a motorcycle license almost as long as I've had my carry permit, and one thing I've noticed from participating in both communities is a fair amount of crossover. You're likely to find more than the average number of gunowners in a group of motorcyclists, and vice versa. Perhaps it's the enhanced feeling of freedom? Maybe it's being in control of your own destiny? Whatever the reason, bikers like guns and gunnies like bikes. At least that's how it seems to me.
I recently had the good fortune to attend an event with firearm-industry types that centered around our mutual love of two wheels. You might have seen Jim Shepherd's posts in the Outdoor Wire about MotoSchützen; we spent our mornings shooting guns and the afternoons/evenings riding motorcycles. I know. It's a tough job. The good folks at Yamaha Motorsports were kind enough to provide some of the company's new Ténéré 700 Adventure-Tourer motorcycles for MotoSchützen participants, and I spent the week riding one.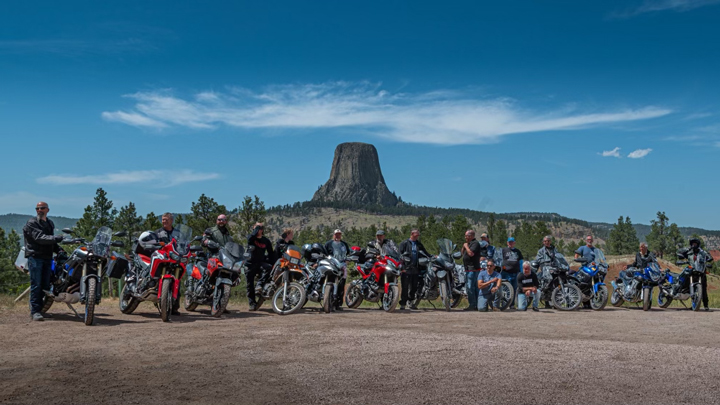 Now, how's this fit into Shooting Illustrated's "home and self-defense" purview? We've published a bit about having a "go bag" of some sort as part of an overall defensive strategy. It could be a small pack with food, water and basic tools that's designed to help get you home should you be out and about when something bad happens; it could be a larger pack with a long weekend's worth of provisions designed to keep you comfortable should you need to leave your house in an emergency.
Why not have a vehicle designed to get you where you're going safely, with the ability to traverse inhospitable terrain while using a minimal amount of fuel?
An Adventurer-Touring motorcycle like the Ténéré 700 can be outfitted to carry you and a passenger along with an impressive amount of gear quite a long way over dirt, mud and asphalt. The Ténéré 700 I rode for the week had two hard saddlebags, and the smaller of the two (it had an internal cutout for the exhaust) was large enough to hold my Blackhawk STAX EDC pack with camera, range gear and other assorted items with room left over. Suffice to say, both bags carefully packed would easily hold enough supplies for two people for 72 to 96 hours, if not more.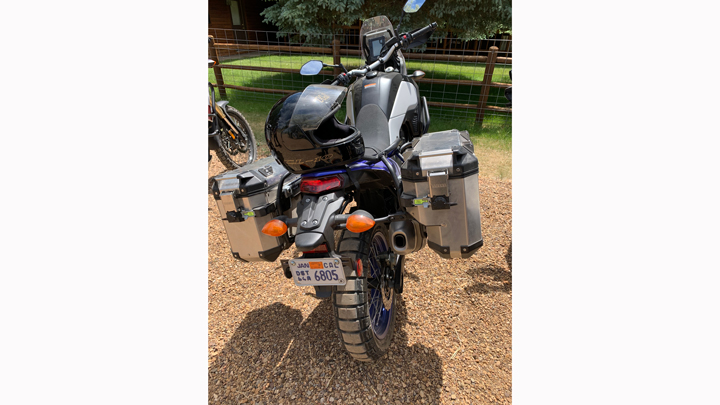 I doubt there's a lot of folks out there who would buy a Ténéré 700 just to stash in the corner of their garage with a long weekend's worth of supplies, though. The good news is, it works quite well as a commuter. In the week we spent in the Black Hills of South Dakota (and the day trip to Devil's Tower in Wyoming) I put somewhere between 600 and 700 miles on the Ténéré 700. Some of it was on dirt roads, some on highways but the majority was on two-lane stretches of blacktop, some of it rather on the curvy side.
A side-digression, if I may be indulged? There's a lot of motorcycle rallies in the U.S. every year. I've been to Bike Week at Laconia probably a dozen times or more, having grown up only a couple hours from Weirs Beach. I've been to Daytona, FL, although not during the rally. I had never been to the Sturgis area until MotoSchützen. I completely understand why the rally is held in Sturgis. If you've had the pleasure of riding in the South Dakota Black Hills, you know; if you ride and you haven't made it, it's well-worth the trip. Much like the White Mountains in New Hampshire, the Black Hills area has all sorts of twisty, turny roads that are just nirvana for the motorcyclist.
And the Ténéré 700 ate. it. up.
I'll admit, I was a bit nervous. Sure, most of that just had to do with being on a new-to-me motorcycle (and one that didn't belong to me, at that). Some of it was that for the better part of two decades, I've been on a Harley Davidson Electra Glide, a "bagger" that's built to eat up miles of highway, not carve canyons. It did not, however, take long for me to get quite comfortable with the Ténéré 700 and really enjoy the ride.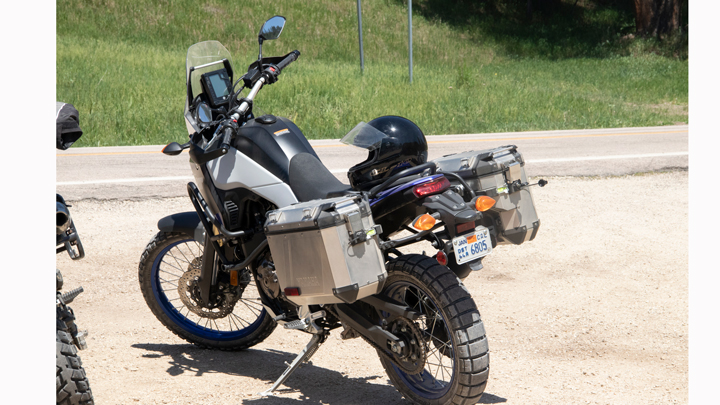 For those not familiar with the Ténéré 700, or Adventure-Touring motorcycles in general, they're set up higher than your typical motorcycle, mainly for ground clearance. Shorter riders may make use of a thinner seat on the Ténéré 700, which does make for a more, ahem, austere ride. The standard seat worked well for me, and I didn't experience any undo discomfort (at least not any more than usual on a long motorcycle ride). Sure, after an hour or so I was fidgeting a bit, but so was everyone else. I think the temperature being in the high 90s might have played a part, too.
Foot controls are, by necessity, on the smaller side—I found myself missing the rear brake on occasion, but that's because I'm used to the mammoth, car-like rear brake on the Harley. Others who rode the Ténéré 700 had no problems. The brake itself was great—and the Ténéré 700 is equipped with ABS, which is quite nice when needed—and shifting was without incident. This surprised me, actually, as I've gotten quite spoiled with the "heel/toe" shifter on the Harley, and I was worried I'd have problems with a smaller, standard lever. No worries; all shifts were clean and I didn't even overshoot neutral!
Hand controls are protected and intuitive—the only button I couldn't immediately identify was the selector for the instrument cluster. Everything else is where you expect, although I did have to go back to my days riding my Honda Magna to get used to the left-side-only, non-self-cancelling turn signals. Again, not a knock on the Ténéré 700 by any means. The instrument cluster looks kind of like a '90s era PDA: black characters on a standard LCD display. Digital speedometer, tachometer, fuel gauge and gear indicator are flanked by the standard indicator lights (turn signals, high beam, etc.). It's curiously retro-looking, but it works, and gives a lot of information at a quick glance, which is critical.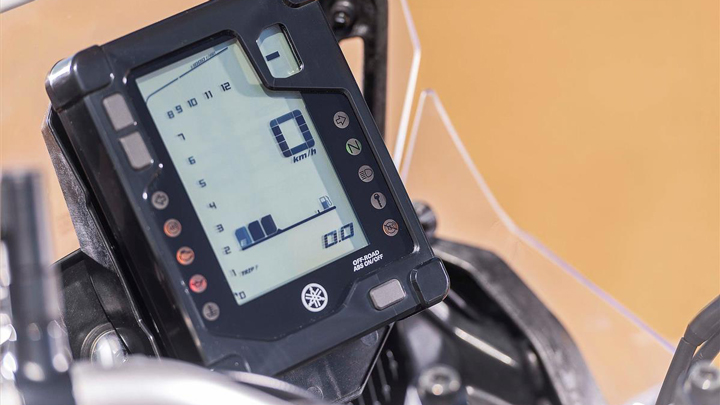 Once I stopped trying to ride the Ténéré 700 like a Harley bagger, it got far more fun. I found myself shifting constantly, and finally had to force myself to let it rev higher than 3,000 RPMs—this is not a Harley V-twin that redlines at 5,500 RPM; this is a liquid-cooled, DOHC 4-stroke, 8-valve 698 cc engine designed to rev much higher. Once I started letting the Ténéré 700 wind up more, it started to simply amaze me with the range of each gear.

Third and fourth gear alone take you pretty much from puttering around town to highway speeds—and there's two gears before and after. The torque on the Ténéré 700 is impressive; I never felt like it could have used more oomph at any point (and, should you need more oomph, there's a massive Super Ténéré with a 1200 cc engine available). Gas mileage was impressive, easily topping 50—60 MPG depending on how aggressive I rode.
And, on some of the twisty backroads, well, things got somewhat intense. While it might have taken me a few passes to start feeling confident flicking the bike around, once I got the hang of it (hey, to be fair I kept listening for the sound of floorboards scraping…) it was amazing. I found it quite easy to handle the Ténéré 700 through hairpin turns, rapid downhill switchbacks and narrow passes in the hills. To say it was fun would be a gross understatement. I honestly don't know that the experience could have been better even on a different motorcycle, I really don't.
On the highway, especially with the wicked winds experienced out in the hills, I did find myself a little homesick for the much heavier Electra Glide, but, again, that's not a knock on the Ténéré 700 by any means. Long highway rides in high winds are not what this bike was designed for, and while the wind was appreciable (all riders in the group commented on how brutal the wind was), the Yamaha handled it beautifully.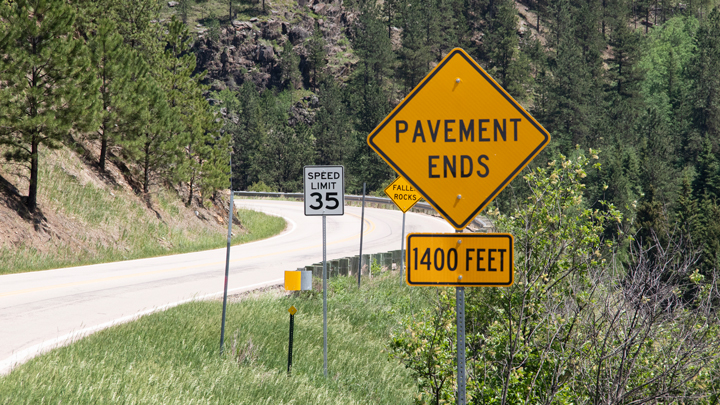 I didn't ride terribly much on dirt; perhaps 50 miles tops. Part of that, simply, is I'm not terrifically comfortable off-road; part of it had to do with the amazing scenery from the highways and byways. I will say that, even for a novice, the Ténéré 700 handled dirt amazingly well. At no point did I feel like the Yamaha was getting away from me, and I managed to hold my own in the middle of a field of experienced off-road riders. Well, it is also possible they were keeping an eye on me in case I went down. So they could laugh at me. You'd have to know this group.
In the end, the Yamaha Ténéré 700 handled everything the week threw at us, and then some. Long highway rides, blasting down dirt roads and whipping around hairpin corners, it took everything in stride. Couple that with generous carrying capacity (more than a few times I had half the group's jackets in the side bags when we stopped at an attraction), great fuel economy and an affordable price, I'd have to say that if one were in the market for an on/off road motorcycle, the Ténéré 700 should be at the top of the list for consideration.
For more information on the Ténéré 700 - including full specs and MSRP - and other motorcycles from Yamaha, visit yamahamotorsports.com.