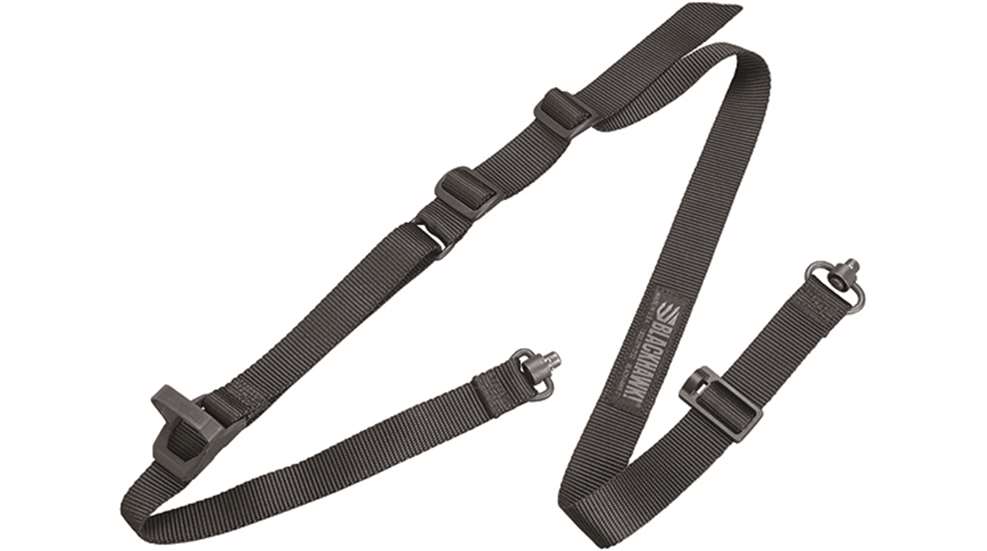 Blackhawk's new Multipoint sling answers the question of "Single-point sling or traditional two-point?" with a definitive "Yes." Two ends can be attached to your rifle in the traditional manner, or—using a QD mount—one end can be attached to the rifle while the other meets back with the sling webbing to form a single-point sling. It might sound a tad confusing, but in practice it's quite simple to do, even with one hand (with the QD mounts).

Should more-traditional attachment methods be preferred, however, they are available in the Multipoint sling. Free end mounts can be ordered for the MilSpec adherents, or snap-hook mounts if desired. QD mounts have become increasingly popular, and can be found on a number of handguards, stocks and KeyMod or M-Lok devices.

Once attached, several polymer buckles allow the rifle to hang where it is most comfortable to your preference, and a rapid-adjustment slider buckle reduces tension and eases transition from slung to ready position. Multipoint slings can be had with or without extra cushion on the shoulder, and are available in "stretch" or "slick" configurations. Chances are good that no matter what your preference is in a sling, the Multipoint can accommodate what you're looking for.

If there's any chance you'll be out in the field with a rifle (as we were last summer while looking for prairie dogs), having a sling makes a world of difference in both comfort and alertness. When you have reliable gear you can depend on, it allows your focus to be on the task at hand, rather than the pedestrian schlepping of gear. Blackhawk's new Multipoint sling is an affordable, comfortable way to carry your rifle when out and about, even if it's just traveling from the trunk of your car to the rifle rack at your local range.

MSRP starts at $39.95 and varies depending on options chosen. Multipoint slings are available as of the beginning of this month.