Support NRA Shooting Illustrated
DONATE
Glock pistols have long dominated the law enforcement and civilian markets in the United States. It is also the sidearm of some US military units and entire armies of other countries.  After carrying a Glock 22, and several other iterations of Glock pistols, during my 22 years as a DEA special agent and firearms instructor, and shooting many thousand rounds through them, I am convinced Glocks have earned a well-deserved reputation for being extremely rugged and reliable service weapons. Knowing the system inside out after attending Glock Armorer school, I have no reservations in carrying them for serious work in the worst of conditions. I still carry one to this day on occasion, even in my retirement.
An Old Timer Favorite
Today, however, I'll talk about a Wilson Combat CQB in .45 ACP that I acquired back in 2002. I knew this was the gun I was going to carry upon my retirement, as I get to choose what I carry now. The entire pistol is dressed in Armor Tuff finish, black slide on a green frame. The slide, which I had sent to Wilson for sight replacement and refinish a few years ago, now shows minimal holster wear, giving a little "temper" to the gun. The frame finish has been left mostly untouched all these years, only showing a shiny bare metal spot on top of the ambidextrous thumb safety, a product of extended dry-fire sessions and occasional live fire. This was not my duty gun, but it hasn't exactly been a "safe queen" either. I have shot it only on occasion and during a single stack match, putting a total of seven thousand rounds through it in all these years. It runs smoothly with Winchester "White Box" 230 grain FMJ, Winchester 185 grain Silvertips, and Remington 230 grain Golden Sabers.
Form And Function
The sight picture is made easy by a Heinie Straight Eight serrated rear sight to prevent glare and a Wilson Combat front sight post, both equipped with tritium inserts. This 1911 has the best trigger in my gun collection, even when compared to a couple of other high-end 1911s. It breaks cleanly at around 3 pounds and is crisp, consistent and predictable. The gun gives me the feeling of the right amount of heft and balance for quick double taps and follow-up shots at close range as well as for long range shooting. This is possible, in part, because the gun has been properly broken in, the checkering in the front strap adheres to my hand even when wet, and the gun is points natural to me. I still use the original wood stocks with the Wilson medallion, even after having tried several aftermarket ones. A few days ago, I ran the pistol through a couple of drills at seven yards, from the holster. In ten shots, most of my draw times hovered in the mid 1.90s seconds, with the fastest draw being 1.88 seconds, and the slowest being 2.33 seconds; seven out of ten hits inside or touching the line of the center rectangle in the QIT target, from concealment under a t-shirt. I then pushed it out during slow fire to the 50-yard line on a 12x22 inch steel plate, which I was able to hit eight times out of ten with my unaided 60-year-old eyes. Not perfect, but I'm good with it.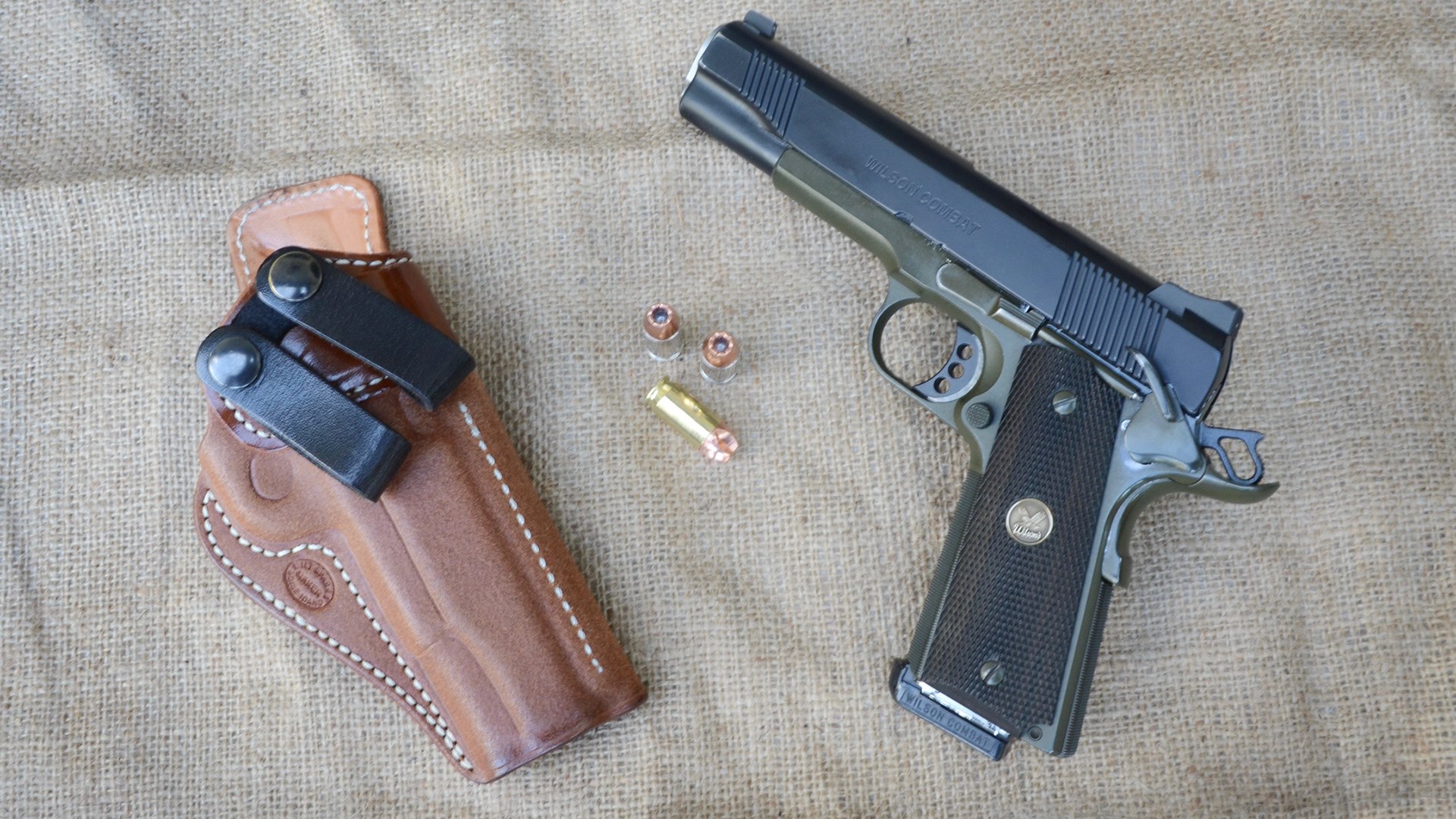 To offset the weight of a full-size steel 1911, I wear it in a Milt Sparks Summer Special II holster secured by a 1 ¾ inch Wilderness Tactical belt with a polymer insert for rigidity. To further reduce overall weight, I have tested (and carried) several light-for-caliber all-copper 185 grain hollow-point bullets made by Barnes - they have all been digested by the pistol without a snag. I run the gun with a 17 lbs. flat wire recoil spring, which gives me complete cycling reliability with different bullet weights, ranging from 135 grain copper ammunition to 185 grain middle weights to 230 grain jacketed hollow points.
Recently, I tested the Wilson 135 grain Lehigh Defense XD, and the same bullet loaded by Black Hills, the Honey Badger - a very lightweight all-copper bullet that, per my chronograph, leaves the muzzle at a blistering average velocity of 1,296 feet per second (fps). Sounds screaming fast for .45 ACP but, to me, it nonetheless produces a manageable recoil, and it hits the steel plate with stinging authority. As a quick test, I first shot 150 rounds of assorted ammunition (Remington 230 grain Golden Sabers, Winchester 185 grain Silvertips, Wilson Pinnacle 185 grain Barnes TAC-XP and Ten Ring Ammunition 230 grain TMJ) to build up carbon fouling in the internals, particularly the feed ramp, and no malfunctions were encountered. I followed this by shooting four 8-round Wilson magazines of Honey Badger ammunition through the pistol with nary a hiccup. On my next visit to the range, I shot a couple of magazines of the same ammunition after having cleaned the gun and it felt like butter cycling through the action. This ammunition, as well as the 135 grain Lehigh Defense XD, is what I carry now.
Heavy Metal
I finished the day by loading the last two mags with a mix of FMJ and defensive ammunition and engaged the steel plate at 15 yards in rapid fire, resetting the trigger during recoil - a quick mag change - and I was rewarded with a flawless symphony of metal-to-metal contact that ended abruptly when the slide locked back on the last magazine.
On a separate date, for accuracy testing, I put up sight-in targets at 25 yards in an indoor range to shoot from a bench, using a Caldwell Pistolero rest. The ammo used was 20 rounds of Sellier & Bellot 230 grain FMJ, 20 rounds of 135 grain Lehigh Defense XD, and 20 rounds of Winchester Ranger T-Series 230 grain HP. I shot four 5-shot groups of each. I wore prescription glasses to be able to focus on the front sight. The glasses were somewhat helpful for shooting tight groups. The largest groups and the averages are not typical of a Wilson gun but I know they are mostly my fault. I did manage to squeeze five rounds of Lehigh Defense XD into a 1.812 inch group, which is what I expected. The results are as follows:
Sellier & Bellot 230 grain FMJ
Largest group: 4.375 inches
Smallest group: 2.5 inches
Average group: 3.578 inches
Lehigh Defense XD 135 grain
Largest group: 6.75 inches
Smallest group: 1.812 inches
Average: 4.359 inches
Winchester Ranger T-Series
230 grain Hollow point
Largest group: 4.125 inches
Smallest group 2.562
Average 3.453 inches
Velocity
I went out to an outdoor range again to run the same ammo that I used for the accuracy testing through a Master Chrony. It was a cloudy morning in Central Florida with a temperature of 78 degrees F. All results are recorded in feet per second, for ten rounds:
Sellier & Bellot 230 grain FMJ
High Velocity 826.8 fps
Low Velocity 803.8 fps
Average 817.9 fps
Extreme Spread 23.01
Standard Deviation 8.18
Lehigh Defense XD 135 grain
High Velocity 1157 fps
Low Velocity 1087 fps
Average 1129 
Extreme Spread 70.11
Standard Deviation 23.68
For some reason, this particular group of ammo was slower than usual.
Winchester Ranger T-Series 230 grain
High Velocity 961.3 fps
Low Velocity 912.7 fps
Average 940.4 
Extreme Spread 30.98
 Standard Deviation 48.57
As you can see by the numbers, especially for a 230 grain bullet, this ammo had a stiffer recoil than the previous two brands.
During the velocity test, the Winchester T-Series proved to be the hottest of the pack, but also exhibited rather sluggish feeding. I did get a round hung up on the ramp, the second to last round to be exact, in the magazine. I believe the bullet ogive contributed to this. I had eight remaining rounds loaded into another magazine and then emptied it with no issues. I will continue to evaluate this ammo to rule out any other issues. In the meantime, it won't go in my carry magazines.
Leather Vs Plastic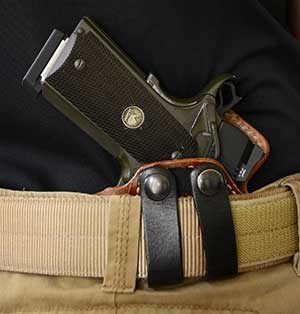 This firearm, belt and holster combination makes carrying the rig all day a lot more comfortable. I always preferred the flatness of the single stack 1911 grip in an inside-the-pants holster in the 4:30 position. Even on long road trips, I can shift the holster a tad towards the front of my hip; this eliminates the poking in my ribs I normally feel when carrying a Glock while driving.  
The one thing that stands out in a good holster is the fact that you can comfortably and securely carry all day, every day (and night). If you find yourself hurrying to get to your destination so that you can quickly unholster the gun and secure it in a drawer, and then blissfully continue your day walking around with an empty holster, you know you don't have a good, solid belt/holster combination. Most importantly, your pistol is not on your side should the dire need arise. It's called sidearm for a reason!
Milt Sparks leather has molded to my body over time, and it affords me a tactical advantage often overlooked in the use of plastic holsters: a smooth, rather muted draw. There is no audible "click", or "clack", that could alert a potential adversary in low-light situations. But rather, it's more like a subdued "woosh" that can only emanate from the marriage of premium leather and steel. No need for super quick, jerky movements; just deliberate action that results in a discreet weapon presentation that will likely elicit a wide-eyed reaction from a foe who suddenly finds himself staring at the business end of a 45.
My retirement wardrobe in Florida (sneakers, cargo shorts, undershirt, t-shirt, ball cap, watch and sunglasses) easily accommodates my everyday carry. I have no plans of changing anything. My CQB stays securely in place in the Milt Sparks Summer Special II, held by the Wilderness Tactical belt, which also holds my cellphone and a spare 8-round magazine in a Blackhawk mag pouch that I attach to my left side. I also carry a Kershaw blade clipped on the left side pocket and a Streamlight ProTac2L light inside the left pocket; both the blade and the light serve as impact weapons as well.
In Closing
As stated before, I still occasionally carry a Glock in my retirement, especially when traveling outside the "Gunshine State."  Things tend to get dicey in areas unfriendly to law enforcement and lawful gun ownership, and the prospect of recovering your gun following a shooting incident, not to mention the legal aftermath, can present unique and unforeseen challenges. The good news is that we live in the United States, where we still have freedom of choice. Depending on the circumstances, one day I can carry my 1911, the next day, my Browning Hi-Power, and the next day, my Glock. But this is about the 1911 in its Wilson Combat rendition: a beautiful, proven design that hugs my hip most of the time, that knows no time boundaries, that lets me hit what I want, and while sitting in a quality leather holster in its politically incorrect cocked and locked condition, it exudes an "I mean business" aura that remains unmatched in the world of firearms.  
Wilson Combat CQB Specifications
Manufacturer: Wilson Combat
Model: CQB
Action Type: Semi-Auto, single action
Caliber: 45 ACP
Height: 5.6 inches
Width: 1.3 inches
Length: 8.7 inches
Barrel Length: 5 inches
Weight: 40 ounces, unloaded
Finish: Armor Tuff, black slide on a green frame
Magazines: four 8-round Wilson 47D magazines.