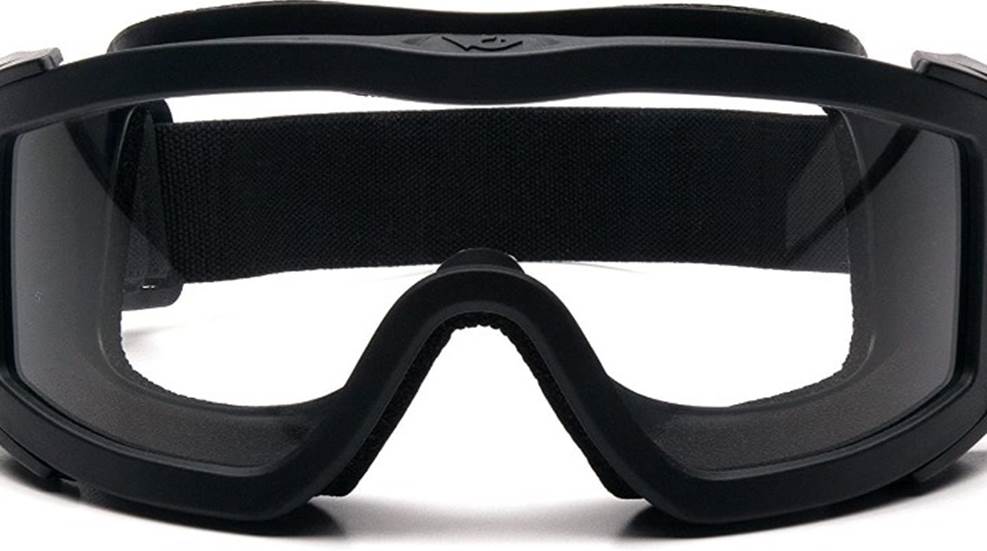 When we think of eye protection for the range, the image that pops into our heads is usually that of cheap, clear safety glasses in a bin by the entrance. And, we grab a set because we have to, with a slight understanding that yes, there are many things at a shooting range that we would prefer not to have hit or enter our eyes. So, we use the free safety glasses that have been worn by countless others and probably never cleaned (but certainly not cleaned between the guy you saw drop them back into the bin and your putting those same glasses on). They serve a purpose, but they are hardly something you'd wear at any other time for any other reason. Then, there are goggles.
Goggles look far sillier than safety glasses, but that's a purely aesthetic consideration that ignores their practical benefits. Or at least that's the line I came up with when figuring out how to approach a review of the Venture Gear Tactical Loadout goggle. But guess what: In testing this admittedly silly product (for the average citizen, that is), I discovered they actually do offer substantial benefits over safety glasses.
The Tactical Loadout goggle comes in a MOLLE-compatible case, lest you thought it wasn't tactical enough by simply being a goggle. It features a one-piece, polycarbonate lens that passes ANSI Z87.1+ and MIL-PRF-32432 high-velocity impact standards, which means it will protect against a .22-caliber projectile traveling at 550 to 560 fps. That doesn't mean it will stop a round of .22 LR at any normal range, as those test velocities are less than half the muzzle velocity of a .22 LR leaving a Ruger 10/22. The standards are designed to test a goggle's ability to protect the user from fragmentation, which is about all you can expect from a lens you can both see through and wear comfortably. A truly "bullet-proof" lens would weigh many pounds and be very difficult to contour to your face.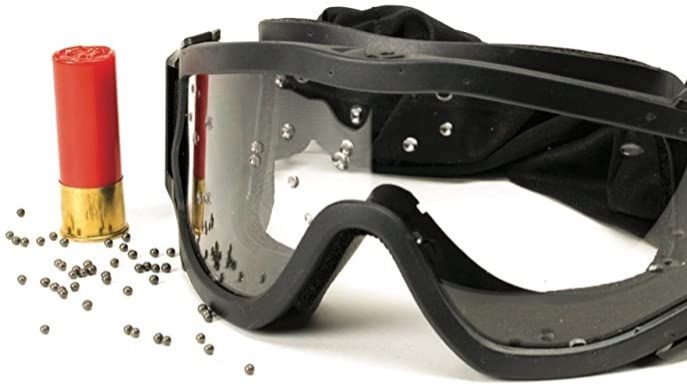 Besides the ballistic protection, the Tactical Loadout goggle also blocks 100 percent of UVA and UVB light, protecting your eyes from the sun's harmful rays, which are far more likely to harm the average citizen in the long run than the unlikely event of a catastrophic firearm malfunction or other fragmentation-inducing events. It does that despite having a "clear" lens, which means that this goggle is useful in both the bright sunlight of the daytime and in low- or no-light conditions.
As part of meeting the military standard, the goggle comes with a lens cover wrapped around its strap. The cover is designed to protect the lens from scratching when the goggle isn't being worn, like when it's pulled up to rest on a helmet (another thing most citizens won't care about), but it can be removed from the strap if it bothers you. This goggle also provides protection against splashes and droplets. While that doesn't guarantee protection against all airborne agents, it might make them a decent thing to wear while outside with your N95 mask. After all, COVID-19 can spread via droplets entering your eyes. Again, this won't provide 100 percent protection against any virus, but it's better than nothing.
My favorite feature of the Tactical Loadout, and the one that convinced me it is a useful, practical tool for the armed citizen, is its immensely comfortable vented foam padding. Thanks to this padding, I was able to wear the Tactical Loadout goggle for 3 uninterrupted hours, including a half-hour run on an elliptical machine, without really noticing they were there. Best of all, thanks to that workout and the huffing, puffing and sweating it generated, I was able to determine that the lens won't fog, at least not easily. This is my number-one complaint about the safety glasses at most shooting ranges—they always, without fail, fog up on me, forcing me to pause my shooting while the fog dissipates. It also creates a concern that users will remove their safety glasses to clear the fog, which, of course, means their eyes are not protected while the glasses are off. No such problem with the Tactical Loadout goggle.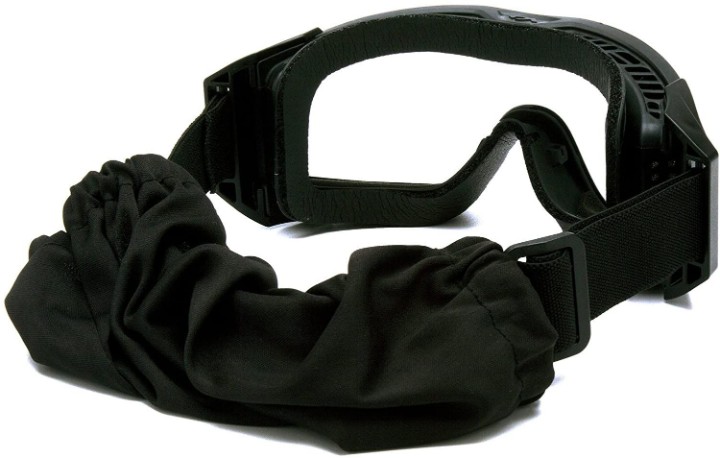 So, why, when and where might the average citizen choose to wear a goggle? The why is answered above, and the when is fairly obviously "when engaged in shooting activities," which is mostly at the range, but not always. We at Shooting Illustrated have recommended having a set of electronic ear muffs by your bedside to protect your hearing should you have to fire your home-defense firearm indoors to fight off an intruder. Read the article at the link for all the reasons that's a good idea, but suffice it to say that if your hearing needs protection, so do your eyes. While I wouldn't rate either eye or ear protection as absolutely vital in a home-defense scenario, I certainly wouldn't mind having that extra bit of protection for two senses I rather enjoy having, provided I have the time to don them.
At an MSRP of just $34.99, the Venture Gear Tactical Loadout goggle is a relatively inexpensive piece of kit that provides significant peace of mind. You might look out of place wearing it at the range, but that's just because the average shooting enthusiast hasn't come to appreciate the comfort and safety benefits of a goggle.