Support NRA Shooting Illustrated
DONATE
Tulster is known for excellent inside-the-waistband (IWB) Kydex holsters, so I wasn't surprised when they sent me the new OATH, and I liked it. (Sorry for the spoiler. Keep reading anyway to find out why I liked it.) I've reviewed several of their fine products in the past, each impressive in its own right. In fact, I have a couple of their magazine pouches in my EDC rotation.
The OATH, which stands for Optic-ready Ambidextrous Tuckable Holster, is a deep-concealment option meant for appendix carry, but it can be used on your strong side hip if you choose. It started with a taco-style molded shell built tall enough for a mid-sized sweat guard on both sides. The guard is tall enough to protect most of the slide from sweat but is low enough for easy reholstering.
If you have suppressor-height sights, you'll appreciate the OATH's taller sight channel to accommodate this setup. The muzzle end of the holster is also open to allow for a threaded barrel. It's not wide enough for a suppressor to fit, but it will let the extra barrel length poke through.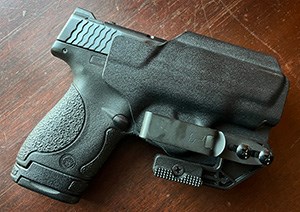 One trend we see less frequently in the holster world is a tuckability feature. Manufacturers just aren't making as many tuckable holsters as before. But, Tulster added it to the OATH for two reasons. First, some people still want to wear a holster and a tucked-in shirt, either out of necessity or preference. Second, a tuckable clip tends to bury the holster a little deeper for better concealment. If you're overly concerned about printing, this might be one of the best options on the market.
Additionally, a trend we see on the rise is red dots on pistols, so more manufacturers are making holsters with a cut to accommodate the optic, which is smart. Holster makers who don't embrace this change will be left in the proverbial dust. The OATH has a generous optic cut that allows room for the optic and makes for faster draws with or without a red dot. My Shield is not optic-ready, but I still prefer optic-cut holsters for this reason.
Righty or lefty? It doesn't matter. The A in OATH stands for ambidextrous because you can turn the holster in either direction by moving the clip and wing hardware over to the other side with two Phillips head screws.
One feature I did find lacking that I've seen on most of the other holsters in this class is adjustable retention. While the OATH had a tight fit from the factory, it would be nice to have the option to adjust it. Is it a deal killer? No. I still recommend the holster. It's just a nice-to-have that is missing.
The OATH runs $79.99 MSRP on Tulster's website. While that may seem a bit on the high side, it's not when you look at all you get--most of the features included on the OATH incur additional expense from other manufacturers.