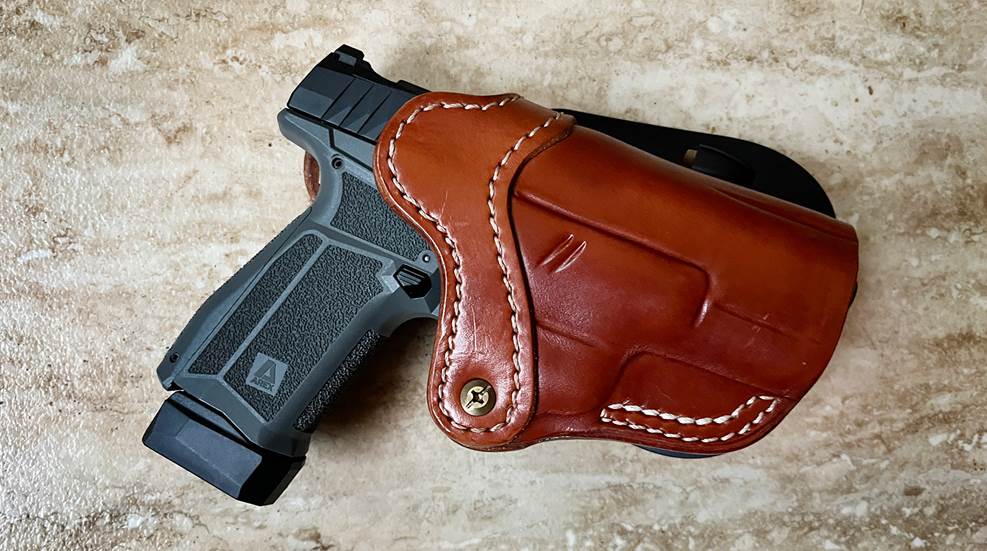 Combining leather with Kydex is nothing new. Several companies have done it for years. But it has mainly come in the form of a hybrid holster, typically a Kydex shell attached to a leather backer, mainly for the retention benefits of Kydex and the comfort of leather. But 1791 Gunleather chose a different route for their Optic Ready Paddle Holster 2.1 holster.
For this holster, 1791 combined a 100-percent certified American, heavy native steerhide leather holster with a Kydex paddle. While not a unique pairing, it's certainly not common in the holster world, as we often see leather holding a leather holster to the belt.
The leather is stiff but not overly rigid. One of my biggest complaints about leather holsters is they are either too stiff, making it nearly impossible to holster the gun, or too flimsy. This one would make Goldilocks proud – it's just right. That said, 1791 wisely added a second leather layer at the mouth to prevent the inevitable curl-over that could risk the holster lip becoming a trigger finger over time. The leather wrap is bound by a single screw and double stitching below the trigger guard.
The variant 1791 sent me was for my Smith & Wesson Shield, which it held admirably. Retention was excellent for a leather holster, and reholstering was smooth and effortless. The holster never marred the slide finish through multiple draws, which is something I can't necessarily say about other leather holsters. The oil content also seems to be low on this one because the slide was clean after sitting in the holster overnight.
Some holsters offer fun little surprises. For example, the Optic Ready Paddle Holster 2.1 has a feature I that I can't guarantee will work for you but worked for me: Cross-compatibility with other guns. While it was cut for the Shield, it also held my Springfield Hellcat Pro and Arex Delta Gen 2 M just as snugly and securely. Typically, only "sized" holsters that aren't cut for a specific gun will hold others.
The paddle on the back is a solid mounting device. Throughout my days testing the holster, it held firm and did not move around as some paddles do. Sitting, standing, walking, through it all, the holster didn't budge. Yet it wasn't hard to wrestle free from my belt when it was time to take it off. The Kydex seemed a little thin initially, but it did its job admirably.
1719 Gunleather offers the Optic Ready Paddle Holster 2.1 on their website in four leather colors for a range of handguns, with prices varying from $64.99 to $69.99, depending on the leather, with the Vintage look at the top of the price chart.