Billing itself as "the value experts,"
TriStar Arms
has made little effort to crack the stranglehold of
Remington
and
Mossberg
shotguns on the low-price/high-quality pump market, something many other companies have tried—most have failed. Rather, TriStar has a knack for finding seemingly overlooked designs at the entry-level price margin, which has helped the company flourish. From its nicely equipped line of over-unders (starting at $550) and sporting semi-automatics, to its forward-assist home-defense pumps, I've tested many and have been impressed by them all. The TriStar TEC-12 shotgun—which functions as both a pump and semi-automatic tactical shotgun—is one of the company's most intriguing designs.
The dual-action shotgun is, of course, nothing new. It's appeared on
Franchi's
SPAS-12 and more notably the famed
Benelli
M3, a design the
TriStar

 
TEC-12 shotgun
essentially replicates thanks to an expired patent. However, a shotgun has never featured this technology while retailing for just $689—less than half the price of the harder-to-find M3's current suggested retail.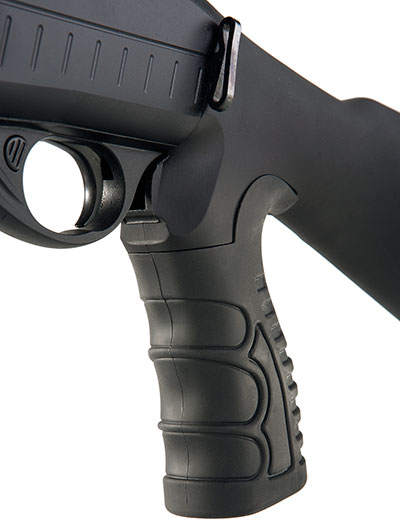 "We saw a real need for a niche tactical gun during a high tactical sales year," said Ryan Bader, sales and marketing manager for TriStar. "We're excited by the number of new shooters entering the market, and we're seeing more consumers shop based on price rather than popularity. Additionally, with the growth of 3-gun and emphasis on personal defense becoming so popular, this gun seems to be a good fit."
My initial test of the
TriStar

 
TEC-12 shotgun
was in semi- automatic mode, which operates on the only inertia-driven action offered on a
TriStar
gun. In this mode, a pair of visible locking lugs are seated in the barrel ring, which locks the forearm into place. As with the M3, high-brass and other sufficiently heavy shells are recommended to ensure proper operation (a key weakness of most inertia actions). After putting five, 10-round boxes of
Hornady Critical Defense
and
Federal Premium
Personal Defense buckshot through the gun without incident, I was satisfied.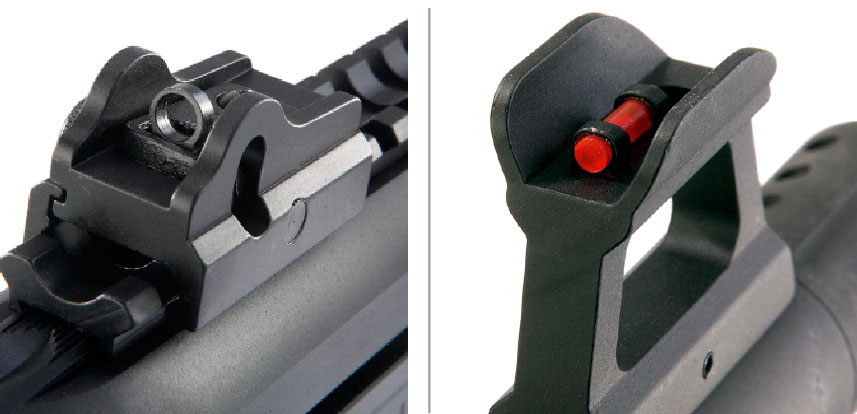 I then decided to try a few low-brass, 1-ounce target loads, though the gun is not rated for them. While I wouldn't have been surprised by a few feeding failures, the TEC 12 cycled a 40-shell cocktail of
Winchester AA
,
Remington Premier STS
and
Federal Top Gun
without failure. So, while the owner's manual says to avoid light shells in semi-auto mode, with proper function testing of your preferred loads, I believe the
TriStar

 
TEC-12 shotgun
can be relied upon to shoot them.
Then came the really fun part: It was time to convert my semi-automatic to a pump. The process is really simple. With the action closed, you rotate a selector ring located behind the fore-end cap counter-clockwise as far as it will go, disengaging the locking lugs from the barrel ring. Then, pull back the fore-end and, presto, the shotgun is now a pump. To switch back to semi-auto mode, simply turn the selector ring clockwise as far as it will go and slide the fore-end forward until the locking lugs re-engage the barrel ring. It's that easy.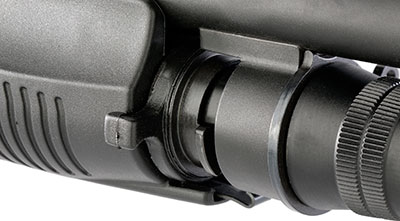 Heavy loads are not recommended while in the
TriStar 
TEC-12 shotgun
's pump mode, due to the recoil they can generate in a 7.4-pound scattergun with a potentially face-clawing Picatinny rail. However, I ran a few through the shotgun and—though they certainly produced some bite—by applying a little forward pressure to the TEC 12's fixed pistol grip, I found them quite manageable. The gun also has a good recoil pad, particularly for a shotgun in its price category. In pump mode (and less surprisingly in semi-auto mode), after the last round is fired, the rotary-style bolt locks open and the release button is required to close the action.
The key takeaway from my function test is this: Though the owner's manual recommends using the semi-automatic mode for high-brass and pump mode for low-brass, I found the gun to be reliable in either mode of operation across a pleasing spectrum of birdshot, buckshot and slugs.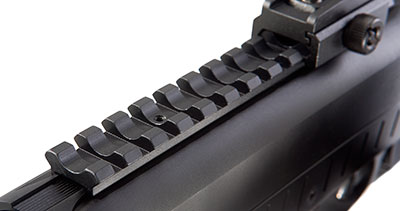 What tactical advantages may be found in such a system? Some assert it facilitates malfunction clearances. Certainly if the
TriStar

 
TEC-12 shotgun
has a hiccup or becomes fouled in semi-auto mode, through practice, the user can quickly convert it to pump mode and get back in the fight. However, perhaps a more important attribute lies in the gun's versatility of ammo selection. In semi-automatic mode it will shoot magnum buckshot or slugs, while as a pump-action it can utilize such semi-auto-shotgun jammers as light birdshot, reduced-recoil buckshot and even specialized, less-lethal "beanbag" rounds. Few shotguns have such versatility when it comes to ammunition.
The
TriStar 
TEC-12 shotgun
's home-defense capabilities are further enhanced by some impressive standard features for a gun at this price point: a receiver-mounted Picatinny rail, a set of sling swivels plus pre-installed swivel studs, a chrome-lined barrel and an external, ported cylinder choke.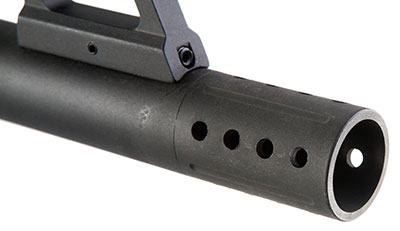 An adjustable ghost-ring sight paired with a winged, fiber-optic front bead is an additional nice touch. Adjustment was not required with the gun I received for testing. It hit point-of-aim at 15 yards out of the box with most birdshot and buckshot rounds, and patterns were consistent and even—average birdshot breadth was 7 inches, while buckshot was 3 to 4 inches.
Given that the
TriStar TEC 12
is, more or less, a Turkish-manufactured version of the old Benelli M3, the question I sought to answer is how closely it compares in terms of function. Is it merely a cosmetic lookalike, or is it a valid, low-cost alternative? Based on my evaluation, I believe shooters who have dreamed of owning an M3 will be more than happy with the
TriStar 
TEC-12 shotgun
—while saving more than half the cash by going with the Turkish gun over the Italian.