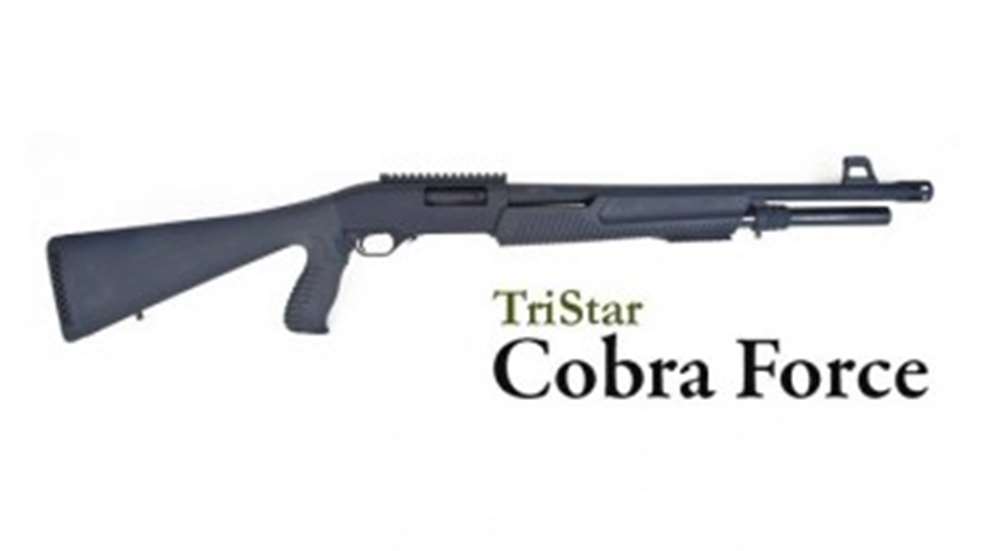 A pump-action shotgun's rugged simplicity, reliability and ease of use make it an ideal choice for self-defense. It may not have the magazine capacity of today's polymer handguns, but this prima facia shortcoming completely ignores the fact that each 00 buckshot load delivers eight or nine .33-caliber projectiles.
Some proponents claim the shuck shuck sound of a pump shotgun going into battery scares criminals off as fast as Mardis Gras does blouses. I don't buy it—the gun legend, anyway. I used to subscribe to that theory, but there's always the possibility the bad guy doesn't hear the warning, or more likely, is high on some designer drug and willing to risk getting shot if he can score enough cash for another fix.
All of which adds up to the fact that pump-action shotguns are a good choice, but they need to work and work well. I have to admit, it was the way the Cobra Force shotgun—from TriStar Sporting Arms—looked that convinced me I should give it a whirl. With a phosphate, matte-black finish and removable flash hider, it looks businesslike-mean, even in the box.
The polymer fore-end has 3 inches of integral Picatinny rail. It's a nice system for quickly mounting accessories and beefy enough to handle a grip, but you'd need to be a basketball player—with a seven-figure income capable of paying someone else to wield your shotgun—to have that kind of reach.
A red, fiber-optic front sight sits 1 inch above the barrel. The 5⁄8-inch-long fiber optic is well protected by steel on both sides, making it nearly impossible to break. If
One thing potential buyers need to be aware of is the fact the gun is not shipped with a rear sight. Instead, nearly 6 inches of Picatinny rail sit naked, attached to the receiver by four screws. It's a really functional setup, allowing you to make your own choice instead of the company making one for you. A ghost ring would be a great place to start, especially for quick target acquisition.
If you've shot a Remington 870, the fire-control mechanisms will be familiar. The safety is to the rear of the trigger in an identical configuration. Depressing the lever in front of the trigger guard allows you to cycle the action.
The trigger was a pleasant surprise. Like a few bosses I have had, some shotguns can be really stingy and very creepy. Let-off weight was consistent and right at 5 pounds. There's no creeping around here or ugly travel to speak of.
While the rubberized pistol grip is a great cosmetic feature, you have to feel it to believe it. During my range session it kept everything comfortable and manageable.
The most innovative feature on the gun is what the company terms a spring-loaded fore-end. As you pull back on the slide a spring beneath the fore-end compresses. When the receiver opens, the empty hull ejects and the spring begins to decompress, "assisting" you in moving the slide forward, ultimately to lockup. The system is strong enough that you can simply open the action, let go of the slide and the spring will bring the gun back into battery by itself.
What's the advantage of the spring loading? "You can fire this gun almost as fast as a semi-auto," said Garrett Bader of TriStar Sporting Arms. He also emphasized the system helps maintain point of aim better while firing because you don't have to apply any effort to bring the gun back into battery.
After a few rounds at the range I was comfortable enough to see a little of the accuracy effect he was talking about, but it was obvious it would take practice until my left arm relaxed enough to simply ride the fore-end. As for speed, I finally got pretty fast with it, so I'd have to say he was accurate on both accounts.
The disadvantage to the spring loading is the fact that you can't slide the fore-end back and keep the receiver open, a method of storing a personal-defense shotgun at home for some shooters. The only way to keep it open is to remove the spring, which took only a few seconds—so it's not a deal breaker.
The 20-inch barrels on Cobra Force shotguns are threaded for Benelli- and Beretta-style choke tubes. As shipped, the gun comes with a cylinder choke tube and that formidable-looking flash hider. The test gun wasn't shipped with a cylinder choke, so I tested it with the flash hider. At 25 yards one pellet would chronically be out of the 10-inch square, but all of them delivered from Hornady's 00 buckshot 23⁄4-inch TAP shotshells were there at 17 yards.
With looks to kill and solid performance, if you're in the market for a reliable pump-action shotgun for your self-defense needs, give the Cobra Force consideration. If you take one home, though, put in some range time. If you're like me, taking full advantage of a spring-assisted fore-end is anything but intuitive. It is, however, fast.