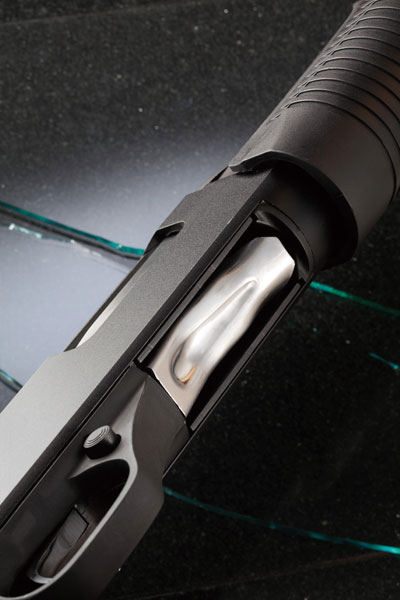 Firearm manufacturers often downplay or deny any sort of imitation when one of their "new" guns obviously borrows—or even outright copies—another design. But Savage Arms has no problem admitting its latest pump-action shotgun import, the Stevens 320, may appear familiar. Perhaps the company has no choice: Even my mother-in-law could tell you it looks like a Winchester Model 1300.
"The 320 is essentially a reproduction of the old Winchester, and we think it's a really good copy," says Bill Dermody, director of marketing for Savage Arms. "We kept the features and materials very similar, because we believe the design has been pretty much proven over the years."
Like the Winchester Model 1300, the Stevens 320 is a value-priced, no-frills pump gun. The Security version, however, comes in a variety of intriguing home-defense and tactical configurations, all with an 18.5-inch barrel and a five-round magazine tube. Options include a pistol grip or semi-pistol-grip buttstock, a brass bead sight or ghost-ring rear aperture with a winged, fiber-optic front sight and a receiver-mounted optics rail with a heat shield. Perhaps most surprisingly, the priciest of these—the one with the rail and heat shield—retails for just $280.
All configurations feature a polymer fore-end guided by dual action bars. Sliding it forward allows the four-lug, rotating bolt head to engage the barrel extension for a firm lockup. Straight-line grooves on the fore-end and grip assist with gaining a solid purchase and mark a noticeable aesthetic departure from the Model 1300's checkering. The slide-release button is located on the left side of the receiver just behind the trigger guard.
The 320's action is a strong, sturdy design, but I wouldn't describe it as particularly smooth. It requires quite a bit of force to operate, and resistance varies as the action opens, lending a sense of clunkiness. Don't be afraid to work it hard, and as I discovered during my test, take care to avoid short-stroking. I got past that problem with a little practice.
I doubt anyone at Savage intended for the 320 to be regaled as having the world's slickest action. This is a price-point gun, with a rather remarkable base-model MSRP of $245. Expect to pay quite a bit less than that at big-box retailers. Its action doesn't run with the ease of a high-end tactical shotgun—nor did I expect it to—but it's completely adequate for the entry- to mid-level user.
"As with all of our guns that carry the Stevens name, it is all about price and value," Dermody said. "We go with solid designs, with minimal bells and whistles, and we hit price points that are very, very competitive. That is absolutely the case with the 320."
So, how did the company manage to equip a tactical shotgun with such features as ghost-ring sights and a pistol-grip buttstock without raising the price to the territory of even most field-grade pump guns? Dermody cites a few proprietary changes to the 320's manufacturing techniques compared with how Winchester was making the 1300. But the crux of the strategy is cheap labor. Unlike the American-made Savage line of rifles, Stevens shotguns are imported. The 320 is made in a newly constructed facility in a remote region of China.
"When you start talking about the prices we hit with Stevens, importing is really the key to pulling it off," Dermody explained. "We haven't yet figured out how to hit those targets domestically with a productlike that."
Materials, I suspect, also play a role in shaving costs. The 320's hollow, composite buttstock is accompanied by a rather hard, rubber recoil pad that does little to soften the blow of stout loads. I countered this by applying a little extra forward pressure on the pistol grip. Savage does not appear to have skimped in a more important area: the guts of the gun. Its rather simple design is composed of robust parts I am confident will hold up to rigorous use. Fit is nice and snug, and the matte-black finish is also well done.
My favorite aspect of the design is the location of the cross-bolt safety button just forward of the trigger guard. In my opinion, this is the ideal setup for a shotgun with a pistol-grip buttstock. I've never cared for the Remington Model 870's safety placement behind the trigger guard, as it cramps my index finger. And before I can engage targets with my Mossberg 500, I have to move my thumb from the tang safety all the way back to the pistol grip. Compare that to the 320: After pushing the safety off with my index finger, all I have to do is slide it slightly rearward to the trigger. A subjective matter? Sure, but I argue disengaging the 320's safety feels more natural and is more conducive to speed than when operating most others.

While on the subject of personal taste, it's worth noting an aspect of the 320's fore-end. At more than 11 inches long, it's quite oversize for a tactical shotgun. The fore-end on my Mossberg 500, for instance, is only about 8 inches. Some people like a long fore-end, contending they're better able to get a good grip under duress or in a rushed situation. Yet a long fore-end on a home-defense shotgun presents two key disadvantages. When cycled rearward, it obscures the loading port, preventing the ability to clear a jam. It also interferes with the attachment of most side-saddle ammunition carriers along the receiver. Clearing jams and performing tactical reloads are somewhat advanced skills that may not interest entry-level users, but a shorter fore-end on the 320 would make it even better suited for defensive purposes.
Another aspect that may not bother some shooters, but disappointed me, was the gun's trigger. The trigger on my test sample felt a bit heavy, even for a defensive shotgun. Later, my gauge confirmed an average pull weight of 7 pounds.
Basic disassembly is a cinch. Simply unscrew the magazine cap and slide off the barrel. It's so easy, in fact, you may want to consider the Field/Security Combo offered by Savage. For $295, you can purchase a 320 with two barrels: one measuring 18.5 inches with a front bead for home defense and the other stretching 28 inches with a ventilated rib for shooting clays or hunting.
I conducted function and pattern testing with two low-brass, 1-ounce, No. 7 1/2 birdshot loads from Remington and Winchester, and two 00-buckshot loads from the Hornady Critical Defense and Federal Premium Personal Defense lines. The gun cycled nicely with the high-brass buckshot loads, but I found the low-brass shells less agreeable, requiring extra force to initiate extraction.
More importantly, the patterns put a big smile on my face. At a distance of 15 yards, the birdshot loads produced beautifully uniform patterns that averaged about 8 inches in diameter. The buckshot loads centered their payloads in a power-packed 3-inch pattern. A few weeks ago, I used the same shotshell loads to test a high-end semi-automatic priced five times as much as the Stevens 320, and its patterns paled in comparison.
Overall I was left with a positive impression of the Stevens 320. It's a gun built and priced for entry-level consumers interested in home defense—certainly one of the fastest growing markets in the firearms industry. At less than $300, it more than fulfills this role through a strong, no-frills design that still boasts some nice features. You'd be very hard-pressed to find a gun of this quality at a matching price point, which is exactly the modus operandi of the Stevens 320.
Specifications
Importer: Savage Arms; (413) 568-7001, savagearms.com
Action Type: Pump-action shotgun
Gauge: 12; 3-inch chamber
Capacity: 5+1 (2.75-inch shotshells)
Barrel Length: 18.5 inches
Buttstock: Black polymer with pistol grip
Sights: Ghost-ring rear; winged, fiber-optic front
Trigger Pull Weight: 7 pounds
Length: 38.25 inches
Weight: 6 pounds, 14 ounces
MSRP: $270