About the time of the 1911's 100th birthday, we were solidly in the age of the polymer pistol. A decade later, subcompact polymer-pistols chambered in 9 mm have become the most popular handguns for self-defense. Given that landscape, it might seem odd a company would invest in the production of a new line of 1911 handguns. The truth is, there's still a demand for the old warhorse, especially compact and lightweight variants in the original .45 ACP chambering.
SDS Imports, located in Knoxville, TN, recognized this, and by working with Tisas, a Turkish-based firearm manufacturer, set out to offer quality 1911s at affordable prices. Tisas was established in 1993 and has produced quite an array of handguns and infantry rifles. But, a 1911 was not part of its stable. SDS Imports changed that by sending American-trained engineers and skilled shooters to Tisas to guide the company through the manufacturing process. Now SDS Imports is bringing about a dozen variations of the 1911 into the country. They range in price from around $400 to $1,200. The latest model is the 1911 Bantam Carry 45.
In 1950, Colt introduced its Lightweight Commander, which was a 1911 with an aluminum frame and 4.25-inch barrel. It became one of the most revered carry guns of all time. The 1911 Bantam Carry 45 is SDS Imports' take on this iconic pistol. It's built around an aluminum frame, with a hammer-forged, Commander-length slide and barrel. But, unlike many modern renditions of this classic, this pistol has what are known as 70-series internals. This means the Bantam Carry does not have the trigger-actuated, firing-pin safety, which is known for drastically inhibiting a quality trigger pull.


The Bantam Carry also has what has come to be known as a bobtail treatment, where the rear, bottom corner of the grip frame and mainspring housing are machined at an angle to enhance the feel of the grip and reduce the likelihood of printing. Additionally, the mainspring housing and frontstrap have skip-line fluting in place of checkering, and on the right side of the frame the slide-stop-pin hole is recessed. There's also four end-mill cuts just forward of the slide stop on both sides that can serve as a tactile indicator that your trigger finger is positioned on the frame and not the trigger.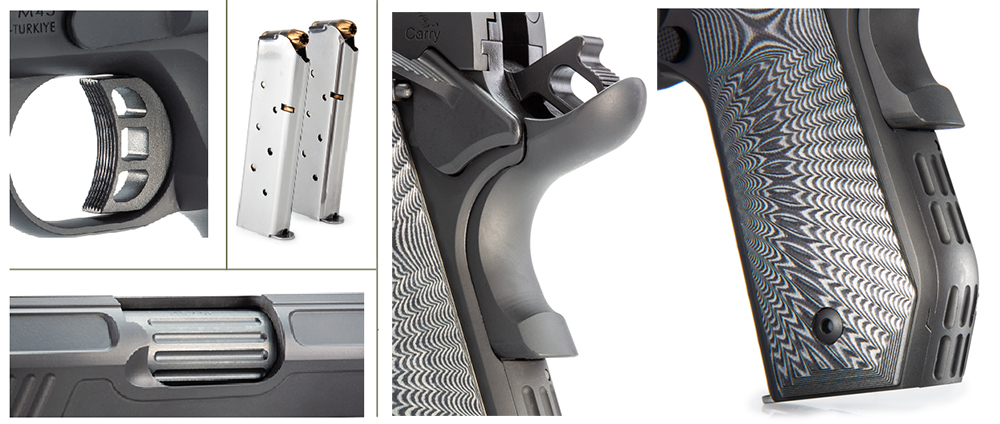 The pistol's slide has a center relief area that's about a half-millimeter deep. Though I'm sure it minutely reduces weight, it is more of a cosmetic cutout that pairs well with the end-mill cut forward and aft slide serrations. The rear sight fits into a Novak-style dovetail and is a ledged, U-notch battlesight, with a serrated face, thankfully without those useless dots. It provides plenty of area for hooking the slide on a belt or boot for one-hand operation, and mates very well with the green fiber-optic front sight that's also dovetailed in place. To match the large relief area on the side of the slide, the top has machined relief cuts to give the slide a triangular appearance. There's also a serrated top rib behind and in front of the flared, lowered and scalloped ejection port.
The pistol is fitted with an ambidextrous safety, a commander-style hammer and an upswept, beavertail grip safety with a large memory pad. The entire pistol is finished in black Cerakote and comes with grey/black G10 grips with a deep indention just to the rear of the magazine release. It's shipped in a black plastic case and comes with two nickel-plated, eight-round magazines, a cleaning cloth, cleaning rod, bore brush, gun lock and owner's manual.
I would have preferred thinner grips, but the pistol felt amazingly good in the hand, no doubt due to the bobtail feature. I found the skip-line fluting more comfortable, but just as effective as, checkering. Spend a week at a defensive-handgun course with a sharply checkered 1911, and you'll have tape on your hands by day four. Not with this pistol, as after 350 rounds there was no hand tenderness. The ambidextrous safety operated with what I would call just the right pressure and though I would not rate it as exceptional—there was a minute amount of creep—the trigger was nice and broke at a manageable 4 pounds.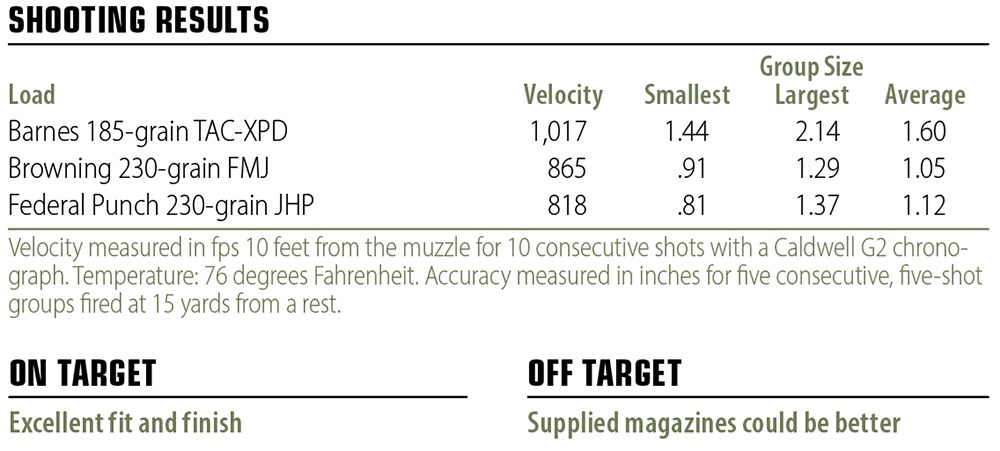 What impressed me the most, was the fit and finish. The Cerakoting was executed impeccably. The slide-to-frame and barrel fit was as good as I've seen on some custom 1911s, but the barrel bushing could be rotated without the aid of a bushing wrench. And, there were no sharp edges; the Bantam Carry felt similar to a once-used bar of soap. It was also plenty accurate for defensive-handgun work, even at extended ranges. More importantly, when run on the Forty-Five Drill—five shots at 5 yards, at a 5-inch circle in less than five seconds from concealment—I was able to score an average time of 4.42 seconds, with only two out of 25 shots outside the 5-inch circle in five attempts. That's not bad for a 25-ounce .45 ACP running 230-grain ammo.
There were no malfunctions during the firing of 350 rounds, and I only experienced two negative issues. Three times during rapid fire, my support-hand thumb contacted and engaged the slide stop. A slight dimpling where the slide stop faces the plunger might be in order. But, in all fairness, this is an issue I've experienced with a number of 1911s from several manufacturers and is partly due to the way I grip semi-automatic handguns. Also, when fully loaded with eight rounds, both of the CheckMate magazines supplied with the pistol were hard to seat. This was not an issue with several other, higher-quality magazines I had on hand. 
The 1911 Bantam Carry 45 is well-configured  for concealed carry. It's accurate, reliable, lightweight, smooth to operate and comfortable to shoot. It's also quite competitively priced. Word has it, that by the time you read this a 9 mm version will be available, too. If this is any indication of what's to come from Turkey and SDS Imports, American 1911 manufacturers better take note.