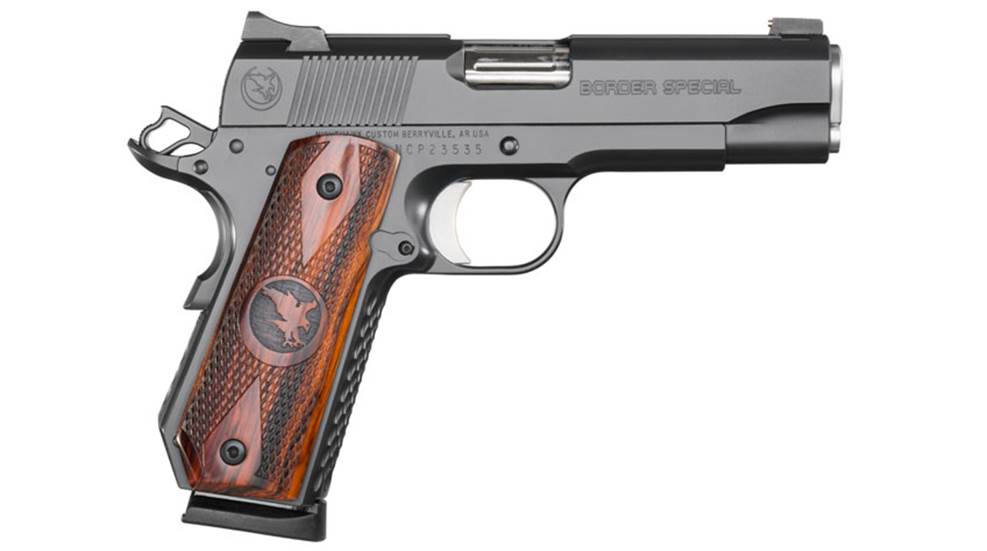 Even though factory standard—across the counter—options for the 1911 are at an all-time high, the demand for exquisitely crafted variations on John Browning's greatest creation continues to grow. There remains a segment of the shooting populace who want the very best handgun money can buy. This is why Nighthawk Custom remains in business.  The company caters to those who prefer perfected pistols. One of Nighthawk's newest is the Border Special 1911.
A Commander-size 1911 with a match grade, stainless steel barrel, the Nighthawk Custom Border Special is chambered for the .45 ACP cartridge. Its barrel hood (the section of the barrel/chamber visible through the ejection port) has been fluted to add a bit of flare and the muzzle crown is shallow and deep, blending seamlessly with the barrel bushing and a smooth recoil-spring plunger.


The pistol's slide has standard rear cocking serrations, and the top is serrated between the rear and front sight with 11 finely executed lines. Its front sight is a dovetailed, matte-black blade measuring .12-inch wide, and fitted with a 2 mm gold bead. Opposite, the rear aperture is a Heinie Black Slant Pro, with a 3.16 mm notch. Though not as visible as tritium sights in low light, you'll be surprised how well the gold bead stands out in most conditions. The rear notch is wide enough to provide light on either side of the front blade, making alignment fast and easy.
The Border Special's forged-steel frame is fitted with a grip safety that features an extended tang that has been perfectly fitted to the frame. The process of installing and blending a grip safety that merges with the frame so well you cannot discern the junction by feel is but one mark of a talented 1911 pistolsmith. Nighthawk must have a room full of these folks because every Nighthawk pistol is built by one man—one gun, one gunsmith—and I've yet to handle one where the grip safety-to-frame fit was not superb.


One feature you might be surprised to see missing on a pistol in this price range is checkering. As long as I can remember, checkering on the frontstrap and mainspring housing has been a mark of the full-custom 1911. For the Border Special, Nighthawk chose to scallop the frontstrap. The execution of this scalloping is impeccably attractive and the grip enhancement it provides seemed both less and more aggressive than checkering. I'd rate its feel as something between 20- and 30-lpi checkering generally found on 1911s.
The scalloping on the mainspring housing is a bit different. It is the same pattern, though a bit muted. Not only is this a subtle touch, it is an excellent idea. If you take a five-day pistol course, like the Gunsite Academy 250 pistol class, by the third day sharp checkering on the mainspring housing will wear on your hand, and you'll be wearing a glove or moleskin for the rest of the class. In addition to the smart scalloping on the mainspring housing, Nighthawk went a step further. The housing and grip are bobbed with what the company refers to as its concealed-carry cut. This cut or bobbing allows the bottom of the frame to join perfectly with the midcarpal and intercarpal joints of the hand. Its not just there for looks; it's a very ergonomic feature that allows the pistol to better fit your fist. I found it allowed me to shift the pistol less in my hand to actuate the Border Special's magazine release.


Regarding the Border Special's "bang switch," it is lightweight, solid aluminum and short, and a proprietary Nighthawk design. On my Timney trigger scale it broke consistently at 3.6 pounds, with about a tenth of an inch of take-up. There was no creep and the reset was positive and audible, though I felt it could have had a bit more return to provide a tad more-tactile reset.
Other features of note include fine-line serrations on the rear of the slide, an ultra-high-cut frontstrap to allow a higher, more-comfortable grip, an extended thumb safety and a pair of extremely attractive cocobolo checkered grips with the Nighthawk logo, which contrast nicely with the Elite Midnight Cerakote finish. This is a good-looking pistol, but it might get overlooked because it seems a bit plain.
But plain is as it's supposed to be. Retired Texas sheriff and fellow Shooting Illustrated contributor Jim Wilson collaborated with Nighthawk on the Border Special and he specifically wanted a pistol that had everything you need and nothing you don't. In the end, the real justification of a pistol should be that it works every time you pull the trigger, that it's configured to hit anything you shoot at, and comfortable to carry and run. I managed to confirm all those things on the range.
At 15 yards, the Border Special performed exceptionally well during more-tactical, self-defense drills. I fired 250 rounds through the pistol and experienced only two stoppages; two of the 250-grain Atomic subsonic loads failed to fully chamber during weak-hand drills.
The Border Special (like any Nighthawk) is not just any pistol. It's a pistol backed by enviable customer service and a pistol you can pass down through several generations. I'd really like to have one, but I'd like a 9 mm. Fortunately, Nighthawk offers that option. After all, it is a truly custom pistol.