Once it discovered that small-caliber cartridges don't work very well on large-caliber men, the U.S. government set out find a brand new service pistol. The .38 Long Colt's failure during the Moro dustup, followed by the Thompson–LaGarde Tests of 1904, caused it to come to the conclusion that an effective fighting-handgun cartridge should be .45-caliber. The government already knew that from decades of using the .45 Colt, but it needed a modern upgrade in both the cartridge and the gun.
John Moses Browning soon had the .45 ACP cartridge ready to go. Now it needed a gun. The Army invited 20 different gunmakers to participate in the testing to be conducted in 1907. Those that showed up were seven semi-automatics, two revolvers and one semi-auto/revolver. In the end, only the Colt 1911 and a generically named Savage semi-automatic pistol were still standing.
If not for some poor management decisions and a few whims of fate, the history of handguns might have been written in a much different font. We all know that Colt won the contract with the 1911 pistol and that design has remained, even today, as one of the best and most popular handguns ever to exist. 
Savage licked its wounds and then downsized its test-pistol design into its Model 1907 pocket pistol. This was chambered for the .380 ACP and the pipsqueak .32 ACP, which held nine cartridges in the double-stack magazine. This gave it a total capacity of 10 shots, which was pretty amazing at the time, given the size of the pistol.
The Savage ads were way ahead of their time and prophesized the capacity arguments of today with "Ten Shots Quick!" No mention of hitting anything or what happened when the little bullet did manage to connect with the target. 


There were a few upgrades of the Savage handgun in the early 1900s before the company left the handgun market for 50 years. It had a weird .22 single-shot disguised as a revolver in the 1960s. Other than a bolt-action centerfire about 20 years ago, Savage avoided further voyages into the handgun market. For the record, I also have one of those Striker pistols in .300 WSM and it leaves no doubt when it goes off.
In 2022, Savage surprised the shooting world with its Stance micro-compact 9 mm handgun. Of course, I have one and am impressed with the design and functionality of this little pistol, often carrying it. I know it's not hip to think the 9 mm inadequate today, but as the great philosophical social commentators, Tower of Power, once said, "What's hip today—might become passé." Case in point, not that long ago the 1911 in .45 ACP was as hip as it gets. 
With the idea that Savage was in the handgun market to stay, the smart money thought that the company's next toe dip would be another polymer-frame, striker-fired, wondernine Glock clone. After all, that's what everybody else has done. 
Showing some remarkable insight to the current handgun market, Savage realized that the pattern is pretty full and another fly by would be committing resources to an ultra-competitive segment. The company also recognized that perhaps the loss suffered 116 years ago was to a superior design. Rather than chase the crowded striker-fired market, Savage has chosen to introduce a high-quality, production-level, 1911 handgun. The 1911 market is pretty saturated as well, but I think that Savage pinpointed one area that needs attention. Some of the better-quality production guns have slipped a little in recent years. That creates a tiny hole under the tent and Savage is going to make a run on getting its nose into it. I think the company may make it. 
The Savage 1911 features a forged stainless steel frame and slide and Novak sights. There are three color options, rail or no rail and two cartridge chamberings. Mine, of course, is in the proper cartridge, just as God and brother John intended for the 1911, the .45 ACP. 
Savage has not ignored the growing market for 9 mm 1911 handguns, though, and you can get a 9 mm in all models. In a fit of honesty that likely won't be repeated soon, I'll admit to owning several 1911 handguns in 9 mm. While I may be old-school and prefer my carry guns to have cartridges that start with a 4, the 9 mm can be a delight to shoot in this handgun design. My hands have taken a beating over the years with thousands of rounds from big-bore revolvers, too many gloveless frozen days outdoors and martial arts where I have pounded a heavy bag far too much. Frankly, most days, they hurt now. When I am heading to the range for a day of shooting, I kind of like a 9 mm. In fact, I use a 9 mm in all my centerfire competitive shooting and often in a 1911.
Still, I think it is a sin to test any new 1911 pistol in anything other than a .45 ACP. Show some respect. We can get to the weaker cartridges another time. 
My sample is all black; everything except the grips is black nitride, which I am good with. The other options are stainless steel, or a two-tone of the two (shown here).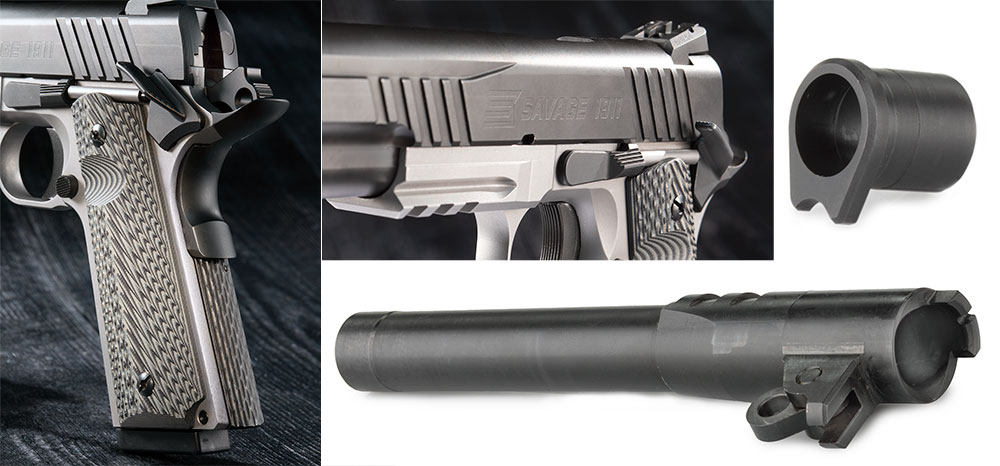 The handgun comes with well-designed night sights. These are sights I would normally add to the gun after I buy it, at considerable cost, I might note. Savage saved me the trouble with these factory-installed sights. The Novak Tritium Mega Dot front blade has a tritium insert surrounded by a large glow-in-the-dark green ring that is also very visible in daylight. It is fitted into a dovetail on the slide. The Novak Tritium Bar rear sight has a tritium bar across the bottom of the opening. These work well together to provide a recognizable sight picture in any light. There is no doubt, which is often what occurs with three-dot sights.
The rear sight is also fitted into a dovetail and has two large wings to protect the adjustable center. It is adjustable for elevation, and windage adjustments can be made by drifting the sight in the dovetail. My sample shot to the right, so I used a Wyoming Sight Drifter to correct the problem while at the range.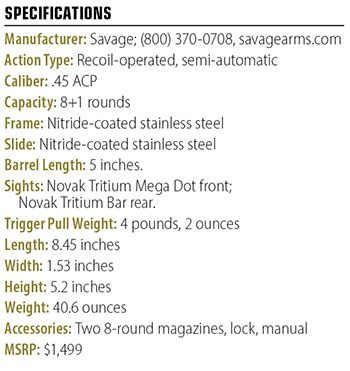 The gun comes with an ambidextrous safety. Hallelujah and praise John Browning! As a left-handed handgun shooter, I have lobbied long and hard for this. I am puzzled why it is not standard on all 1911 handguns. First off, we're 18 percent of the buying market. What fool ignores that big a part of any market? Also, this is a fighting gun and any tactical handgun should be easy to operate with either hand. 
On my sample gun, there is a rail under the gun for attaching accessories. I am hit or miss on this on a 1911. My only real complaint is that now the majority of my holsters won't fit. On the other hand, I am a big advocate of laser sights and gun mounted lights, particularly for home defense. I suppose they make new holsters every day.
There are five grooves in the slide, fore and aft on each side, to allow gripping. I read some keyboard warrior complaining bitterly on the interwebs that the angle doesn't match the grip. OK, so what? I actually had to use a straight edge to confirm that. To me, it looks fine, and, more importantly, they work fine for gripping the slide, which is why they are there in the first place. 
There are two recoil springs, one inside the other. The GI-style guide rod is short. I know some hardcore 1911 shooters prefer this over the more modern, full-length guide rod. Me? If the gun works, I don't much care. It is easier, though, to take the gun down and reassemble with the short guide rod. 
The 5-inch barrel has an 11-degree crown and is well fitted in a conventional bushing. The extractor is internal, and I see no evidence of the abominable Series 80-style trigger, which is popular with lawyers and nobody else. 
The trigger is a traditional, full-size 1911 style. The two-stage, single-action trigger breaks at a nice, clean, 4 pounds, 2 ounces and with very little overtravel. The first stage is 1 pound, 2 ounces so, when holding the first stage, the shooter has a 3-pound pull remaining. The trigger is so smooth and clean that it feels even lighter. As with most factory 1911 handguns, the trigger is a little long for my hand, while my Wookie-size buddy Mike Brookman found it fine. 
The grips are VZ G10 and are dark gray or black, depending on the light. They are cut in an aggressive pattern for a secure grip. There is a thumb cutout on the left side for easy access to the magazine release. 
There is no checkering on the frontstrap or trigger guard. Again, the web denizens seem not to like this, but after 200-plus rounds, much of it in cold, Vermont winter conditions, I like it a lot. Brookman shot the gun a bunch, too, and commented that like me, he had no trouble maintaining his grip. We both agree this is far better than the checkering often found on a new gun that is so aggressive, it hurts the shooter's hand. All in all, I like this smooth approach.
The firing pin is nitride-coated titanium. The ejection port is lowered, flared and cut for reliable ejection. The trigger sear and disconnector are machined tool steel. The hammer is machined stainless steel. Overall fit and finish is excellent. 
Savage ships the pistol with two eight-round magazines. I found it is also compatible with any of the multitude of other 1911 .45 ACP magazines I tried, including some 10-round magazines. 
I have shot the gun with a wide variety of ammo from Black Hills hardball to several defensive loads from Hornady, Federal and Speer. I had one failure to go into battery that was due to a faulty factory load with a split case. There were zero function issues due to the handgun. For a gun that the basement "experts" claim "jams all the time," this one is pretty reliable. But then, having shot many fine 1911s, I expect nothing less. 



It is not inexpensive, as the MSRP for the Savage 1911 starts at $1,349. The sample I have, black with a rail, is $1,499. However, the gun has proven to be worth the price. It is good looking and accurate as well as reliable. It comes set up properly and eliminates the cost of replacing the sights and safety as with most new 1911 handguns. 
I rather like this gun, and I think that Savage hit a home run with this new pistol.