When it comes to examining a potential self-defense gun like the Ruger Officer-Style SR1911, first and foremost, it must be reliable. While we can argue over caliber, magazine capacity or action type, the gun has to go bang every single time when lives are at stake. I'm sometimes asked how reliable I expect my pistols to be, usually framed in questions about 10,000-round tests and the like. Folks are surprised when I tell them my defensive pistol must absolutely go bang only until it has fired all the ammunition in it and on my belt. After that, it's a club and further reliability is a non-issue.
John Moses Browning knew what he was about when he designed and perfected the 1911 pistol. In Army testing, the pistols ran without malfunctioning for 6,000 rounds or more and became legendary for their reliability. In the 1950s, Armand Swenson pioneered cutting down the 1911, calling it a Bobcat, and the U.S. Army eventually persuaded Colt to produce the first Commander, with a 4.25-inch barrel.

Other notables, like Charley Kelsey, took the shortening process further, making small 1911 pistols under the Devel brand. In 1975, Rock Island Arsenal produced a cut-down 1911 General Officer's Model with a 3.5-inch barrel for issue to Army—you guessed it—Generals. As with the Commander, Colt eventually followed, and began producing steel-frame Officer's Models in 1985, as well as an aluminum Lightweight Officer's Model a year later. The Officer's designation was dropped in 1997, so current, small-frame Colt 1911s are sold under the name Defender. Kimber, Smith & Wesson and other manufacturers now produce Officer's Model-size pistols, as well.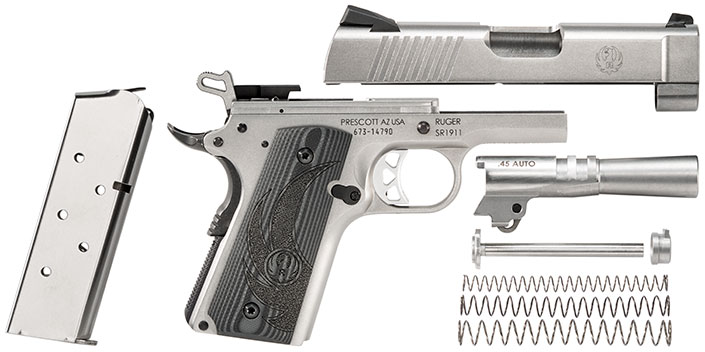 Back to reliability, the smaller a 1911 gets, or the further it departs from Browning's design, the less likely it is to run reliably. The weight of the slide and power of the recoil spring and magazine spring must be in balance to ensure proper feeding and cycling. Some little 1911s run, some don't. Earlier this year, Ruger expanded its growing SR1911 lineup with an Officer-Style pistol chambered in 9 mm, which I found to be entirely reliable with a variety of practice and defensive hollow-point ammunition. Now, I have a steel-frame, 3.6-inch-barreled Officer-Style SR1911 at hand chambered in the venerable .45 ACP and the question is, will it function reliably?
In most respects this mini-blaster is a classic John Browning 1911 design with modern improvements. The lockwork is Series-70-style, with a lightweight titanium firing pin and an extra-power firing pin spring to make the pistol drop safe, without resorting to a firing-pin safety. Other safety features include a beavertail-style grip safety, a port-side thumb safety and a loaded-chamber port in the top rear of the barrel hood. The major components are stainless steel with an attractive brushed, low-glare finish and the stocks are G10 with a stylized Ruger logo.


Both hammer and trigger are of the skeletonized variety and the trigger on my test-sample Ruger Officer-Style SR1911 is the best factory 1911 trigger I can remember experiencing. It's perfect, breaking at 3.75 pounds with no creep or overtravel. There are cocking serrations on the rear of the slide where they belong, and none on the front. The aluminum mainspring housing is serrated and rounded at the bottom, a nice feature on a pistol with an abbreviated frame, as sharp corners resting on the heel of the hand quickly make that hand sore when those corners dig into flesh.
For sights, Ruger affixed a set of excellent Novak combat sights in the three-white-dot pattern so common these days. Personally, I prefer a plain black rear with a gold-bead front sight, but that's the beauty of the design—you can easily change the sights out to your preference in colors and types. Other improvements include an integral plunger tube as opposed to the original staked-on design. If you've ever had a plunger tube come loose or fall out of a pistol, you'll understand why this is a really good idea. Ruger incorporates this into all its SR1911 pistols.


The Ruger Officer-Style SR1911 ships with two stainless steel seven-round magazines, an instruction manual, the usual padlock and a barrel-bushing wrench you won't need—having a bull barrel contour, this little cannon has no barrel bushing. To fieldstrip the pistol, first remove the magazine, lock the slide to the rear and physically and visually check to make sure the pistol is unloaded. Align the takedown notch in the slide with the top rear of the slide stop and push the slide stop out from right to left. The slide can now be removed by pushing it forward off the frame. The triple recoil springs and guide rod are removed by lifting up on the rear of the guide rod. There is a recoil-spring plug that has to be removed before the barrel can be pushed forward and taken out the front of the slide. The instruction manual packed with the pistol explains this in detail, and I recommend you read it.
Size and weight are two important considerations with concealed-carry pistols. Smaller pistols are a good thing because they're more-easily concealed, and light-weight pistols are easier to tote around. Then again, a pistol that's too light—or too small—can be unmanageable. If the pistol is too big and heavy you probably won't carry it and if it's painful to shoot you won't practice. There must be a middle ground; I think that's what Ruger is trying to achieve with this pistol. This pistol, at 32 ounces empty, is approximately 3 ounces heavier than an aluminum-frame Lightweight Commander and 7 ounces or so lighter than a full-size, 5-inch-barreled stainless steel SR1911. This stout little pistol is easy to conceal and does a good job of handling the power and recoil of the .45 ACP round.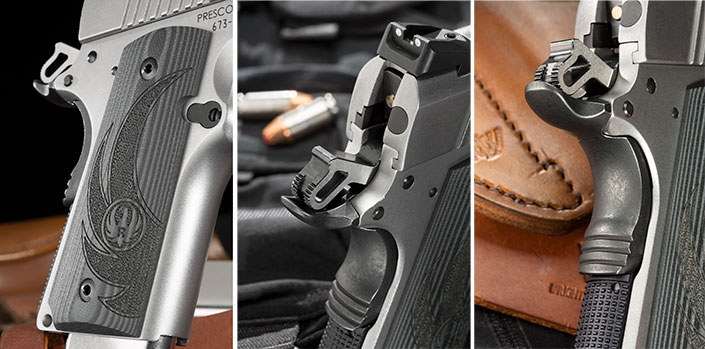 Another key to ease of carry is a properly designed holster that balances the gun on the belt. One of my favorites is the CID holster from Rob Leahy at Simply Rugged Holsters. A modified belt-slide holster, it needs no retention device because the design cinches the holster to the belt and secures the pistol. My example is finished in Cape Buffalo and I find it comfortably supports anything from full-size to Officer's-Model-1911 pistols due to its open-bottom design.

When Ruger notified me it was shipping the Ruger Officer-Style SR1911, I asked another outstanding holster maker to make me one of his Border Ranger style holsters. This one, from Mike "Doc" Barranti at Barranti Leather, harkens back to an earlier era and is the type of holster Western lawmen, including many Texas Rangers, used and favored. While some folks these days may wonder about the exposed trigger, keep in mind a cocked and locked 1911 with a grip safety is safe in such a holster, something these legendary lawmen understood perfectly well.
To answer the reliability question, I scoured the ammo bunker for .45 ACP ammunition and headed to Gunsite Academy to run some tests. While 230-grain FMJ hardball ammunition is the standard and many defensive loads are made in this bullet weight, I have gravitated toward the 185- to 200-grain hollow points as my preferred defensive ammunition in the compact and lightweight 1911s. This ammunition runs a little faster and the lighter bullets have less recoil, an aid in shot-to-shot quickness.
The little pistol functioned with everything I tried so I settled on three loads to use for velocity and accuracy testing, as shown in the accompanying table. In the end, I determined the Ruger Officer-Style SR1911 shoots better than I do, being fully capable of shooting one-hole groups when I did my part and blowing the groups out a bit whenever I got a little careless.


Ruger is far from finished building out its SR1911 lineup. While I have no insider knowledge, I suspect a lightweight, aluminum-frame version of the Ruger Officer-Style SR1911 is on the horizon. In the meantime, what we have here is an accurate, reliable, easy to carry and conceal defensive pistol with .45 ACP power. The list price is $979 and the street price is likely to be in the $800 range. That's a pretty good price for a full-featured 1911 that's good to go out of the box or can be customized to your preference from the vast aftermarket of parts available for 1911-style pistols. And it goes bang every time.