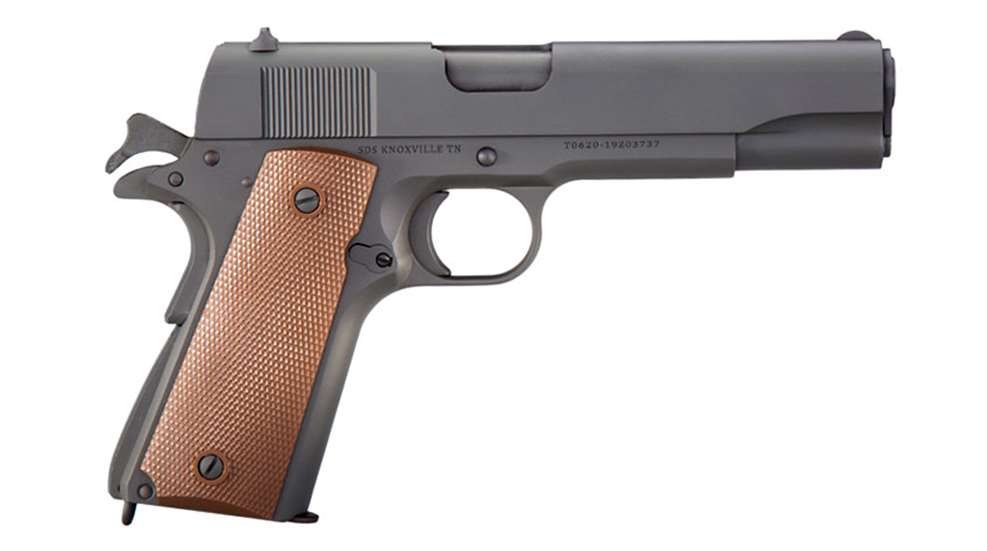 The 1911 pistol is one of the most copied handguns in history. Manufacturers worldwide have produced guns for military and civilian use that leave the factory "ready to fight." In addition, the 1911 design has, and continues to be, the preferred platform for both manufacturers and custom gunsmiths in their attempts to elevate a pistol into a work of art.

Most of these guns, though considered by some as too beautiful to shoot, can still give good performance in a fight. While I'm an avid fan of beautified 1911s, the latest one to catch my eye was a brand-new, plain-Jane copy of the old M1911A1 made by the Turkish company TISAS. It was sitting in an Arizona gun store priced at $360.

It's been a long time since I handled an A1 model, but the gun looked right. I quickly noticed details such as an arched mainspring housing with an integral lanyard ring, a spurred hammer, a narrow-tanged/mil-spec grip safety, a small thumb safety, a short trigger, a barrel bushing with recoil spring plug, polymer grip panels and vestigial fixed sights. All metal parts had the same dull matte-black finish, including the single magazine furnished with the gun. On the left side of the slide it read "MODEL 1911A1 U.S. ARMY." On the frame just below that were the words "ZIG M1911 TISAS-Turkey." 

After handling the pistol for a while, I identified a couple of areas of concern and a couple that gained my instant approval. Like original A1s, the small sights were difficult to see in dim light or against a dark background, but were quite usable in normal ambient light or highlighted against a light-colored target. I can't prove it absent an original gun for comparison, but it seemed the TISAS A1 had a slightly larger front-sight blade and rear notch. However, at my age, it is almost mandatory that I wear prescription glasses, particularly in low-light conditions.

My memory was telling me that in the past, old-style skinny grip safeties had resulted in some minor bloodshed (mine) caused by slide bite. Modern 1911s I've handled all seem to feature a longer trigger. Unfortunately, I have a rather short index finger on my shooting hand, indicating to me that the shooting gods must surely have a sense of humor. I appreciated the short TISAS trigger even before hitting the range as it allowed me to place my finger properly on the trigger rather than being limited by my reach.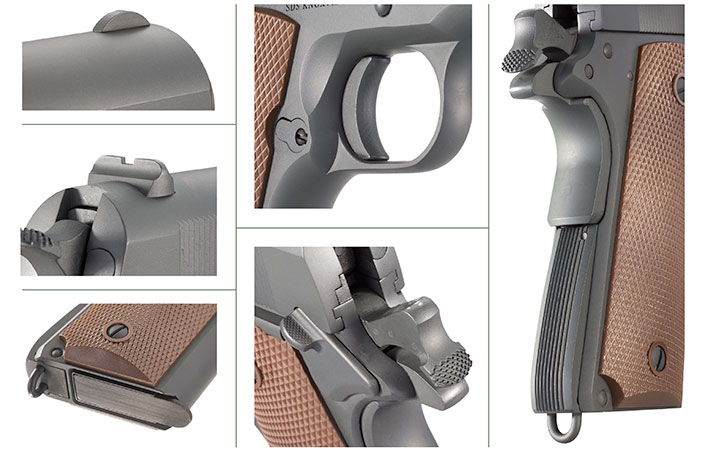 The TISAS has a small thumb safety on the left side of the gun only; no extended ambidextrous levers to worry about. I had no trouble disengaging it as a normal part of the drawstroke. In fact, the smaller lever allowed a lower thumb position when shooting, a condition that helps ensure that the grip safety is fully depressed. I'm also a fan of barrel bushings and recoil-spring plugs as opposed to recoil springs with guide rods. Disassembly and maintenance is simple, a quality I admire in any gun upon which you might bet your life.

Range results are shown below. Of much greater importance is that there were absolutely no malfunctions whatsoever. Every round of all factory ammunition cycled and fired. In addition to the three factory loads tested for velocity and accuracy, I used some leftover ammo from previous projects to engage 8-inch falling plates at 50 yards. Shooting at the steel plates was offhand, and again, the gun performed with 100-percent reliability. I'm not claiming I hit a plate with every shot but, by the end of the session, all 10 plates were down. 

Only the factory-furnished magazine was used throughout the shooting sessions. Obviously, you'll want more than one magazine, and I will be trying some magazines from other manufacturers, but this was a test about TISAS-furnished hardware. I didn't experience any problems seating the plain-base magazine, nor were there any issues with it dropping clear of the gun when the release button was pushed. That said, while I have no problem starting the day with a steel-plate magazine that I carefully inserted in the gun in the stress-free environment of my home, extra magazines will feature bumper pads to ensure reloading under stress will be accomplished with one slap.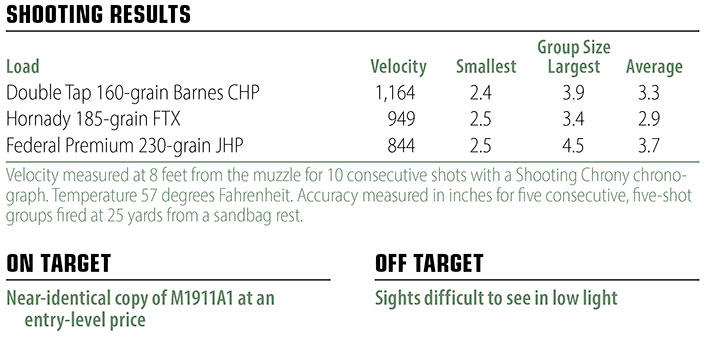 I did suffer some slide bite in the web of my shooting hand early in the first shooting session. A piece of duct tape over the affected area eliminated the distraction. If you were attending a long-term shooting session like a Gunsite Academy class (which I'm planning to do with the TISAS this summer) where you typically consume 500 to 1,000 rounds during the week, you could "tape up" at the beginning of each day's shooting or spend the money on a beavertail grip safety. I'll be getting some extra magazines and applying the tape for Gunsite. Come evenings, I'll remove the tape and carry the TISAS concealed when venturing off site for other social activities. The M1911 A1 has been winning fights for almost 110 years, and it don't need no stinking tape!