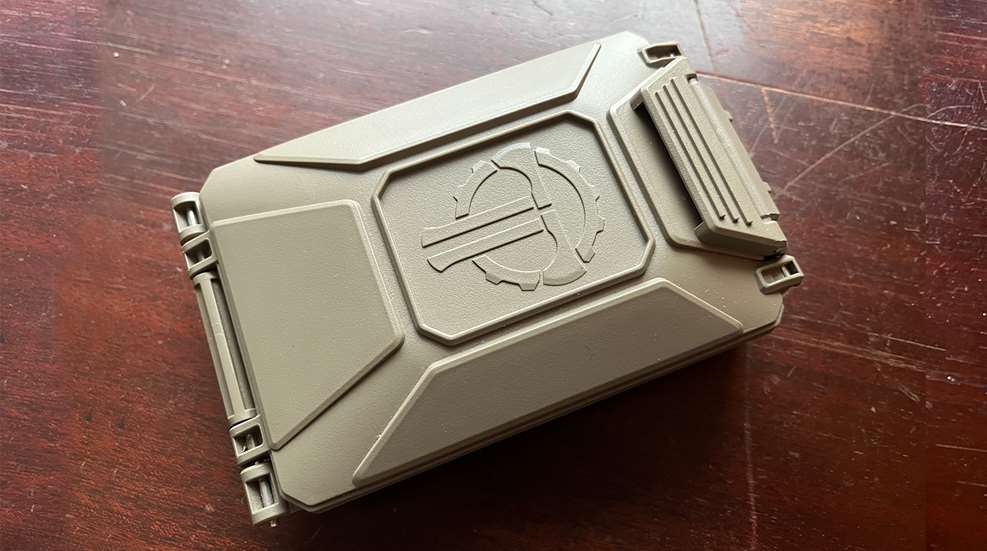 If you're like the rest of us, you carry all sorts of techy tactical gear with you either all the time or at least occasionally. Most of that techy gear requires batteries, and lots of them. Even something as simple as a high-performance EDC flashlight gobbles lithium CR123s like a kid eating M&Ms. And thanks to Mr. Murphy and his Law, that one time you need the flashlight the most is when the battery will have just run out. Did you bring a spare? If you spent any time as a scout or in the military, it was drilled into your head to be prepared.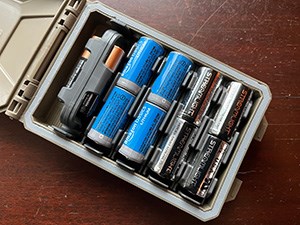 Thanks to the Thyrm CellVault-5M Modular Battery Storage, you can have an assortment of replacement batteries at your disposal. Ohio-based Thyrm has been specializing in battery storage its entire existence, producing a handful of weatherproof boxes that protect everything from AAAs to night vision power packs. (They even make a Zippo lighter case if you prefer getting your light from a flame).
The CellVault-5M Modular Battery Storage starts with a hard nylon outer clamshell design that can withstand quite a bit of abuse. How do I know? I've had mine strapped to a backpack for over a year and dropped it, stepped on it, and banged it against walls – not on purpose, but nonetheless….
It's also been through water and snow, which is why it's great that it has a waterproof seal between the top and bottom shell halves. Once the latch is closed, nothing outside can get inside and corrode or damage the batteries. Throughout my tests, not a drop of water ever breached the seal.
Inside the shell is a wide-open compartment that houses a variety of batteries, each in tiny hard nylon cradles to keep them from rolling around.
Thyrm CellVault-5M Features:
Modular inserts included for 18650, 18350, CR123, and AAA batteries
Extra wells for CR2032 batteries
Waterproof gasket seal
Integrated straps for attaching to MOLLE/webbing
Lockable over-center latch
Durable premium polymer construction
The modular battery inserts can be removed and rearranged in various configurations, making personalization easy. For example, I mainly use CR123s and AAAs, so I have four CR123 inserts, each holding two batteries, and a 4-place AAA holder.
As tightly as the cradles hold the batteries, removing the ones you need is easy. Just push down on one end of the battery, and it flips up for easy grabbing without falling out.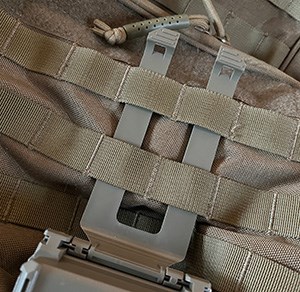 The CellVault is held on via a MOLLE system that weaves into PALS or MOLLE on a backpack, bag, or chest rig like any typical webbing accessory. The entire time I had mine attached, not once did it detach or even wiggle loose, holding firm the entire time. Because it's so tight, however, it was a bit difficult to pull off, but I could still access the batteries with the unit attached to the bag. I'd rather struggle a little to detach it than worry about it falling off, so this is an overall win for the design.
Speaking of accessing the batteries, the shell is held closed by a double-action clip that requires two opposite movements to open, reducing the chances it will come open on its own. My test version never came open on its own, not once.
Overall, I am highly impressed with the US-made CellVault-5M Modular Battery Storage. It performed exactly as advertised, with no flaws. If you need to keep extra batteries with you – and who doesn't? – the investment of $54.99-$90.48 (depending on the modules you pick) may seem a bit high, but it is worth the extra dough for a rugged solution that will be there when you need it.