Support NRA Shooting Illustrated
DONATE
In the world of combat-style shooting, there has always been a rather bitterly enforced dichotomy. "Raceguns" and "gamer" tactics were fine for specialized competition, "but that stuff will get you killed on the street." Law enforcement and tactical trainers were pretty vociferous in their dismissal of high-maintenance guns and gear tricked out to the point of impracticality, and game-specific tactics that would be dubious in an actual fight. So, how did we arrive at the current point, where the hottest law-enforcement sidearm was, until recently, better known as perhaps the pre-eminent action-shooting-competition pistol?
It starts with the recognition by all parties involved that competitive action shooting and actual combat shooting are not mutually exclusive. In fact, they have more essential similarities than differences. Once Staccato (formerly known as STI) made the commitment to law enforcement as well as competition—and once key law enforcement people saw the light—it was only a matter of time before Staccato became (to quote Handgun Editor Tamara Keel quoting Will Smith's character in "Men in Black II") "the new hotness."
USMSSOG Approval
Mike Benbow is the recently retired Tactical Operations Commander of the U.S. Marshals Service Special Operations Group (USMSSOG). USMSSOG is essentially the U.S. Marshals' SWAT team, formed more than 50 years ago. Give that proper consideration. Most law enforcement deals primarily with the general public. The U.S. Marshals, however, deal largely with bona fide malefactors, bad actors who have committed to the role of villain. Thus, USMSSOG duty is as real as it gets.
Benbow was familiar with STI after handling a friend's and had purchased two himself. They ran splendidly, but STI was decidedly a competition company producing competition guns. Besides, good, reliable magazines were difficult to find and quite expensive.
USMSSOG used .45 ACP 1911 pistols. That's important, because when those pistols began to break down after years of hard service, Benbow was not fixated on polymer-frame, striker-fired pistols (though he tested a range of them) like other agencies. SOG had already determined it would be moving to 9 mm and had even selected a duty load—Hornady Critical Duty 135-grain +P—prior to the adoption of a new pistol. It also had decided to go with an MRDS, choosing Leupold's DeltaPoint as its bat-teries could be replaced without the need to re-zero.
Contacting STI, Benbow was mightily and pleasantly surprised to learn the company had re-envisioned itself. To that end, it had added a dedicated Law Enforcement salesman, Buck Pierson, subsequent director of Law Enforcement and current senior vice-president of Business Development. Pierson grabbed some of STI's new law-enforcement pistols and headed down to meet Benbow at the SOG Tactical Center in Louisiana. "Ruggedized" (to use Benbow's term) and slightly looser, the guns ran splendidly; flawlessly, in fact. Moreover, they used a new magazine that was functional, affordable and easily sourced. Not only were the guns reliable, but everyone who shot them improved their qualification scores. 


According to Benbow, the pistols fired 126,000 rounds in six days with no malfunctions. However, that wasn't the acid test. Benbow explains that when a USMSSOG operator goes into a hostile environment as part of team, his primary arm is his carbine, with the pistol secondary. However, when all the potential sidearms were arrayed and an operator was asked which pistol he'd want going into a convenience store alone (thus with the pistol as his primary), anyone who'd shot the STI selected the STI. In the course of a week, the decision was made: USMSSOG would be carrying STI pistols (officially rebranded Staccato in 2020). 
Yes, they are expensive, but if they enhance the chances for a successful outcome (completing the mission without harm to USMSSOG personnel or bystanders), price seems a much smaller matter. Improved shooter confidence and elevated qualification scores don't hurt, either.
USMSSOG's adoption helped open the floodgates. Currently, more than 900 law enforcement departments or agencies have approved the Staccato for duty use.
Street Racer
Benbow scoffs at the notion there is no overlap between gaming and actual combat shooting. "I absolutely disagree. I disagree 100 percent," he says. 
Professional shooter Todd Jarrett, though coming from the opposite end of the spectrum, concurs. "I think 'gaming' is a bad word," says Jarrett.
As Benbow explains, both competition shooting and actual combat shooting have the same goal: a center-of-mass hit as fast and accurately as possible. If competitive shooters have refined techniques or gear that furthers progress toward that goal (without tactically unwise elements), then tactical trainers are obliged to listen. 


For example, although competition rigs are built for speed whereas tactical rigs are designed largely for retention, USMSSOG nonetheless learned to set up their rigs similarly to how competitors arranged theirs for fastest pistol deployment. "We picked that up from the competition side of the fence," acknowledges Benbow. 
So fully has USMSSOG embraced learning from competitors that, after receiving the basics in precision pistol shooting, candidates are then taught to shoot with the red-dot sight by none other than world champion Max Michel. "Competitors shoot and move, which is what happens on the street," says Benbow. "We just don't step in a box."
Magic
OK, so what exactly is a Staccato? It's a highly refined 2011, which is what a double-wide 1911 is called. The basic design has been around for more than 30 years, but progressed in fits and starts. Like the 1911, the early guns were based around the esteemed .45 ACP cartridge. Once the 9 mm surged to the top as the law-enforcement round of choice and the 2011 was rejiggered for the medium-caliber cartridge, things started to click. Using a bushingless bull barrel, steel slide and steel or aluminum-alloy frame mated to a polymer grip module, Staccato (well, STI) was able to produce a reliable pistol that was both supremely accurate and a pleasure to shoot. Incorporating a redesigned magazine made it practical.
The company has generated a corps of fanboys who are remarkably enthusiastic about the pistols it produces. Apparently, membership in the corps includes everyone who's ever fired a Staccato. Really, no one has a bad word to say about the guns (and I looked). Moreover, they describe shooting the pistol in the same rapturous tones Texans usually reserve for tacos, barbecue and football.


As Arthur C. Clarke said, "Any sufficiently advanced technology is indistinguishable from magic." Jarrett shoots a Staccato in competition, the company having sought him out when his previous sponsor, Para-Ordnance, went under with Remington. The four-time world and 16-time national champion unabashedly declares it "the best, most reliable platform out there."
Asked to explain the particular Staccato magic, Jarrett says "When the new owners came in, they developed new processes: better materials, new coatings and better lockup between barrel, slide and frame." He adds "The lockup is hand-fit. If you blindly pick up a Staccato, it feels like a custom pistol without the custom price."
Additional magic is provided by Dave Dawson and the team at Dawson Precision, a collaborator of Staccato's. Dawson Precision has developed sights, MRDS mounts, the Dawson Precision Optics Reflex System (a mounting plate with irons that co-witness with the MRDS and a cover plate with irons that maintain zero), magazine baseplates, compensators and the recoil system for the new CS model. Also, Dawson's has sold more Staccatos than any other dealer.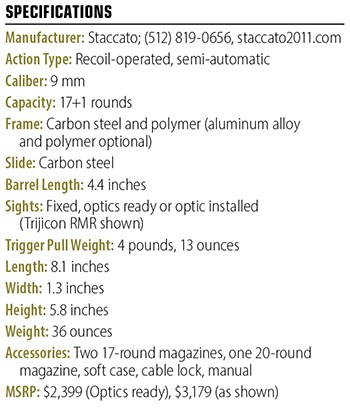 The Configurator
Take a look at the pistols on the opening spread. Believe it or not, they are all the same gun, the Model P (for Police). The difference is they were all built using Staccato's Configurator. The Configurator is an application on the company's website that allows you to select a base pistol and then configure it to your liking. Want a mag funnel? Add it. An aluminum-alloy frame? Just a click away. A premium MRDS? No problem.
I selected the optics-ready Model P with the Trijicon RMR to test-fire for record, though I shot all three just to get a sense of how consistent they are. Yes, there is something about them. They balance very well in the hand and muzzle rise is minimal (particularly, of course, with the compensated one). The good balance and some attenuation of muzzle rise may both be due to the bull barrel. That baby is thick.
Further, they have a delicacy in terms of feel that belies their no-nonsense, almost brutish appearance. Jarrett says the company has managed to achieve reliability despite using relatively light springs. 
The 2011 shares the ideal grip angle of the 1911, but that pistol was designed for one-handed shooting. The 2011's wide polymer grip module, in addition to dispersing felt recoil over a wider area, provides room for plenty of two-hand contact and the crush grip advocated by trainers like Field Editor Jeff Gonzales. And, of course, there is that light, crisp, single-action trigger.
Being 2011s, Staccatos are reliable, but not so tolerant of neglect as some striker-fired pistols. Our test guns had come directly from the factory, then sat in our vault for months prior to testing. I judiciously applied a fresh coat of FP-10 Elite Lubricant to the slide rails. The guns ran like the proverbial Swiss watch.
Accuracy was better than indicated. Like most semi-autos, the tested gun often threw the first, manually cycled shot wide (enlarging the measured group), while three or four of the other holes were actually touching.



I've had the privilege of handling and shooting guns as expensive as the Staccato and some a good deal costlier. Most were 1911s; only a few were 2011s. Moreover, had I wanted them created to my specifications, they'd have cost even more and taken a great deal of time to arrive. And those other guns were optimized for beauty rather than duty. When I ask myself which pistol I'd want to walk alone into an armed confrontation with, I quickly realize I'm a civilian and should call the cops from a safe distance. But—if it is their preference—I hope they are carrying Staccatos.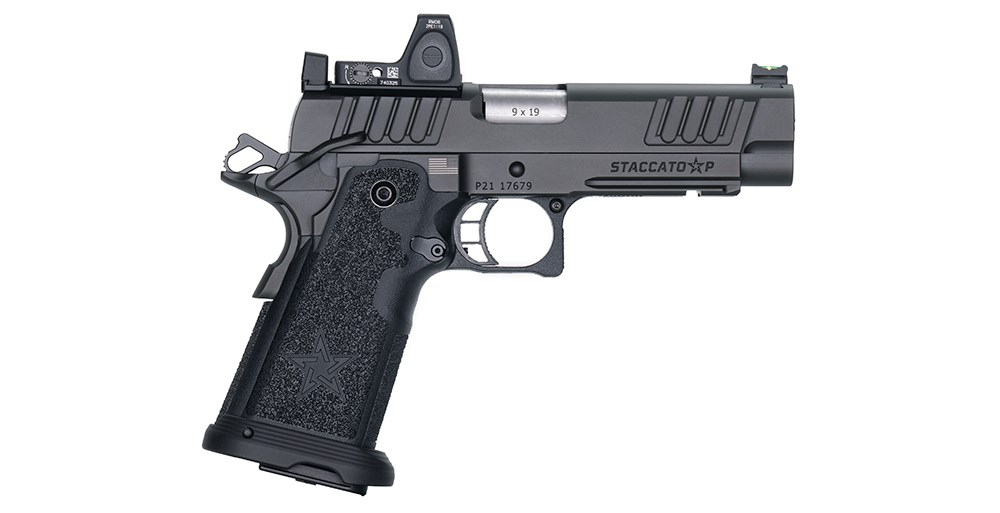 ---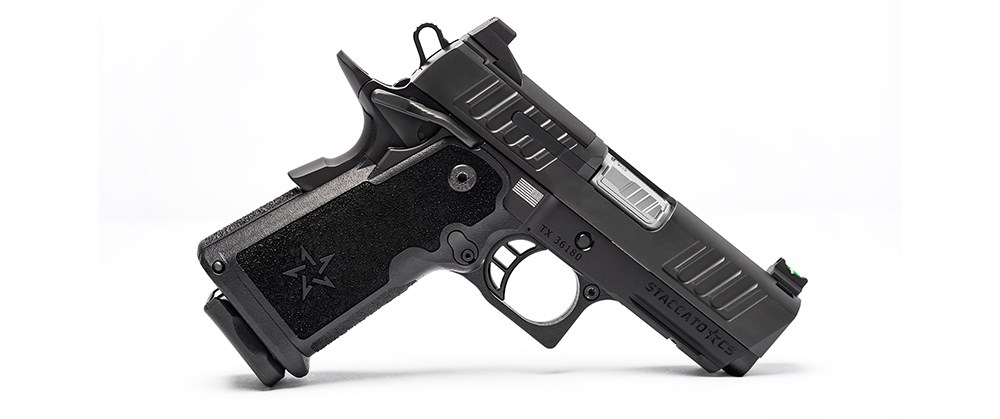 Staccato CS
Staccato's C2, and even the Model P with an aluminum frame and without the mag well, can serve as concealed-carry pistols, but now with the new CS, Staccato has really committed to this hottest segment of the civilian market. The 2011 was designed around the .45 ACP cartridge, but the new CS was designed from the ground up for the 9 mm. It's lighter, shorter and slimmer, but still a Staccato in every other way. Sized similarly to the SIG P365, the optics-ready pistol holds 15 rounds and incorporates a new recoil-management system courtesy of Dawson Precision. Mike Benbow says the new, little Staccato actually out-shoots the C2. —DM