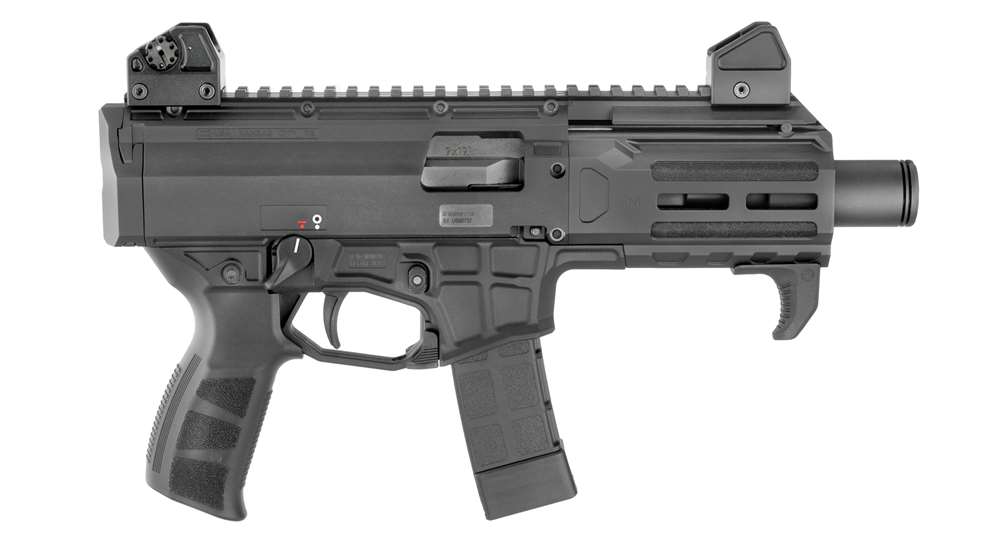 CZ's new Scorpion 3 Plus Micro represents something less dramatic—but also less traumatic—than an all-new design. It's an established, much-loved platform that has wisely been gently tweaked to make it even better. The large-format Scorpion EVO 3 pistol has been a best-seller for the Czech-based company. The Micro shrinks it down, but also includes all the little niceties customers requested in a well-executed, thoughtfully packaged product.
Riding the crest of the large-format-pistol trend, the 3 Plus Micro is vaguely reminiscent in appearance of the squat, abbreviated machine-pistols so popular in movies of the 1980s and '90s. Of course, the CZ is semi-automatic and not NFA-restricted. Also, its lines are more graceful and it looks, well, more purposeful and better thought out. It has a pistol grip, an angled trigger guard, beveled mag well ahead of the trigger guard and a stubby fore-end surrounding a 4.2-inch threaded barrel and muzzle device. Up top, there is a full-length Picatinny rail on which are already installed surprisingly excellent iron sights.
There is a non-reciprocating charging handle along the left side of the pistol. When the bolt is locked back, you can use the ambidextrous bolt-release levers located between the trigger guard and mag well or you can slap the charging handle, HK MP5/SP5-style. Ambidextrous also describes the safety levers (as do "big" and "ergonomic"), which are located above and just forward of the pistol grip, similarly to an AR-platform gun.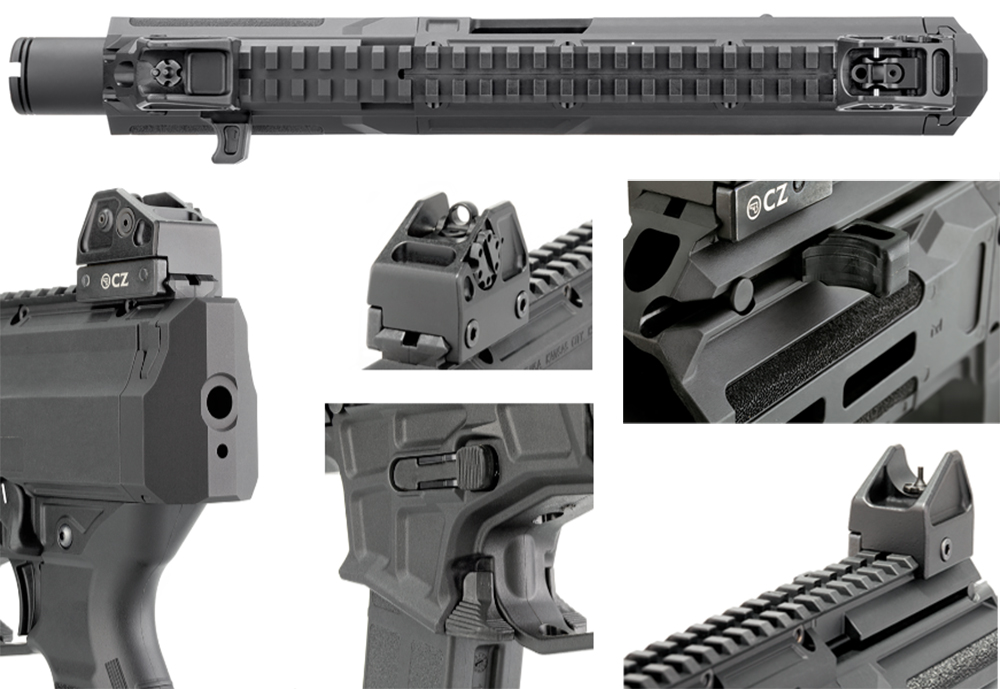 One of the 3 Plus Micro's enhancements is a grip that can be slid forward or back to adjust your finger position on the trigger. Loosen a single Allen-head screw, slide the grip into whatever position gives you best trigger-finger placement, tighten the screw and you're good to go. More- over, the strategically stippled and grooved grip is more vertical than previous Scorpion grips, with the less-radical angle offering greater shooter comfort.
Narrow but adequate areas of effective stippling are also present on the fore-end, sandwiching M-Lok slots for attaching accessories. There are also slots on the underside of the pistol and CZ has wisely attached a hand stop to the forward one. 
The aluminum "iron" sights are refreshingly fully realized. While some manufacturers affix sights that are little more than placeholders for whatever red-dot the consumer will be subsequently installing, CZ has included useful, fully adjustable units. The rear is a protected ghost-ring incorporating a choice of four aper-  tures. The protected front post is adjustable for elevation. Granted, they are less than optimal in low light, but are all you need on the range. 
The two 20-round magazines included with the 3 Plus Micro will work with earlier generations of Scorpion pistols, though older magazines will unfortunately not work with the new gun. 
Handling the 3 Plus Micro is a mixed bag. It's quite well-balanced. You can shoot it with one hand on the grip and the other around the fore-end, but you can also place both hands on the grip and shoot it like a conventional pistol with surprising ease. In fact, it's the former that is most awkward. Without an arm brace or even a single-point sling, you are holding the gun out in space with nothing to pull against (a brace) or push against (sling) and tensioning your arms becomes problematic.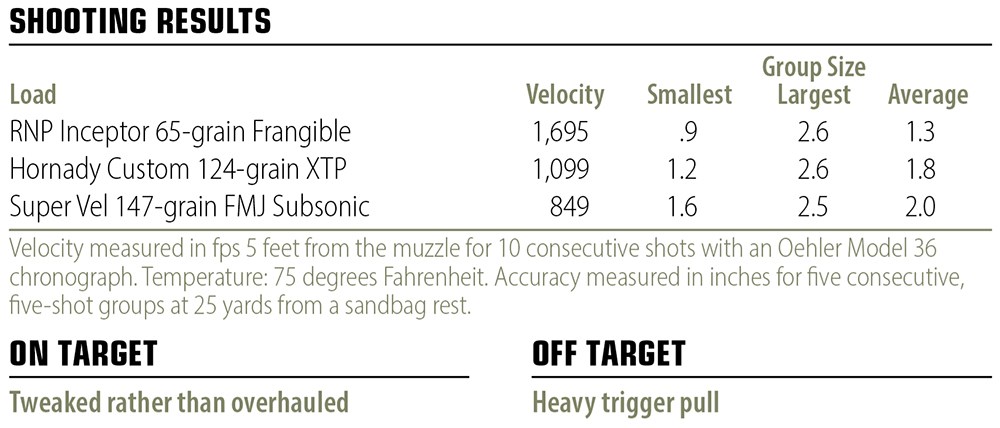 The only other problem I had with the CZ was the trigger. There was some take-up before hitting a wall. It then seemed you had to cross the rather wide top of that wall before the trigger broke at more than 8 pounds. 
Accuracy testing from a rest required the removal of the handstop using the included wrench. Muzzle rise was minimal. 
CZ's Scorpion 3 Plus Micro is a compact, well-considered improvement beyond what was already a solid and justifiably popular gun. It would serve well as a compact personal protection gun for a vehicle, a home defense arm or just a fun gun for the range, though a stabilizing arm brace would obviously enhance its shootability in any of those roles.