Support NRA Shooting Illustrated
DONATE
Few companies elicit as strong a reaction from gun buyers as KelTec. This Florida manufacturer's guns are typically marvels of design created by the owner, George Kellgren—one of the few firearm engineers for whom the overly used appellation "genius" is apt. The problem is, his designs were often hampered by manufacturing difficulties in the past (particularly early in a product's life).
The P15 breaks new ground for the company, and lots of it. Yes, it is KelTec's first striker-fired pistol, its earlier guns having internal hammers. But, that's small potatoes. The big news is that this is the lightest and probably slimmest double-stack 9 mm pistol available. The pistol tips the scales at a mere 14 ounces. That's sort of incredible. My trusty Kahr Arms PM9, the lightest 9 mm I own, weighs more and holds 6+1 rounds. With a flush-fitting magazine, the P15 holds 12+1 rounds. With the slightly extended and more comfortable magazine, it holds 15+1 rounds. 
With double-stack micro-9s being the hottest segment of the concealed-carry market, KelTec is looking to shoulder its way to the front of the pack. The P15 is remarkably slender, innovative, lightweight and—shock of shockers—has an excellent trigger. It's even better looking than most previous KelTec offerings.
Some competing pistols designed for newbies offer grip safeties, something disliked by many veteran shooters (unless it's on a 1911 or 2011), though new shooters appreciate a gun that seems safer. Some grow out of that appreciation and then are stuck with a gun having a feature with which they are no longer enamored. KelTec's P15 incorporates both a grip safety and a magazine-disconnect safety. But just as importantly, it incorporates an internal dial that allows you to deactivate both safeties or just the grip safety, retaining the magazine-disconnect safety. It's easy to access (just remove the slide and use a small, flat-head screwdriver to turn the dial to the desired detent) and reversible.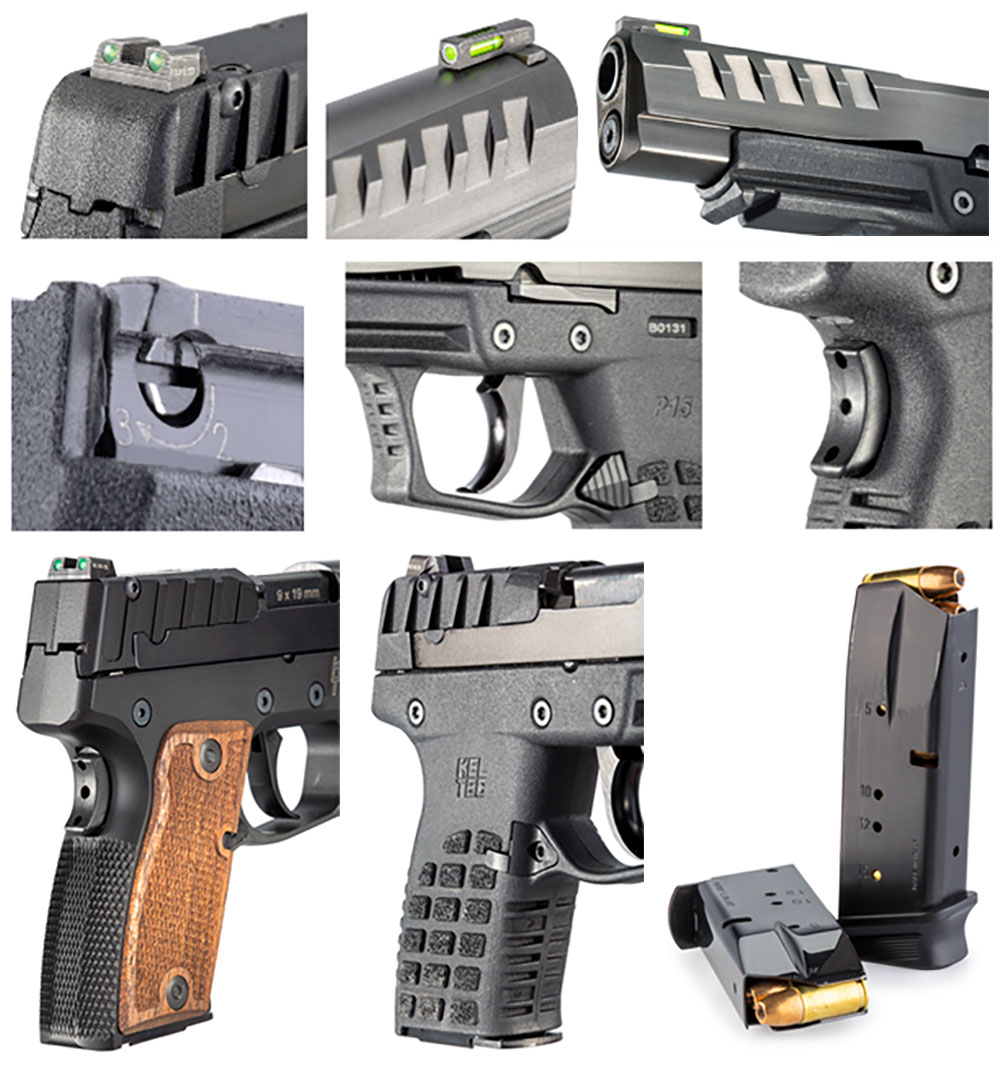 The sights are surprisingly good. They are Hi-Viz units that combine tritium and, on the front, a light pipe. In daylight, the light pipe (with its exposed sides) channels ambient light. In low-light situations, the glow of the radioactive tritium capsule supplies light to the fiber optic. That's pretty much state-of-the-art at this point.
Between the sights and the vastly improved trigger, KelTec seems to have focused much energy on improving weaknesses found in some of its previous offerings. With a grip safety, there is no need for the bladed trigger safety found on many competitors' striker-fired pistols. The trigger on this new pistol is aluminum, gracefully curved and exhibits a really good pull; not just for a KelTec, but for any striker-fired pistol. There is very little take-up before engagement, a gentle wall and then the break. It broke at a smidge more than 5 pounds, but felt lighter.
Big, easy-to-grasp cocking serrations are fore and aft on the slide. A single-slot rail is integral to the dustcover. The side grip panels have an array of raised, heavily stippled squares that provide excellent purchase. I thought they would be abrasive, but in fact, they dig in so well that with a proper, firm hold, they move with your skin rather than abrading it.  
Overall, the gun is "prettier" than typical KelTecs. I can't say it looks like a lot of other guns out there; only that it looks better than other KelTecs. The company's bread-and-butter is innovation and value, but some attention to aesthetics never hurts.
Problems? There are some. Some early users reported having trouble with the windage adjustment of the rear sight. The sight lost tension and moved in the dovetail (it didn't happen with our test gun, but we didn't adjust the sights). One claim was that the rear sight wasn't supposed to be adjustable for windage, but that's not what the manual nor the website says. One reviewer advised simply centering the sight in the dovetail and applying thread-locking compound.
The "cover" on the P15's slide is available in several screw patterns. Select the cover compatible with your intended micro-red-dot sight (MRDS) and it will work with all sights that use that screw pattern with no plates involved. Though this system offers simplicity, it means the rear iron sight is eliminated, so you won't be able to co-witness your MRDS, or have a backup option should that unit fail.
The triangular, reversible magazine release is not ideal. You have to reposition the gun in your hand in order to exert any leverage on it. Everyone who tried it experienced the same problem.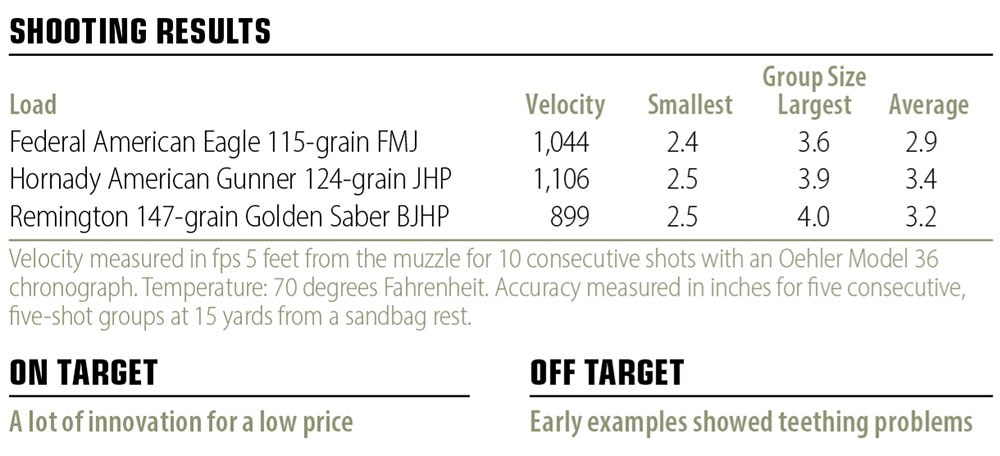 In shooting, the P15's accuracy was "meh"; not bad, but nothing special, either. It showed a strong tendency to throw the first, manually cycled round outside what otherwise would have been a solid 2- to 2.5-inch group. Reliability was good, but not flawless. There was a light hammer strike at one point. Also, with the grip safety operational, it was necessary to reposition my hand twice when shooting from the bench in order to fully depress the lever. Felt-recoil was manageable for a 14-ounce pistol chambered in 9 mm. Oh, you'll know when it goes off, all right. The thing is, a super-light gun is going to kick a bit, which may cause you to practice less than you perhaps should. On the other hand, you're more likely to have an easily carried gun with you when you need it. I don't dismiss either, but to me the latter is a bit more important.
In an unusual move, KelTec is also offering a much more expensive, aluminum-frame variant of the P15 which includes removable wooden grip panels and lacks the accessory rail. It weighs a couple of ounces more than the polymer-frame version and was a bit better shooter in both comfort and accuracy.