by
posted on June 14, 2021
Support NRA Shooting Illustrated
DONATE
The EMP series of 1911-style pistols from Springfield Armory was designed specifically around the 9 mm cartridge. When you pick one up you notice right away the size is a hair smaller than a traditional 1911, and while I don't typically carry a 1911 appendix carry, I had an epiphany. The EMP guns were scaled down to the 9 mm cartridge. I am more accurate with a 1911 style trigger and grip. So why not try carrying the EMP appendix? EMP stands for Enhanced Micro Pistol so smaller means easier to conceal and carry. Right? So I did. That was a year ago and I still rotate the EMP Concealed Carry Contour model into my everyday carry routine.
I've run the Springfield Armory EMP models with the 3-inch barrels and liked them a lot. Accurate, and with the all the features of a full size 1911 shrunk down. When I traded up for the EMP Concealed Carry Contour, it was a game changer. This pistol reminds me of a commander size 1911, meaning shorter barrel but full size grip. The grip is also bobbed making this variant more easily concealable. The Achilles Heel of concealing a 1911 in the sharp edge of the butt. Even under a concealing garment, this is the part that will print first. Cutting away that section of the grip butt provides a smoother more contoured frame that prints less.
So while the 3-inch EMP pistols are good, in my opinion the EMP Concealed Carry Contour does everything right. It is packed with concealed carry features and, as I found out, there is no compromise.
For every day appendix carry I use the Reckoning holster from CrossBreed. This consists of a hybrid holster that uses a Kydex shell and leather backing. I paired it with a Foundation Belt from EDC Belt Company. Metal clips on the holster attach to 1.5-inch wide belt, which is constructed of Cordura and reinforced nylon webbing.

It also uses a low profile buckle. I like this belt since it is stiff where it needs to be and flexible where it should be so it feeds through the buckle with ease and stays in place with hook and loop fasteners. As much as I want to say I am a traditional leather holster guy, I like Kydex. The EMP snaps out of the holster and right into my hand.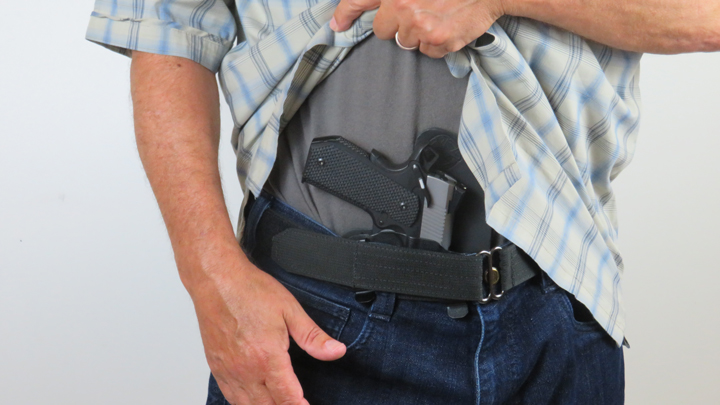 The bobbed grip helps to conceal the pistol, but the grip itself is sublime. Thin G10 grip with a golf-ball-style texture ensure a good hold in the palms. That texture is also applied to the front grip strap and the mainspring housing so even with hot 9 mm +P loads the EMP stays put in your grip. The texture is also not raspy, so extended training is definitely possible without chewing up your hands.

I can fit my average size hand on the entire grip and ride the slide top with the thumb of my support hand. The thumb of your shooting hand naturally falls on the extended thumb safety. The thumb safety is ambidextrous and works with a confidence building click on, click off. The grip safety features a high speed bump so even with a less than perfect draw and grip you can ensure the EMP will do your bidding. The beaver tail on the grip safety is smoothly blended into the frame with no sharp edge to cause discomfort during extended training sessions.
The 4-inch stainless bull barrel is fully supported and match grade quality. There is no GI-style barrel bushing so you need a bent paperclip to disassemble the EMP. The barrel and slide lock up tight just hardly any wiggle.
Three steel magazines are included with the EMP. It won't take traditional 1911 9 mm magazines. Each holds nine rounds.
The frame is forged aluminum and it is mated to a stainless steel slide. The angled slide serration provide just the right coarseness for easy manipulation even with sweating hands. Maybe I'd like forward slide serrations, but I'm not going to complain. It weighs about 31 ounces unloaded, which is easy weight for EDC.
The sights consist of a low profile, snag-free, white-dot rear sight and fiber optic front. Contrast between the red front sight and white rear sight dots stands out. The sights are dovetailed into the slide so if you want a bigger front sight you could easily swap it out. I like the sights, which work well for fast defensive shooting and when I want to be more surgical with my shots. The usability of the EMP is given. The pistol is a natural pointer and runs like a 1911. What's not to like?

The trigger pull on my sample broke at 5.8 pounds, which is not a bullseye pistol trigger but good for defense work. There is about an 1/8-inch take up on the trigger then it breaks nicely. Overall, it's a quality trigger.
Reliability is paramount with and EDC gun and the EMP hasn't failed me. No matter what bullet weight or type, the EMP cranked through it all.
I ran SIG Sauer 115-grain FMJs, Hornady Critical Defense with a 135-grain Flex Tip bullet, and Winchester Defend with a 147-grain JHP. The SIG ammo gave me a best five-shot group that measured 0.99 inches at 25 yards. Nice shooting even if I was using a rest. On average the Hornady Critical Defense Winchester Defend ammo grouped about 2.5 inches.
The Crossbreed holster and the EMP Conceal Carry Contour is an excellent appendix carry set up. Overall, it's a comfortable rig that's ideal for everyday carry purposes.