There's never been a better time to become an AR-15 owner. You can't throw a piece of spent brass without finding a bargain-basement deal on America's most-popular rifle, and options are almost limitless. While that's great news for gun owners, top-tier AR platform manufacturers have a big challenge on their hands—make an outstanding rifle or go home. And these days, going home means going out of business.
Frank DeSomma, owner and founder of Patriot Ordnance Factory (POF-USA), is more than happy to step up to the challenge. He's designed and produced several award-winning rifles like the Revolution and Renegade, and he's not afraid to go against the grain and get a little radical from time to time (I'm fairly certain he considers it a badge of honor). This time, he's flipped the script by taking a backseat on the development of POF-USA's newest offering.
This latest creation is called the Wonder, an AR-15 chambered in 5.56 NATO that's built to be fast and light. The rifle is the brainchild of DeSomma's wife, Tracy, who was inspired to create a rifle for smaller shooters and women after she found the current options on the market lacking.
Once the idea was sparked, the DeSommas paired up to work on the build. Tracy painstakingly tried and tested every single part that was added to the rifle, which included handling just about every grip on the market (the winner was the Ergo SureGrip). When they came up short on a couple of parts, POF-USA put its ingenuity to work and built them.
So, what do you get when you combine a great idea for a new rifle with POF-USA? The result is a lightweight, yet substantial carbine that sports a hint of flair and a long list of impressive features that make the rifle a contender in an incredibly crowded market.
It's all About the Little Things
POF-USA has a well-established reputation for making superior-quality firearms with high levels of accuracy, and the Wonder is no exception. The spec sheet for the Wonder reads like a wish list for competitive shooters—many of the items that are standard on this rifle would be pricey upgrades on almost any other AR-15, and it's a refreshing change to see so many useful features on a rifle direct from the factory.
One of the best features of the Wonder is its weight—at just 6.17 pounds, it's a half- to a full-pound lighter than most other rifles in its class. To keep the weight to a minimum, every part on the rifle had to be scrutinized and tested to see how it would impact overall weight. To help meet this goal, Tracy chose a multi-position Mission First Tactical Minimalist stock. This stock is a great choice for smaller shooters because it's super easy to adjust to a shorter length-of-pull and the curvature of the stock toward the bottom makes the rifle easy to shoulder correctly. Standard buttstocks aren't a good fit for smaller people, so we're used to coming home bruised up after a day of shooting. It was a welcome change to shoot the Wonder and not have to deal with a few days of soreness afterward.

POF-USA's Renegade handguard was also chosen to save weight. It is a light-but-rugged 14.5-inch, freefloat handguard offering M-Lok compatibility at the three-, six- and nine-o'clock positions. It's paired with the company's patented heat-sink barrel nut, which allows for more effective heat dissipation. Four integrated QD-sling mounts are pre-installed on the rail (two in the front and two in the back), creating plenty of sling-configuration options. And as a bonus for competitive shooters, the small rail at the end of the handguard makes a perfect offhand-index point.
Not surprisingly, the trigger is made by POF-USA. Tracy added the 3.5-pound version of its EDM flat trigger to the Wonder, which includes anti-walk pins to ensure the trigger won't damage the gun over time. That pull weight may sound heavy to some competitive shooters, but it's crisp and clean, and feels lighter when it's being run. The trigger is heavy enough to rest a finger on it while getting on target, but when it's time to break the shot, there's no resistance. Overtravel is non-existent and there's just the slightest bit of take-up, making immediate follow-up shots effortless. 
The first of the two new POF-USA products added to the Wonder is the ambidextrous Strike Eagle charging handle. It features oversize "wings" that make quick work of chambering a round or locking the bolt to the rear. The reason for the name? If you look at the charging handle straight-on while the muzzle is pointing downward, it looks like the silhouette of an eagle.


The other new product installed on the Wonder is the Micro-B muzzle brake. Again, to keep the weight of the Wonder down, POF-USA designed a single-port, miniature brake that's small, but quite mighty. I'll admit I had low expectations of its ability to reduce recoil and muzzle rise, but it far exceeded those expectations. I don't know how POF did it, but this brake performs almost the same amount of work as larger models and does an excellent job of making recoil extremely manageable. Observed muzzle rise while shooting the Wonder was minimal, just a slight amount of movement upward and to the right, which is well within the acceptable range for competitive or recreational shooting endeavors.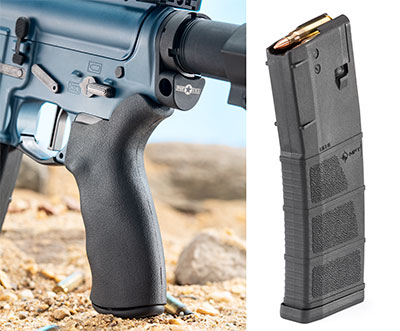 The Wonder also includes POF-USA's patented E2 dual-extraction technology. According to POF-USA, this technology consists of four small channels cut into the walls of the chamber allowing a small amount of gas pressure to push against the neck of the spent case. This pressure assists in extraction by breaking the seal between the chamber and case as well as pushing the spent case to the rear as the extractor is pulling to the rear. This removes a tremendous amount of work that would otherwise be left up to the extractor.
Lastly, what you'll most likely notice before you even take it out of the case is the rifle's color. Tracy wanted the rifle to stand out without looking too garish or girly, so she chose Cerakote's Blue Titanium for the lower receiver and handguard. It's an understated grayish blue that provides a nice contrast to the black stock and grip and gives the rifle some personality and just a little bit of sass.
Wonder on the Range
As a competitive shooter, my natural instinct was to set the rifle up for run-and-gun style shooting, so that's exactly what I did. To keep the weight in check, I threw on a 19-ounce Swampfox Tomahawk 1-8x24 scope mounted to a Warne Extended Skeletonized AR Mount. Those additions brought the total (empty magazine) weight to just 7.6 pounds.
The rifle ships with a Mission First Tactical 30-round magazine, and I gave it a workout while testing the rifle. During my range time with the Wonder, I shot more than 350 rounds of 5.56 NATO and .223 Rem. with no hiccups, stoppages or other issues to report. The ammunition I chose ranged from bulk, plinking rounds to match ammo, so it's safe to say that the Wonder will eat just about anything you feed it. While 350 rounds isn't exactly considered a torture test, it does clearly show that there's no required break-in period and it's good to go out of the box.


The POF-USA Wonder feels remarkably light and is quite easy to shoulder, index and swing from target to target. The more I shot the rifle, the more I wanted to shoot it. If there was any kick at all, it wasn't much, because I never noticed it. Shooting controlled pairs made me audibly chuckle—I repeatedly stacked holes at 25 yards and it felt like an extension of my arm while I was moving and shooting. The controlled pairs evolved into a few 20-ish-round mag dumps that revealed a pattern that exhibited only a slight climb, just a few inches in an orderly line.
When I was done with my last range session, I encountered a pleasant surprise I'll assume has something to do with the E2 extraction system. While I was shooting groups, I left the rifle's case open just to the right of me on the bench. When I was done shooting, all but two of my spent cases had landed in the case, making the neatest and easiest to pick up pile of brass I've ever seen. It's a little thing, but for those who have to pick up brass during a match, it's a nice little bonus.
POF-USA makes an understandably cautious statement about the Wonder's accuracy, with the Wonder spec sheet listing accuracy as "MOA with proper ammo and shooting ability." While there were noticeable differences in my groups with the five different kinds of ammo I shot through it, the rifle had no problem shooting sub-MOA groups at 100 yards off a front and rear bag (and that's with an operator who's a little rusty at long-range shooting). I have no doubt that this rifle can perform even better with a more-talented shooter behind the trigger.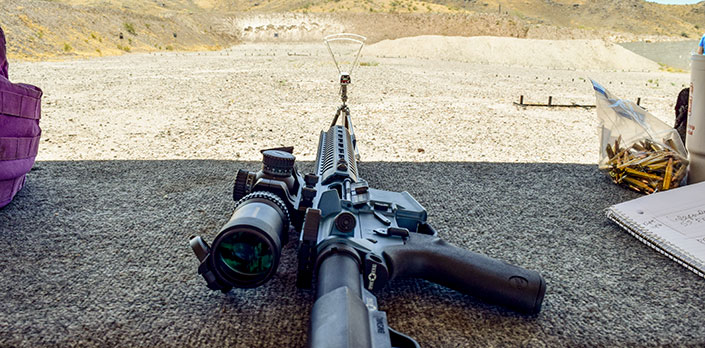 There's an astounding amount of detail and thoughtfulness in the Wonder—every single part and piece has been examined and chosen to serve a purpose, whether it's to help the person behind the gun shoot better, or to make the gun itself more accurate. The DeSomma's are genuinely passionate about developing the highest-quality firearms that perform flawlessly, and the Wonder is a perfect example of their drive to create innovative firearms that will stand the test of time.


In a world full of guns and gadgets that are long on gimmicks and have questionable value, the POF-USA Wonder is a solution to a problem that actually exists. While it's not impossible to shoot well if you're a smaller-stature shooter, it can be extremely frustrating to work with a rifle that's too heavy or not well-proportioned for your size. With its flexibility and modularity, the Wonder removes those barriers, making it a fantastic rifle for more than just women or smaller shooters. This is a rifle specifically designed for someone who wants a carbine that works with them, as opposed to one that fights against them, and if it happens to do so with a little flair, even better.