How do you describe the Lionheart Industries Regulus Alpha Blackout pistol? It looks like a traditional DA/SA handgun – except it really isn't. It has a safety lever, but no decocker. It can be carried cocked and locked, like a 1911, but it's hardly single-action only. Lionheart calls it double-action plus, and it's going to take a little bit of explanation.
In a traditional DA/SA system, like a Beretta 92 or SIG Sauer P226, the actions involved in loading the pistol (putting a magazine with ammunition into the magazine well, seating it fully, then releasing the slide stop) result in a single-action setup, where pulling the trigger releases the fully cocked hammer. In the case of the Beretta, there's a lever that can either be a safety, a decocker, or both; on the SIG it's purely a decocking lever. Load the pistol with ammunition, and if you're not going to fire it immediately, use the lever to safely lower the hammer. At this point, there's a significantly heavier trigger pull that's needed to both cock, then release, the hammer in order to make this pistol fire.
In the case of the Regulus, which uses this double-action plus system, once the pistol is loaded, one of three things can happen. First, you can fire it (obviously assuming you're on the range, safe backstop, etc.). Second, you can put the safety on, deactivating the trigger and rendering the pistol unable to fire. It can be safely carried in this matter, similar to a 1911, in that you need to disengage the safety in order to fire the pistol. Lastly, though, is the "plus"—manually pushing the hammer forward results in the "plus" setup, whereby a third state exists. The hammer is lowered, but partially cocked—we've seen an analogous setup in the striker-fired Walther P99, where a button on top of the slide partially decocks the striker mechanism—pull the trigger partially, and the hammer will spring back to the fully cocked position. The Regulus can then be fired in single-action mode.
Double Action, With A Plus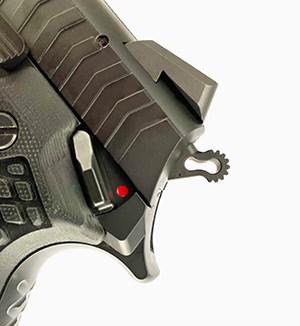 Confused? Imagine how I felt, trying to write it up… I covered four different handguns, all with different methods of operation, just trying to describe how the Regulus operates. And, really, I could have just left it at one handgun: The Daewoo DP-51. Lionheart's Regulus borrows this operating system, but it's certainly not a warmed-over K5—one of the big knocks on the Korean pistol was the poor accuracy, an affliction the Regulus absolutely does NOT share… However, the different manner of how it operates is very much the same.
There is one interesting twist in the operating system, though. There are only two ways to experience the full DA mode in operation, and neither of them are recommended. Since the Regulus has a safety but no decocker, it is not possible to safely decock the hammer to allow the full DA pull. Therefore, the only way a full DA pull is experienced on the range is either through an ammunition malfunction (i.e. a round fails to detonate on the first trigger pull so the trigger is pulled again, akin to Taurus's "Second Strike" system in the G2 and G3 pistols), or—and I cannot stress enough how important it is to NOT do this—one would have to lower the hammer on a live round. DO NOT DO THIS. This is how loud noises happen when we don't want them to. Point is, the full DA trigger isn't going to be used in normal operation.
But, enough about the Regulus' unique action. There's plenty more to talk about with regard to the Lionheart Regulus. It's available in three different flavors: Alpha, which we have here; Beta, which is a more compact model with a 3.7-inch barrel and multiple finish options; and Combat, which is the same size as the Alpha and includes suppressor-height sights and a "Lite Sand" Cerakote finish. All three operate on the same DA+ system, have the same sight options and grips.
The Regulus Alpha is a solid handgun—27.3 ounces, unloaded—with a 4.1-inch barrel and 18+1 round capacity. Everything fits together perfectly, with no rattles, shakes or any other imperfections. The grips are G10 with excellent purchase, and both the front- and backstraps are textured to match. Sights are fiber-optic up front and Novak-style rear and use standard 1911 dovetails, so swapping them out if desired is a fairly simple task. 
Range Testing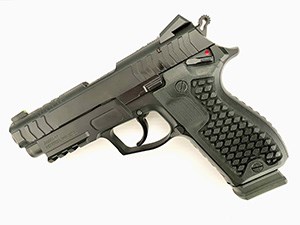 It's on the range, though, where the Regulus Alpha truly shines. The simple, green-fiber-optic front pipe contrasts nicely with the black rear sight, allowing rapid target acquisition. Accuracy was flat-out stunning; at 7 yards, unsupported, a number of groups resulted in all five rounds touching. This isn't "combat accurate" – it's straight-up accurate. And this is achievable both with the SA-only trigger and the DA+, because with the DA+, it's analogous to a two-stage trigger: the first stage is light and cocks the hammer, the second stage is the standard light SA trigger pull.
A small number of failures to go into battery were experienced with 124- and 147-grain ammunition at the start of testing, but quickly smoothed out the more the pistol was fired. Given the tight tolerances and excellent fit of the Regulus' components, this isn't exactly surprising; things need a bit of working over to smooth out. After about the 50th round, things had settled down and no further problems were encountered. A variety of FMJ and defensive ammunition was tested, with three weights of various FMJ rounds used for official testing.
So, what's the verdict on the Lionheart Industries Regulus Alpha? If you're a fan of DA/SA pistols, it's a dead-solid choice. While the DA/SA is slightly different than other pistols with which you might be familiar, it's analogous. There's simply no getting around the superlative accuracy, though, and that's of paramount importance in a carry pistol. Alternately, with the accessory rail for a light and/or laser and 18-round magazine, the Regulus Alpha is an outstanding choice for a home-defense pistol.
On Target: Accuracy is top-notch
Off Target: Needs break-in period
Lionheart Industries Regulus Blackout Alpha Specifications
Manufacturer: Lionheart Industries
Action Type: Double-action plus
Caliber: 9 mm
Capacity: 18+1 rounds
Frame: Aluminum
Slide: Chromoly steel
Barrel Length: 4.1 inches
Sights: Novak rear; green-fiber-optic front
Trigger Pull Weight: DA: 10 pounds, 8 ounces; SA: 6 pounds, 11 ounces; DA+: 8 pounds, 11 ounces
Length: 7.4 inches
Width: 1.29 inches
Height: 5.2 inches
Weight: 27.3 ounces
Accessories: Zippered nylon case, two 18-round magazines, cleaning kit, lock, manual
MSRP: $999
Shooting Results
| | | | |
| --- | --- | --- | --- |
| Load | Smallest | Largest | Average |
| Remington/UMC 115-grain FMJ | 0.7 | 1.56 | 1.08 |
| Remington/UMC 124-grain FMJ | 1.46 | 1.75 | 1.62 |
| Remington/UMC 147-grain FN FMJ | 0.96 | 1.54 | 1.21 |
Accuracy measured in inches for three, five-shot groups at 7 yards offhand. Temperature: 68 degrees Fahrenheit.