by
Shooting Illustrated Staff
posted on January 20, 2023
Support NRA Shooting Illustrated
DONATE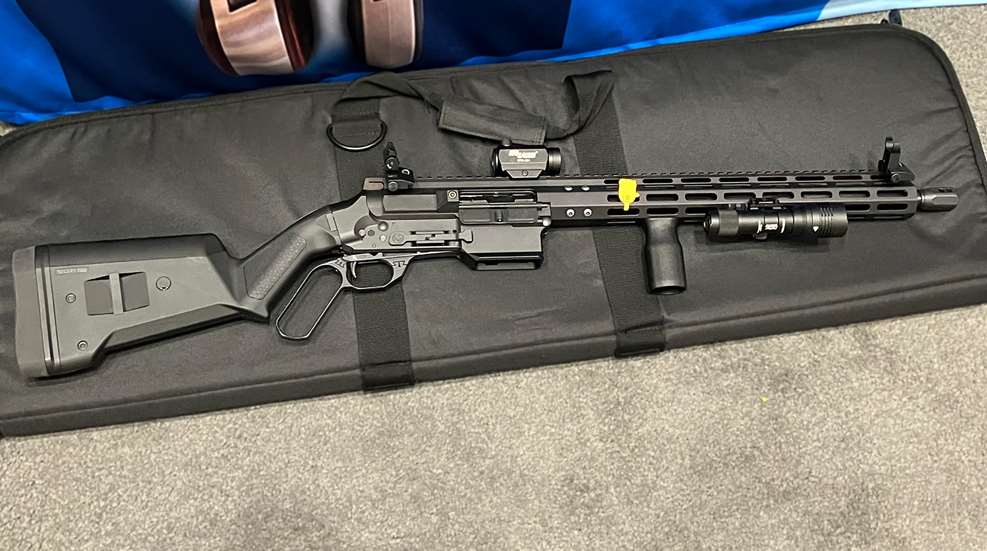 Okay, three days are down and only one to go. I think we're going to survive SHOT Show 2023. Maybe. Again, to reiterate, these items are attention-getting for a variety of reasons; they may be cool, odd, interesting, useful or a combination of all these things. Or, they simply could have made us scratch our head and decide that they just had to be in the round-up. With that said, here's what caught our eye on Day Three.
Bond Arms lever-action rifle. Okay, so on its own, Bond Arms offering a lever-action rifle wouldn't be that out of the ordinary. The company is known for its high-quality derringer-style pistols, and lever-action rifles are well in that wheelhouse. However, add in one that takes AR-15 magazines, has an M-Lok-festooned rail and a Picatinny rail for optics and that's definitely something different. The stock is a Magpul unit for a Remington 870, the lever is modular so large-loops and other styles can be swapped in and it has an extended magazine release to account for the lever. MSRP is estimated to start around $1,500 once the rifle hits the market.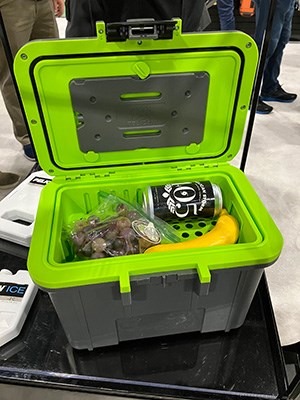 Bushnell RXM-300 red-dot sight. We covered Bushnell's smaller red-dot sights, the RXC-200 and RXU-200, in 2022 in our "I Carry" series, recognizing the need for smaller-size dots for smaller guns. For those who carry full-size guns, though, Bushnell now offers the RXM-300, the company's largest slide-mounted red-dot sight to date. Offering a 4-MOA red dot, Bushnell's shake-awake system to conserve battery life and proprietary EXO coating, the RXM-300 offers a full-size dot for rapid acquisition. MSRP: $299.99.
Pelican 8-quart personal cooler. Most people are familiar with the nigh-invulnerable Pelican rifle and pistol cases, but were you aware that the company also made coolers? New for 2023 is the 8-Quart Personal Cooler, with built-in ice-block storage and enough space for six to eight cans or water bottles. There's a removable shelf to separate your water from your lunch, dry storage in the top of the lid, a collapsible carrying handle and even slots for a carry strap. Whether you're going to the beach or a day at the range, keeping cold water and snacks is a smart idea. MSRP: $69.95.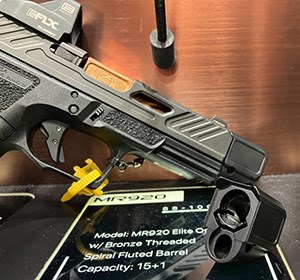 Shadow Systems 9 mm Compensator. For fans of Shadow Systems' mid- and full-size 9 mm pistols, there's a new compensator out that for pistols with threaded barrels. Fear not, though: this compensator uses a ratcheting system to tighten to the barrel; the screws do not impact the threads themselves. Weighing less than 1 ounce and adding a mere inch to overall length, the Compensator is designed to blend into the existing lines of the Shadow Systems slide while offering a single-port for recoil mitigation. MSRP: $99.99.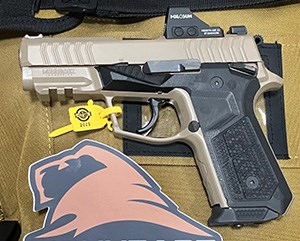 Lionheart Industries Vulcan 9 pistol. We covered the Regulus Blackout Alpha from Lionheart in 2022, noting its interesting "Double Action Plus" operating system, and the company has added another pistol with that system to its line-up, the Vulcan 9. Notable in the updates are the optics cut for either the RMR or RMSc footprint, a refined trigger in certain models, a bobbed hammer option and a sculpted grip system (for righties only; sorry southpaws). The new Vulcan 9 can be ordered with fiber-optic or night sights, has G10 grip panels, a flush-fit 15-round magazine (with extended 18-round versions available shortly) and threaded barrel options if desired. MSRP starts at $1,200.
With only one day left in SHOT Show 2023, there's only five more picks coming, but the new products unveiled in Vegas this week will no doubt find their way into the pages of Shooting Illustrated and here at shootingillustrated.com. Stay tuned for more new products!