One challenge over the years has been protecting the fragility of many riflescopes on rough-and-tumble rifles and carbines. There was a time when the word rugged would never be used as an adjective for a riflescope. Fortunately, combat needs have a way of shifting the tactical-equipment paradigm, and the result is we all generally benefit from better gear. The Leupold HAMR multi-range scope is a great example of this evolution. This fixed, low-power fighting optic is another good option to the field of choices, even if it arrived a bit late to the party a few years ago.
The Leupold HAMR makes use of a fixed 4x day scope and an illuminated reticle to handle targets out to fair ranges with 5.56 NATO ammunition. Its size and shape is comparable with large red-dot sights and some of the smaller fixed-power scopes from competing manufacturers. The most obvious comparison for size and weight is Trijicon's ACOG line. Although slightly lighter, the Leupold HAMR comes standard with a Picatinny rail-compatible mount that secures via two 3/8-inch hex bolts. This scope can also be removed from the mount and bolted directly onto an AR's carrying handle.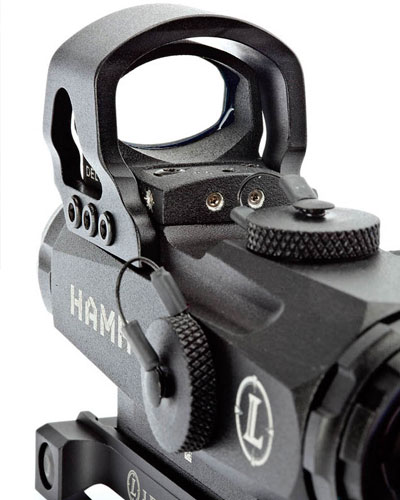 Turning its ocular ring focuses the Leupold HAMR's eyepiece, and the ring is locked in place with a jam nut. I think this carry-over from Leupold's other riflescope lines is a good idea, since it allows a customized visual fit for each shooter. The windage adjustment is at the 9-o'clock position, instead of the usual 3 o'clock. The seven-position rheostat has off settings between each of the brightness positions. Competitive or tactical shooters can choose to keep the rheostat one position off of their preferred spot for lighting conditions and quickly switch it on without dialing through the whole range. This combat-proven feature is being seen on an ever-increasing number of tactical scopes.
The HAMR contains an aggressive-looking bezel ring that protects its objective lens. Leupold incorporated its XTended Twilight Lens System, which allegedly aids in seeing target details in low light. I tried it alongside another 4x24 mm scope at different distances just after dusk and honestly could not see a difference, but my eyes aren't exactly calibrated for a technical test.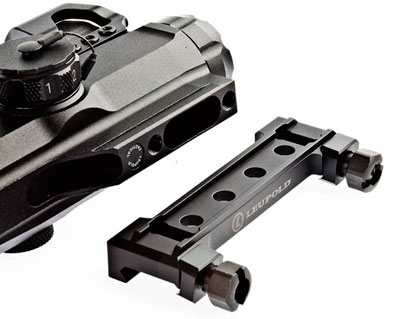 The final prominent external Leupold HAMR feature is a top mounting surface that allows piggyback mounting of Leupold's DeltaPoint red-dot sight. Use of reflex sights mounted atop magnified scopes has become a common method for skinning the near-to-far-target cat in recent years. A smooth cover is provided in case the shooter does not mount a DeltaPoint. I mounted the 3.5-MOA red dot on my sample to better test the ergonomics of this arrangement. The red-dot sight's interface with the HAMR is solid and enhanced by a protective shield that bolts around it. Thankfully, the DeltaPoint's tiny windage and elevation adjustment screws are still accessible while the shield is in place.
Leupold's CM-R2 reticle is used in the HAMR, which consists of a "C" placed open side down around a center dot. An unconnected vertical stadia line extends downward and contains hash marks for distant aiming, marked at the even meter lines. The overly optimistic 900-meters-worth of holdovers are calibrated for mil-spec 62-grain M855 green-tip ammunition with a muzzle velocity of 2,810 fps. Horizontal stadia lines extend in either direction outward from the reticle center and contain tick marks that represent moving target holds in 5-mph increments. For example, the first mark left or right of center is for a target moving 5 miles per hour, the second mark is for 10, etc. Leupold recommends a 200-yard/meter zero for this reticle, which should also be close to center at 50 yards/meters.
Unlike most popular fixed/low-power tactical scopes, which have constant-on tritium or fiber-optic reticles, the Leupold HAMR uses a single CR2032 for its adjustable illumination, which is backed up by an etched reticle that appears black and is entirely usable when not illuminated. The HAMR's illumination feature is clearly intended to aid in quick target acquisition. Its center dot and C portion of the reticle illuminate brightly to help the eye line up on target quickly, even considering the 4X magnification.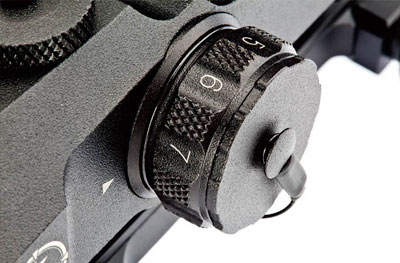 I mounted it on a 16-inch-barreled 5.56 NATO carbine that is a known sub-MOA shooter and headed to the range. Lacking any sort of instructions regarding the CM-R2 at the time of my test, I zeroed the scope at 100 yards using Black Hills 77-grain match ammunition. The scope's short eye relief is very tough to work with—I am fairly tolerant of cheek position on my guns so this was not a huge problem, but it could be for others.
Shooting for accuracy was not much different from conventional 4X optics. The .5-MOA center dot was small enough to allow placement over my intended points of impact. My sub-MOA shooter averaged groups right at 1 MOA while using the Leupold HAMR, which is about as good as I can do with other fixed-power, ruggedized tactical scopes using non-crosshair reticles. At distances of 75 yards and beyond, I found the center C and dot were more effective in acquiring the target rapidly. Inside 75 yards, the micro red dot riding atop the HAMR did the trick nicely. I also found the 100-yard zero allowed me to use the tip of the vertical stadia for accurate shooting at 300 yards. Incidentally, this is the same 300-yard/meter hold point Leupold recommends when using 62-grain green-tip with a 200-yard zero.
The Leupold HAMR is well suited for any type of 5.56 NATO shooting event requiring rapid transitions at different ranges and would be at home on a 3-gun setup as it would be on a fighting rifle or carbine.
Magnification: 4X
Objective Lens Diameter: 24 mm
Reticle: Leupold CM-R2
Adjustability: 60-MOA elevation and windage in 0.1 mil increments
Illumination: 7-position rheostat; 5-MOA partial circle around .5-MOA dot
Field of View: 32 feet at 100 yards
Eye Relief: 2.7 inches
Power Source: 1 CR2032 (Mark 4 HAMR)
Length: 5.5 inches
Weight: 13.1 ounces
MSRP: $1,689.