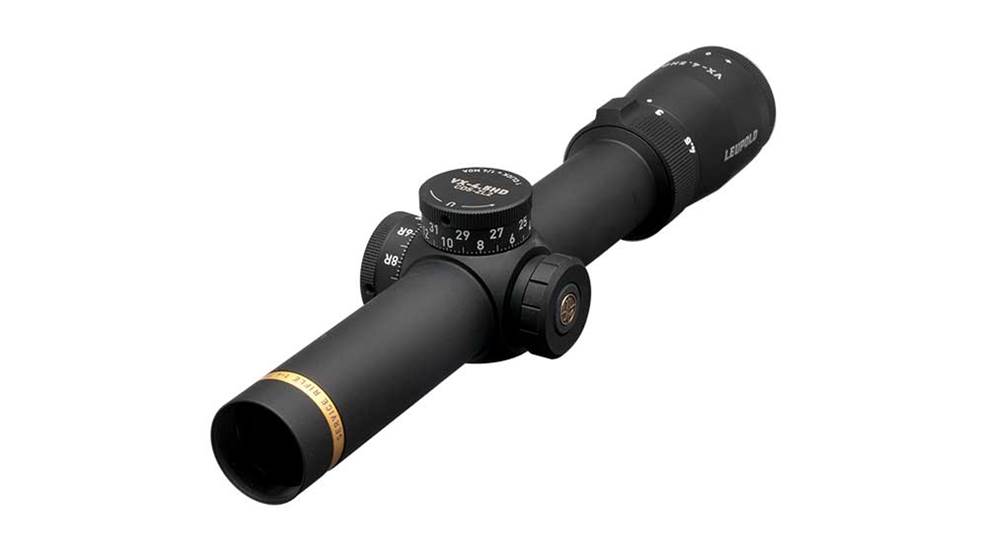 Purpose-built to help shooters excel on the line during High Power Service Rifle competitions, the all-new
Leupold
VX-4.5HD rifle optic incorporates all of the features needed to fit the strict requirements laid out by the governing bodies of both the National Rifle Association and Civilian Marksmanship Program competition divisions.
"When the Highpower Service Rifle competitions announced that they'd be allowing the use of riflescopes – with a 4.5 magnification maximum – consumers immediately turned to us for a solution," said Vici Peters, product line manager for Leupold & Stevens, Inc. "The VX-4.5HD delivers everything a Service Rifle competitor could want out of their optic, and is available with reticles that have been built to drive winning scores."
The Leupold VX-4.5HD is built on a 30 mm main tube and offers variable magnification from 1X to 4.5X. To excel in rifle competitions, Leupold built the scope to withstand all potential weather conditions faced by competitive shooters, ensuring that they can count on their optic at all times. To this end, the VX-4.5HD is coated with the company's Guard-Ion water-repellent, a scratch-, smudge-, water- and dirt-resistant coating that keeps the lens glass clear of obstructions in order to provide the clearest sight picture possible.
Other elements of the lens system include Leupold's Twilight Max HD Light Management system, a proprietary setup that works to heighten light transmission while managing lens glare that can obscure targets. The system also provides heightened contrast for a brighter sight picture, even in low-light conditions. In bright daylight, with sunlight entering the lens directly, the management system also works to prevent the image from washing out.
Two different reticle choices are available on the Leupold VX-4.5HD optic: a Bull-Ring Post and a FireDot Bull-Ring. Each reticle design is built specifically for use on Service Rifle targets. At its maximum magnification, the Bull-Ring element of the reticle will be almost exactly the same size as the bullseye. At lower magnification levels, the ring surrounding the bullseye target enables users to align and center their shots with ease. The FireDot Bull-Ring reticle offers an illuminated option complete with motion-sensor technology, which turns off illumination after five minutes of inactivity and automatically reactivates the reticle once the scope moves.
The suggested retail price on the Leupold VX-4.5HD rifle optic starts at $1,819.99.