Support NRA Shooting Illustrated
DONATE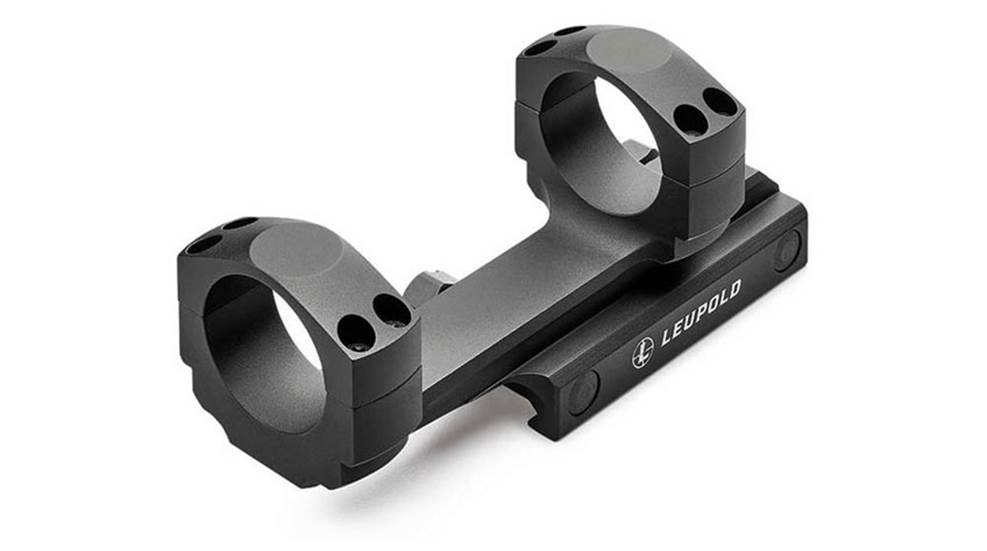 Leupold & Stevens
introduced the redesign of its Mark 4 Integral Mounting System designed for use on AR-style rifles.
The new Mark 4 is a one-piece optics mount featuring lap-free scope rings with four mounting screws. The screws feature threaded steel inserts for positive locking on top rail mounts commonly found on AR-style rifles.
For long range shooters, Leupold offers a Mark 4 option with 20 MOA of elevation built in. For those shooting at shorter ranges, the Mark 4 is offered with a flat base.
The redesigned Mark 4 also features a lengthened cantilever in order to ease mounting on shorter rails. The benefit of this design is that shooters now have more flexibility when mounting rather than having to mount the system wherever it fits on the rail.
In addition to the Mark 4 redesign, Leupold also expanded options for rings and bases.
The company now offers two-piece QRW bases for Savage 10/110 and Weatherby Mark V rifles with round receivers. The new bases can be used with either QRW or PRW rings.
In addition, Leupold also offers standard bases specifically designed for short-action models of the Ruger American Rifle. Dual Dovetail mounts are also available.
Finally, the company also released Dual Dovetail and Quick Release bases for the Browning AB3 rifle.
"Rings and bases are often overlooked, but are critical to getting optimal accuracy out of your rifle and riflescope," said Tim Lesser, vice president of product development for Leupold & Stevens, Inc. "We develop and test our mounting systems to eliminate guesswork for the hunter and shooter. There's no decision needed. Just choose Leupold, and you're good to go."