Support NRA Shooting Illustrated
DONATE
If anyone ever sanctimoniously informs you that you can't appendix carry a full-size gun such as a Glock 17, you can wipe that smug look off their face by showing that, in fact, you can so long as you carry it in the Lenwood Spector IWB Holster. How do I know this? I did it. And I don't often appendix carry anything. I'm a strongside hip guy, through and through, but I tried it this time because I didn't believe it and wanted to see if it could be done.
The Spector IWB is a simple yet highly functional taco shell Kydex rig with a single beefy 1.5-inch polymer clip attached by a pair of Phillips-head screws that double as clip holders and retention adjustment.
While none of that may sound very enticing and compel you to click immediately over to Lenwood's website and order yourself a holster because a lot of holsters offer many of the same features, let me tell you three things that just might do the trick.
First, when it comes to belt clips, two screws are far better than one. A single screw setup puts too much stress on one pivot point, which can jostle and twist the clip, forcing the screw to back out and loosen the clip. That's no bueno in my book. I want a clip that will stay put without any adjustments or tampering necessary.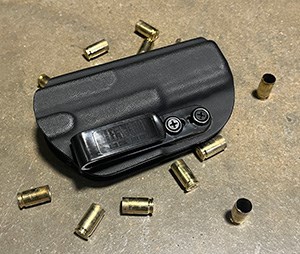 Second, even though the Spector IWB is designed to be primarily an appendix rig, it can move to strongside hip and work there, too. Granted, the off-center clip makes carrying that way a bit of a challenge, but it can be done.
Third, Lenwood is a small, St. James, MO-based company inspired by owner Jason Davis's vision to take a barn on some property he had just purchased and turn it into a holster factory, which he did. With a small loan from his uncle, Jason bought the necessary machinery to manufacture top-quality, small-batch holsters at reasonable prices.
Enough nostalgia. Back to the holster. As I said, I was a doubter. There was no way to appendix carry a Glock 17. I'd tried it before with zero success. But this time, it worked. And it could work for you, too.
The Spector is only available to right-handed users, but it comes in an assortment of large and small gun options, is offered in optics cut at no extra charge and for an extra $15, can be molded to accept a rail-mounted light or laser. Base price starts at $60, an imminently reasonable ask for a holster of this quality.