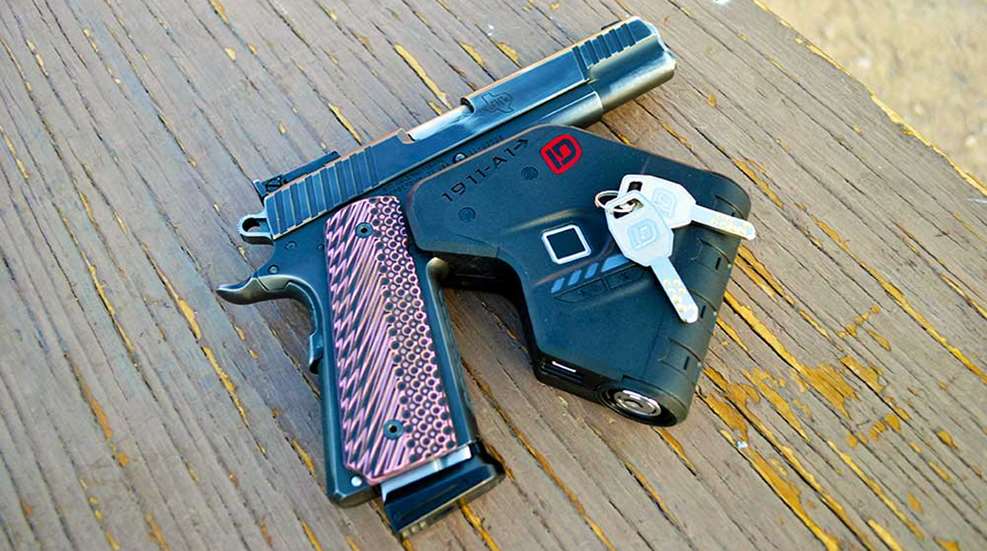 The world's first fingerprint trigger lock, IdentiLock, just hit the market, and after spending some time with it, I can say that it's an interesting device that could prove useful in certain situations. I know trigger locks aren't the most popular topic among gun owners, but this one is different enough to deserve a mention.

IdentiLock is a new firearm-safety device that secures the trigger of a handgun and uses biometric technology to release when a pre-programmed fingerprint hits a button on the side of the device. Simply put, it's a slightly hefty (about 0.5 pound), square-ish device that fits in your hand and clamps on to the trigger of your gun. Think biometric gun safe, but more portable.

The lock can be programmed with up to three fingerprints. When you need to use your gun, slide your trigger finger onto a button that checks your print and releases the lock.

Traditional trigger locks tend to get a bad rap because they can be clunky to operate and slow to open. IdentiLock attempts to get rid of those issues by providing quick access to your firearm without adding a bunch of extra steps.

Sliding open the slick packaging reveals the lock itself, two keys, a USB Type-C charging cord, and a tri-fold manual that has lots of helpful pictures for direction-challenged people like me.

I wanted to start testing it out it right away, but needed to charge for four hours before I could start using it. The company states that, once charged, it will work standby mode for up to six months, but I did not have time to test that particular claim. If you sign up on the Identilock website, the company will send you a reminder when it's time to recharge.

Once the IdentiLock was all charged up, it was time to enroll a fingerprint, so I grabbed one of my 1911s and got started. The programming was quick. Within a couple of minutes I had IdentiLock flashing green and opening when I pressed the button. I enlisted my better half to do the same, and it was just as fast to program his fingerprint.

When you enroll your fingerprint, the manual tells you to press the button eight times (1 second each time) and use different angles for each press. This is to make sure that IdentiLock can read your print, regardless of the angle your finger is at when you hit the button.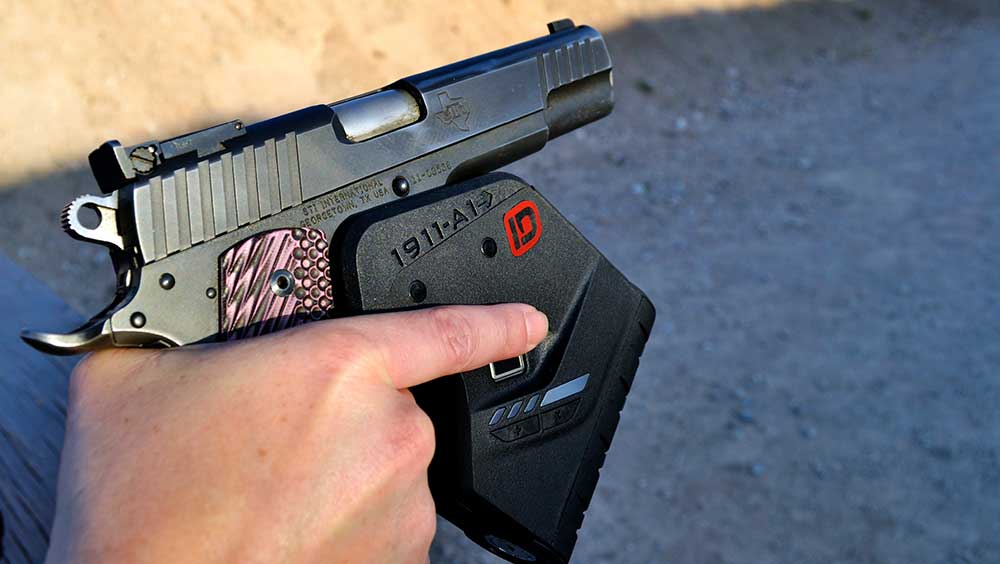 Putting IdentiLock to the Test

Now for the interesting part: Does this thing really work?

I tested the IdentiLock several ways to see if it functioned the way the company claims it does. Here's how it went:

Test 1: Will it open without being programmed?

Before programming, I made sure to test the lock with two sets of "unauthorized" fingerprints. My better half and I repeatedly pressed the button, but neither of us could get it to open.

Test 2: Does it work after being programmed?

Since I started testing IdentiLock, I'm sure I've pressed the button at least 100 times. With the correctly programmed finger, it has clicked open every single time without fail. I didn't ask my better half to press the button as many times, and it worked 100 percent of the time for him as well.

In addition to the repetitions, we put the fingerprint angles claim to the test. As long as most of the pad of our finger was on the button, it opened. Not surprisingly, it didn't open when I used the side of my finger or when I didn't have at least some part of the pad of my finger on the button.

Test 3: Speed

IdentiLock claims it only takes 300 milliseconds to open, and while that might be true for the initial release time, the entire release process took considerably longer. On average, it took me about 1.6 seconds to completely release the gun from IdentiLock.

Like other gun-security devices, IdentiLock isn't perfect. Here are a few things that need to be understood if you're considering using one:

It won't work if your hands are wet. The company states that the backup key should be used in this situation. This isn't a shortcoming of this lock in particular (your smartphone likely has this issue, too). It's more about where we are with current technology.

Getting your finger on the button is a little tricky if you have smaller hands. I ended up having to move out of my shooting grip to reach the button with my right index finger, which made getting the gun out of the lock take longer.

It's not mountable, which means it has to sit on a flat surface. If IdentiLock had a few mounting options (bedside, car, under desk, to name a few potential options), it would tremendously improve its flexibly and allow for a faster draw in many situations. I took IdentiLock to the range to get some feedback, and every person I showed it to asked if it had any mounting options.

IdentiLock provides some solid features that put it ahead of other trigger locks on the market. While I haven't spent enough time to attest to its long-term use, it functioned as claimed, and I feel confident enough with it to keep using it in my home. I may even try to figure out how to mount it in my car—I prefer to carry openly while driving (Arizona rocks), and good options for that don't really exist.

Of course, it's up to the end user to decide if they want to lock up their guns or if they're willing to trust an electronic device. Even the manufacturer is willing to publicly state that IdentiLock is not for everyone. All responsible gun owners try to find the right balance between making sure our guns are safe and having the ability to access them quickly when we need them. IdentiLock was brought to market to help close that gap, and it gives you an option that was not previously available.