I'm a big fan of stuff that works. I think we all are. I've been a fan of Fix-It Sticks' products for quite some time, finding pretty much everything the company makes to be well-constructed, durable and affordable. The latest item from Fix-It Sticks, the Compact Ratchet Multi-tool, is certainly no exception.
If you work on firearms, or any small(ish) mechanical devices for that matter, having a source of quality bits and drivers is essential. In my case, where I prepare numerous pistols for our "I Carry" video series, I find myself quite often needing various Torx and Hex bits in addition to the standard slotted and Philips bits. I've had the opportunity to use a number of bits from Fix-It Sticks over the past few years, and found the company's bits to be quite robust and haven't experienced bits stripping as with other lower-quality tools.
The Fix-It Sticks Compact Ratchet Multitool comes with 15 different bits: six Torx bits, six Hex bits, two Philips bits and a slotted bit. There's even a small pry bar bit with 1/4", 5/16" and 3/8" cut-outs included, all in a rubberized carrier that's about the same size as a pistol magazine. The Compact Ratchet Multitool comes in two pieces for convenient storage, a handle with ¼-inch drivers on either end and a roughly 3-inch-long extension that fits into the ratchet by way of a magnetic collar. It's quick and easy to assemble, and each of the bits even has a slight notch for your fingernail to help get it out of the driver.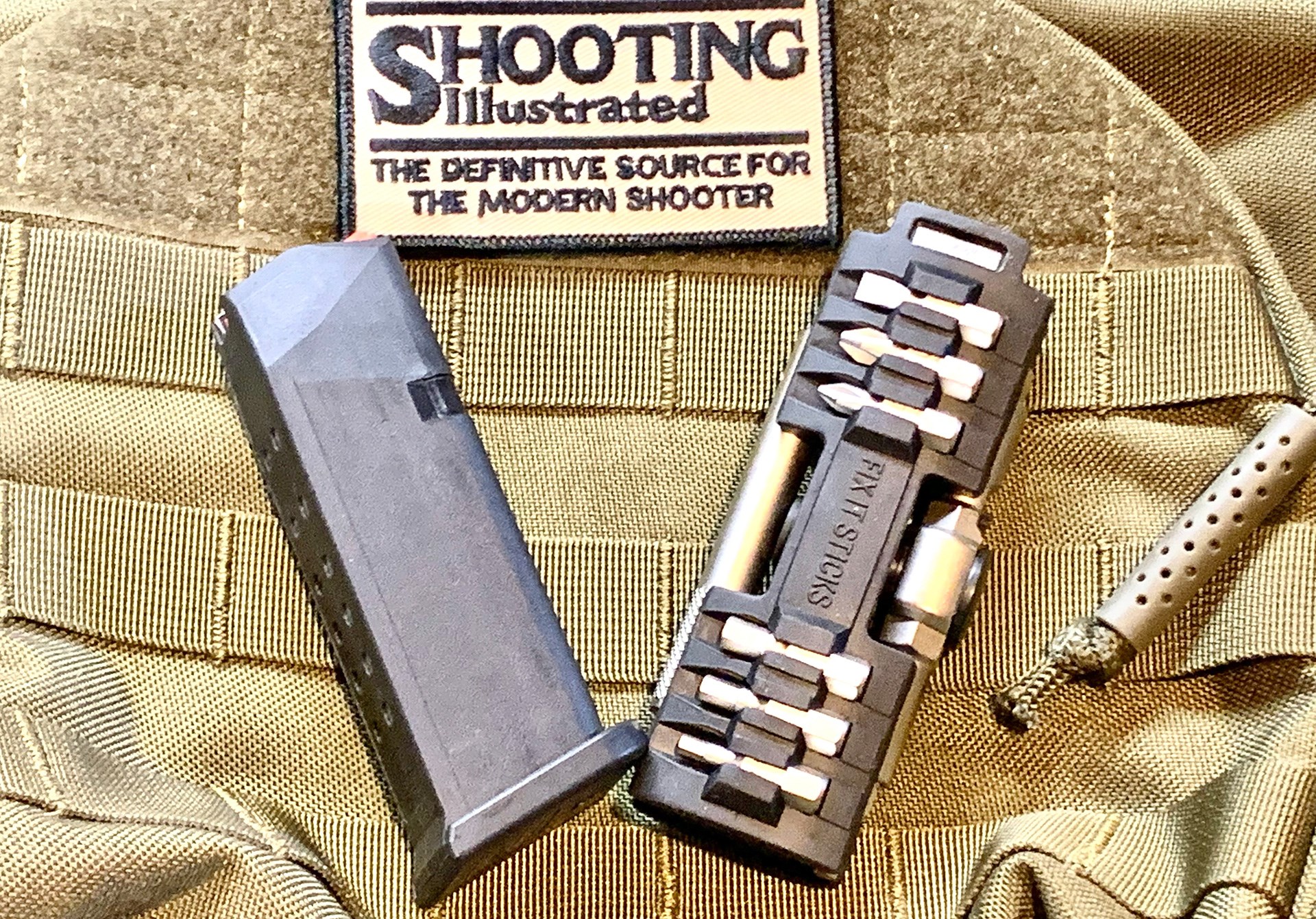 Where a tool like the Fix-It Sticks Compact Ratchet Multitool really shines, though, is when used in conjunction with one of the company's torque drivers for something like adding a scope to a rifle. Depending on the rings and mount you choose, there can be anywhere from four to 12 screws that need to be tightened to precise specifications in order to ensure your scope is properly mounted. Having a ratcheting driver combined with a torque wrench means this can be accomplished quickly and easily, with a high degree of precision.
Another great use for this setup is pistol-slide-mounted red-dot sights. While I may be the outlier, where I've added and removed dozens of red-dot sights over the years, having the capability to torque down pistol sights properly is invaluable when getting started. Some of the sights, particularly those suited for smaller handguns, have batteries mounted on the bottom of the sight. In cases like these, putting LocTite on the screws is going to present difficulty when changing the batteries—it's easier to torque the screws to manufacturer's specifications. Whether it's six months or two years later, you'll be able to take the optic off, swap out batteries, and torque it back in place with little fuss.
Whether you're swapping out stocks on your revolver, putting a magnified optic on your favorite long-range rifle or simply swapping out batteries, a purpose-built tool like the Fix-It Sticks Compact Ratchet Multitool can make a difficult chore much easier. Quality components, compact size and easy operation make this a must-have for the workbench or range bag. MSRP is $80, and for more information or to order one of your own, visit fixitsticks.com.