by
posted on November 6, 2018
Support NRA Shooting Illustrated
DONATE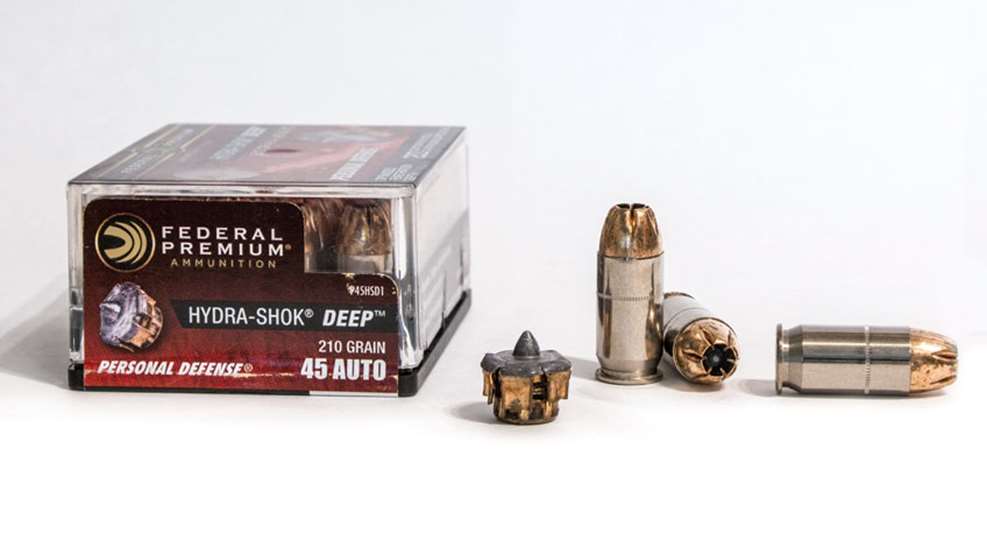 The new Federal Premium Hydra-Shok Deep ammo load for the .45 ACP relies on a 210-grain bullet along with a redesigned post to achieve the FBI Protocol's called-for penetration depth of between 14 and 16 inches.
In the mid 1970s, bullet-engineering genius Tom Burczynski created the first Federal Premium Hydra-Shok prototype bullet. The brilliance of the design was a simple machine incorporated into the hollow-point cavity of the bullet. Due to the constraints of cavity size, Burczynski surmised the only possible solution to mechanically encourage expansion was a wedge: a wedge or post formed from the bullet core. Conceptually, this post would redirect pressures, incurred from tissue entering the hollow point, against the internal-cavity walls, and enhance expansion. Patents were applied for and almost a decade later the Federal Premium Hydra-Shok was born. It went on to become one of the most-trusted, defensive-handgun bullets of all time.
When I left law enforcement in 2005, the Hydra-Shok was still well-regarded as a great stopper on the street. Since then, there have been number of new defensive handgun bullet introductions, and all the major manufacturers have been and continue to chase the standard set by the FBI's terminal-performance-testing criteria. The rewards for achieving a high score, or better yet, having your ammunition adopted by the FBI, are fantastic. Just as the Glock gained fame by being carried by so many law-enforcement agencies, ammunition relied upon by the FBI or other major police departments drastically increases overall consumer sales.
In an effort to modify the Hydra-Shok bullet so it would score better in FBI testing and meet the optimal 14 to 16 inches of penetration in 10-percent ballistic gelatin, Federal went to work. The company's answer is the new Hydra-Shok Deep, introduced in early 2018 and offered in the three most popular defensive handgun cartridge chamberings: 9 mm, .40 S&W and .45 ACP. With the Hydra-Shok Deep, that iconic center post is much more robust.
According to Federal Premium, the primary goal of the new Hydra-Shok Deep ammunition was to penetrate to the FBI's optimum depth of 14 to 16 inches, and at the same time provide more consistent performance though the intermediate barriers. They also wanted to develop a round that would score significantly better on the FBI's test than standard Hydra-Shok. Federal claims Hydra-Shok Deep does all of this with a 70-percent improvement in FBI-protocol score.
That's impressive, but somewhat veiled in obscurity. The bullet was built to pass an objective terminal performance test that does not include shooting it into its intended target—a bad guy. Some claim this building to the test only produces bullets that kill blocks of 10-percent gelatin. However, years of street results support the FBI notion that these tests can predict ammunition effectiveness. Bullets that expand wide and penetrate to at least 12 inches (ideally 14 to 16 inches) even when fired through common intermediate barriers, tend to work well at making bad guys not be bad anymore.
According to the company, when fired into bare gelatin, gelatin covered with heavy clothing and gelatin behind wall board, Federal Premium Hydra-Shok Deep bullets launched from a 9 mm, .40 S&W and .45 ACP will all penetrate between 14 and 16 inches, while still expanding a minimum of 1.4 times their original diameter. This deep penetration, with wide expansion, is possible because the bullets retain 99 percent or greater of their original weight. Many believe the best way to stop a threat is with a bullet that expands to a large diameter to cause the maximum amount of tissue damage and that penetrates deep enough to reach vital organs. This is a good description of exactly what sort of ballistic performance the Hydra-Shok Deep is capable.
I recently visited the Federal Premium Ammunition manufacturing plant to see how they make bullets and load ammunition. I also took some Hydra-Shok Deep into the underground Federal test tunnel, and shot it into 10-percent ballistic gelatin. Every round of Federal Premium Hydra-Shok Deep I tested penetrated between 15 and 16 inches, and expanded to at least 1.45 times its original diameter. Considering bullets weights ranged in weight from 135 to 210 grains, and in diameters from .356 to .45, that's quite impressive.
Federal also supplied me with 100 rounds of each load for follow-up testing. Terminal performance is one thing, but reliability is another. You can have the best bad guy-stopping bullet in the world, but if it will not cycle and feed in your handgun, all you can really count on is one shot. I tested these loads by firing one box each in a variety of handguns, including a Smith & Wesson M&P, several 1911s and Glocks, a Browning Hi Power, and the new SIG Sauer P365. There were no stoppages or failures to fire.
Actual muzzle velocities were, on average, about 70 fps slower than those advertised. However, I chronographed the loads in 4- and 4.25-inch barrels, which is a better representation of the barrel lengths of common, concealed-carry handguns. And, while I did not conduct any formal accuracy testing, I had no trouble shooting good groups with all the handguns during common defensive drills. I would also add that recoil was moderate even in lighter pistols.
Is Federal Premium Hydra-Shok Deep the best defensive handgun load you can buy? The FBI thinks its good stuff, and many who carry a handgun for personal protection have trusted the FBI for a long time. Hydra-Shok Deep will see some time in my magazines.