by
Shooting Illustrated Staff
posted on January 10, 2019
Support NRA Shooting Illustrated
DONATE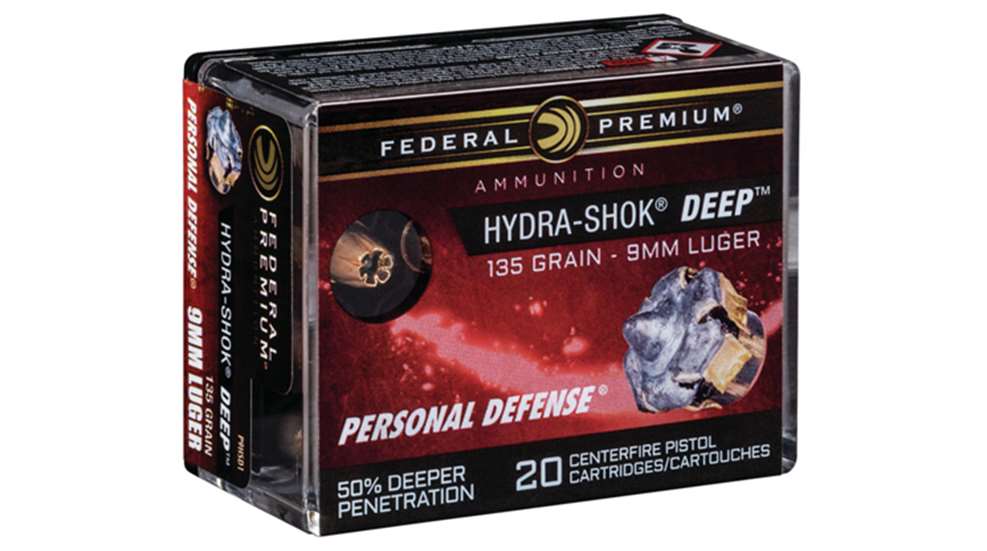 At the end of every year, 
Shooting Illustrated
 

staff gathers to consider different ammunition options released in the past year and determine which one is worthy of the title, "Ammo of the Year." To qualify for the award, the ammunition in question must be available to the public, must have been tested and either met or exceeded our testing-and-evaluation protocols and offer a unique value to the American shooting public, whether by innovation, affordability or other stand-out qualifications. For 2019, SI staff chose Federal Premium's Hydra-Shok Deep
 as its Golden Bullseye Ammo of the Year.

For decades, Federal Premium Hydra-Shok has been a go-to choice for defensive and law-enforcement use. Initially developed in the 1970s, the round featured a wedge in the hollow-point cavity, which was designed to redirect the pressures experienced by the bullet's entry into a ballistic medium, encouraging expansion. The innovative design was highly successful and became one of the most-trusted bullets available today.

However, many other manufacturers continue to roll out defensive-bullet designs that aim at meeting or exceeding the vaunted FBI protocol, which specifies an optimum penetration depth of 14-16 inches. To regain its title as one of the market's premium, go-to defensive rounds, Federal Premium engineers went back to the drawing board, designing the company's new Hydra-Shok Deep round. The new projectile features a more-prominent center post, which aims to match that optimum penetration depth of 14-16 inches while also improving the round's performance through barriers. Federal's engineers claimed a 70-percent improvement in the protocol score with the new design.

To more-closely examine these claims, Shooting Illustrated Ammo editor Richard Mann visited the Federal Premium facility, where he examined the construction and performance of the new round. In his November 2018 review of Hydra-Shok Deep, Mann noted:


"Every round of Federal Premium Hydra-Shok Deep I tested penetrated between 15 and 16 inches, and expanded to at least 1.45 times its original diameter. Considering bullets weights ranged in weight from 135 to 210 grains, and in diameters from .356 to .45, that's quite impressive.
Federal also supplied me with 100 rounds of each load for follow-up testing. Terminal performance is one thing, but reliability is another. You can have the best bad guy-stopping bullet in the world, but if it will not cycle and feed in your handgun, all you can really count on is one shot. I tested these loads by firing one box each in a variety of handguns, including a Smith & Wesson M&P, several 1911s and Glocks, a Browning Hi Power and the new SIG Sauer P365. There were no stoppages or failures to fire.
...Is Federal Premium Hydra-Shok Deep the best defensive handgun load you can buy? The FBI thinks its good stuff, and many who carry a handgun for personal protection have trusted the FBI for a long time. Hydra-Shok Deep will see some time in my magazines."

Federal Premium Hydra-Shok Deep loads are available in 9 mm, .40 S&W and .45 ACP. Retail pricing on packs of 20 rounds starts at an MSRP of $27.95.