by
posted on October 3, 2020
Support NRA Shooting Illustrated
DONATE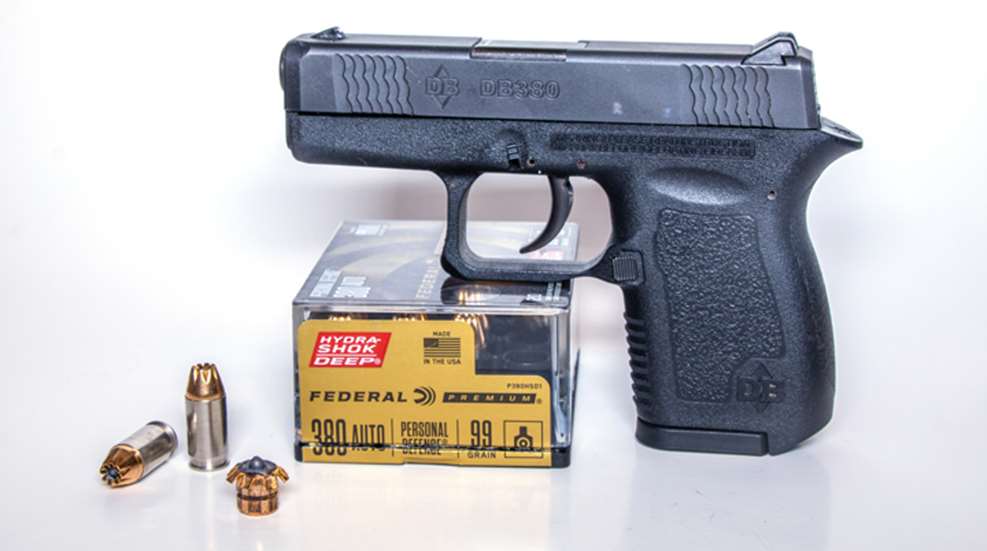 When I was working as a patrol officer, I responded to a shooting on a city street, where a physically disabled man had been attacked by another man. The disabled person shot the attacker with a .380, and the attacker was found dead on the scene; he succumbed to a single .380 ACP gunshot wound to the torso. The bullet was a full metal jacket. I mention this because it addresses the question of whether the .380 ACP can be successfully used as a self-defense handgun.
However, this in no way provides evidence that the .380 ACP or full metal jacket ammunition is the best choice for personal protection. But, given the frailty of the victim, it was about all the handgun he could manage, and, it saved his life. The good news for those who might be carrying a .380 — whether it is all they can handle or not — is that now we have several loads that are much more effective than the FMJ load the victim I described used to save their life.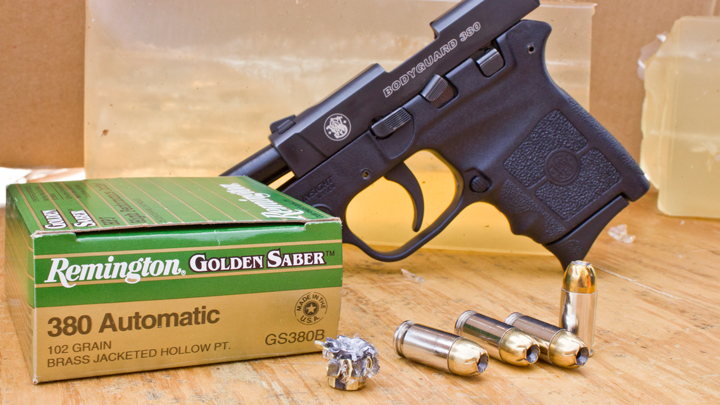 Over the years I've tested lots of .380 ACP ammunition in various test mediums like 10-percent ordnance gelatin and Clear Ballistics. Until 2020, the only .380 ACP load I'd found that would often penetrate to a depth of 12 inches — which is the FBI's minimum penetration standard — was the 102-grain Remington Ultimate Defense Compact Handgun Golden Saber load. When this load achieves a muzzle velocity of at least 850 fps it will penetrate to a depth of about 13 inches and deform with a frontal diameter of about 0.59 inch. But the bullet is very velocity dependent and out of some short barrel .380s it will not reach that 850-fps benchmark. 
For 2020, Federal released a new personal protection load for the .380 ACP called Hydra-Shok Deep. The Hydra-Shok Deep bullet is a modified version of the famous Hydra-Shok bullet. The primary difference is that the center post is now cone rather than cylindrically shaped. As the name suggests, the purpose of this new bullet design was to increase penetration depth. Prior to 2020 the Hydra-Shok Deep was available in 9 mm, .40 S&W, and .45 ACP, and tests with those rounds were indeed proof of concept.
I tested the new Hydra-Shok Deep .380 ACP load out of a Diamondback DB380 and it delivered an average muzzle velocity of 839 fps. More importantly, with impact velocities ranging from 800 to 848 fps, the bullet consistently penetrated to 12.5 inches and deformed with an average frontal diameter of 0.510 inch. Better yet, the bullet seemed to be barrier blind, at least with regard to several layers of denim. This might be the best expanding bullet now offered for self-defense use for the .380 ACP. A box of 20 has a suggested retail price of $26.99.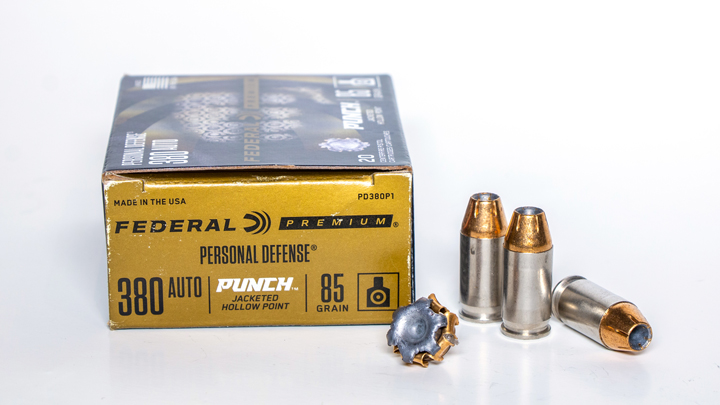 But that's not the only new .380 ACP load available from Federal. In an effort to offer a less expensive self-defense ammunition option, Federal created a new line of ammunition called Punch. The goal with Punch ammo was to create loads for the most common self-defense cartridges that, while not meeting all of the FBI barrier testing standards, would still perform well for the armed citizen. Self-defense shootings by armed citizens rarely necessitate the penetration of intermediate barriers like steel, auto glass, and wall board.
However, ammo used by armed citizens routinely needs to defeat heavy clothing and still expand to around 1.5 times its original diameter and deliver decent penetration. That was the goal with Punch, and based on the testing I've conducted, the .380 Punch load lives up to this claim. Out of the same DB380 pistol the .380 ACP Punch load consistently penetrated 10 inches and deformed with a frontal diameter of 0.510-inch, even after passing through several layers of denim. And, this performance is available in a 20-round box with a suggested retail price of only $15.99.
Those looking for reliable self-defense loads for the .380 ACP now have two new options from Federal. Clearly the Hydra-Shok Deep load is the better of the two but some of us have pocketbooks that are not all that thick. And, given the world we are living in today, every dollar and cent saved matters. Of course, when you look at the price of life — and life insurance — an additional 55 cents per round just does not seem like all that much money.